Seth Sikes Dishes on His Career, His Connections, and an Undying Love for Judy Garland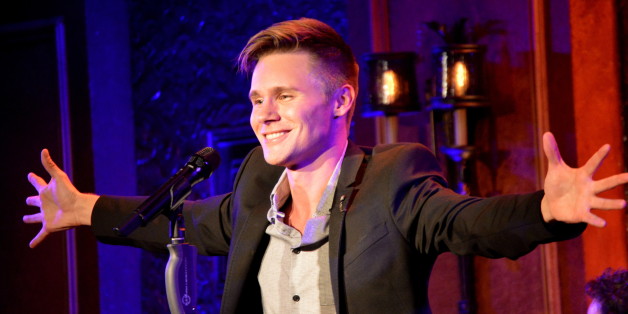 Forget your troubles, come on, get happy.... 'cause Seth Sikes is once again back where he belongs!!
Best known in the directorial world for his work on such acclaimed shows as Tribes, Pageant, The Nance, and, most notably, 2018 Tony nominee The Band's Visit, the charismatic tribute artist and single-handed "savior of the Great American Songbook," has, in more recent years, taken the cabaret scene by storm, with his powerful and passionate homages to such theatrical Grand Dames as Bernadette Peters, Liza Minnelli, and of course, Judy Garland.
Following a much-lauded debut at Feinstein's/54 Below, with the original Seth Sikes Sings Judy Garland concert, which garnered him a BroadwayWorld Award for Best Tribute Show, Sikes is over the rainbow (and the moon!) to return to the intimate hotspot, where he'll present a brand new compilation of Garland faves, this time titled, aptly "The Songs That Got Away."  Mixing numbers not yet covered in previous tributes, with songs Garland herself was  unable to perform before her untimely demise in 1969, the evening promises laughs, tears and bright, brassy melodies as only Sikes can deliver.
Ahead of his cabaret homecoming, we sat down with Sikes to discuss, among other things, constructing his show, connecting with his audience, the influence Judy has on his life and career, and more. So, chase all your cares away and check out his razzle-dazzle answers below!!
Why should someone come out to see The Songs That Got Away? What will you offer you can't get anywhere else? And how is this show different from any other previous Judy tributes you've done in the past? 
Judy has always been number one, not just for me, but for so many. People kept asking me, "Are you going to sing such-and-such song?" I realized there were so, so many of her great songs I never got to perform before… [songs] I always to do, but that I never had room for in the past. So, we made a little room. It's a brand new show filled with songs I've never performed before, and [I'm backed] by a full, kickass band. If you've liked my previous Judy shows, you're in for a treat with this one!
You're not exactly in the same age range as people who might have grown up with her music. What do you think that affect has on an audience? Why do you feel that's important that she be recognized by the younger generation? 
First, I think seeing a young(ish!) male sing these songs is way more unique [an experience] than seeing an old cabaret broad sing them. It's something different. It's more fresh. And then, the fact that I get introduce this music to a new audience as a product of getting to perform my favorite songs is really something extra… and the younger [audience members], who probably have never heard a single one of these songs seem to dig them. I can't say if they go home and immediately listen to Judy, but my hope is that they do. That's what'll keep her music alive.
How did she influence you to pay tribute to her in this way? Did you, for example, grow up with her music? 
Of course! I watched all her MGM movies as a boy, and was singing all her songs on the playground! Time went on, and I just never lost a penchant for that kind of a song. As I grew older and discovered more and more [of them], the lyrics became richer and provided a kind of soundtrack or touchstone for my own life and experiences. I mean, who could resist writing about that?!
How about your connection to Judy? How much of Judy do you see in yourself?
We both love music – she knew literally every song (she named all three of her children after song titles!) Oh, and we're both belters.
Can you talk about the process of constructing these tribute shows? Is there a certain angle you take with each one? Do you go in knowing which songs you want to sing and why? And is there a reason you may sing a given song? 
It is a very long and painful process. I don't think anybody really realizes that from the outside… it probably just seems like I'm up there singing a bunch of songs and telling a story here and there. But it's very involved and intricate. I start with a deep list of songs I want to do. Then I sing through them and decide which sound good on me. I cull the list. Then, I start to think of how they relate to me. The songs become puzzle pieces all around me, and I have no idea how to make them hang together. I get scared and angry and hopeless. And then, often in the middle of the night, an idea becomes clear, and I jump out of bed and rush to the piano and start to play with key changes or tinker with a lyric to fit my own story. I am usually pretty satisfied with where we get by the end, but honestly it feels as if I am writing a novel or a new show from scratch. But oh, is it satisfying when I finally get it right!
You brand yourself as a "tribute artist" and not an impersonator. Does that affect how an audience may perceive your show? What affect do you feel that has on your audience, and on you as a performer? 
Except in small doses, I don't really appreciate impersonations. It becomes parody, and I'm not interested in that.  So I naturally don't want people to think that's what they're going to get from me.  While I have undoubtedly picked up a few of her mannerisms unconsciously, there is nothing remotely parodic about my work. [While] a tribute is "an act, statement, or gift, that is intended to show gratitude," mine is literally an act of gratitude, to the great lady herself. And who's it hurting if maybe I get to show off a little while I pay it?
What song in your set list do you think exemplifies Judy the most and why? 
"What Now My Love." I'm not sure that a lot of people have heard of it, but its lyrics are deeply dramatic and thrilling. In true Judy fashion, [it] makes you wonder if she's going to open her throat and sing, or if she's going to open a vein. It really tugs at the heartstrings and captures the tragedy of her downward spiral in a really beautiful way.
How does your Broadway work inform your work as a cabaret artist? How have the recent shows you've worked on specifically helped you to shape this specific tribute?
I've learned that if you treat the material honestly and truthfully, the people will respond in ways you wouldn't even believe. And that's what I try to do with my tributes – just be as honest and truthful to the material as I possibly can. Speaking specifically of my work on The Band's Visit, too, [that show] is all about how universal the language of music is. [In the show], two very different cultures are able to connect through their mutual fondness for music. So, that's what I use when singing Judy's stuff, too – even though some people might not necessarily know the songs I'm singing, I hope I can still reach them through the music. And… so far, so good.
What do you hope to accomplish with this tribute? What do you hope to instill in your audiences? 
I hope to make people smile. I hope to help keep the songs alive.  I hope not to embarrass myself or fall off the stage.
Finally, if Judy were alive today, what would you say to her… and what do you hope she would say to you about your act?
I'd say, "Get up here and sing with me."  And hopefully she'd reply, "We'll sing them all and stay all night!"
Seth Sikes: The Songs That Got Away plays Feinstein's/54 Below (254 W. 54th Street) May 16th at 9:30pm. For tickets and/or more information, visit www.54below.com.