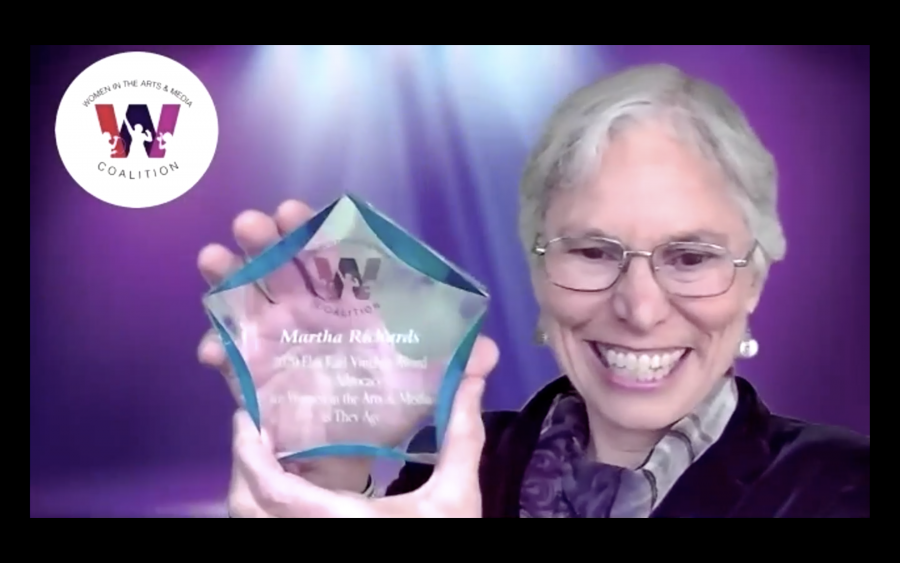 On November 14, the Women in the Arts & Media Coalition presented the 2020 VintAge Award to Martha Richards, Founder and President of WomenArts: an organization that supports and nurtures women artists worldwide. Dame Rosemary Squire, Co-Founder of the Ambassador Theatre Group and Trafalgar Entertainment, presented the award in a Zoom ceremony that featured speeches and performances by many of the artists Richards has nurtured over her long career.
Those speaking or performing included Paul Tetreault, Alice Tuan, Rebecca Strang, Christine Young, Melinda Pfundstein, Sophie Dowllar, Mary Watkins, Deborah Magdalena, Leslie Shreve, Jennifer Hill, Lydiah Dola, and Shellen Lubin. The ceremony also included video clips highlighting Richards' accomplishments.
In the hour-and-a-half long program, Richards' various friends and mentees discussed their appreciation for her efforts on behalf of the arts, from saving a debt-ridden theatre to starting a fund for female artists. They also discussed her creation of the international holiday SWAN Day (Support Women Artists Now), which recognizes female artists across every discipline. 

Many participants testified to Richards' steady involvement in their lives, which went beyond just supporting them financially or giving them press. 

Deborah Magdalena, director of SWAN Day Miami and Spoken Soul Festival, said she and her friends call Richards their fairy godmother. She's helped them with every aspect of running an arts organization, from filling out a grant to dealing with bad press.

Chinese American playwright Alice Tuan spoke of how Richards helped find a space for her work when she struggled to fit within the traditional American theatre scene. "I have benefited hugely, richly, ecstatically, from Martha Richards and her support for women artists," Tuan said.

Mary Watkins, a composer and pianist who played a piece called "Comin' Home" in honor of Richards, said she "makes a difference in people's lives on a grand scale and on a small scale."

Other performances included Lydiah Dola's song "Swan Girls," Jennifer Hill's "Women Unite, A SWAN Song," and a Zoom singalong with Shellen Lubin's "It's Changing."

At the conclusion of the ceremony, Richards opened the award over Zoom and thanked all the speakers and attendees for their love and support. She said the idea for WomenArts started in the 80s, when she realized that all the big theatres performed plays by men while women were forced to perform in tiny auditoriums and makeshift theatres in garages. What would it mean, she wondered, if these women had the resources they need to get their plays produced? Eventually, WomenArts grew to support women artists not only in theatre, but in the visual, spoken, and musical arts as well. Its influence spread around the world, and to date has raised about $5 million for women artists.

Finally, Richards spoke to the power of women artists to make a divided world whole. Knowing that many artists may feel overwhelmed or unequal to the task, she reminded attendants that WomenArts started at her kitchen table. "There are days when it will seem like your goals are very far away from you, but I want to encourage you all to persevere," she said.

The 2020 VintAge Awards ceremony will soon be available to view for a small donation on WomenArtsMedia.org.