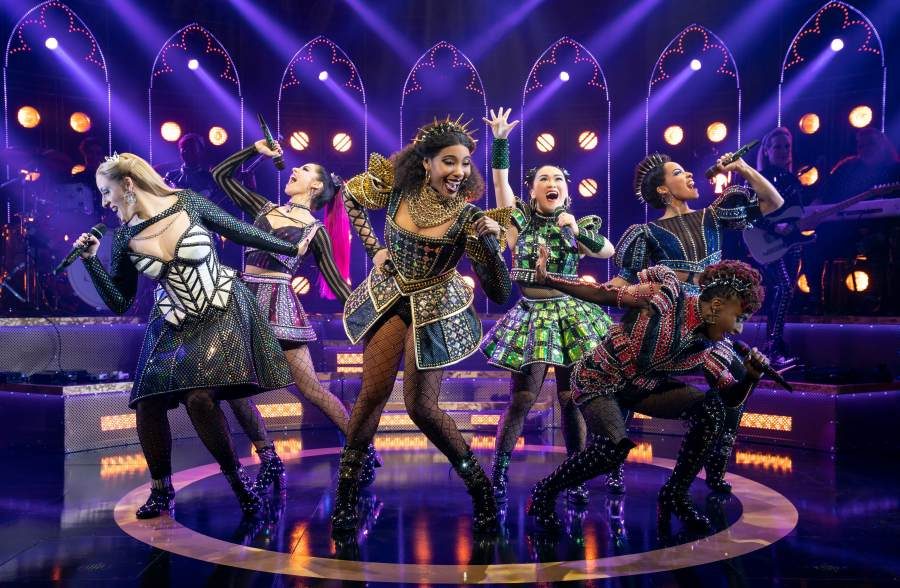 Don't lose your head, because Broadway's original queens will be returning to the Brooks Atkinson Theatre when SIX, the musical by Toby Marlow and Lucy Moss, resumes performances September 17th ahead of an October 3rd opening night.
The six actresses who originated their roles when the show first debuted in New York will return to the production. The Broadway cast will feature Adrianna Hicks as Catherine of Aragon, Andrea Macasaet as Anne Boleyn, Abby Mueller as Jane Seymour, Brittney Mack as Anna of Cleves, Samantha Pauly as Katherine Howard, and Anna Uzele as Catherine Parr. The cast will also include Nicole Kyoung-Mi Lambert, Courtney Mack, Mallory Maedke, and new cast member Keirsten Hodgens.
SIX, the pop musical about the six wives of King Henry VIII, is already a sensation in London's West End, across the UK, and in Australia. A U.S. tour is in the works, as is a return engagement in Chicago in 2022. The Broadway production was still in previews when COVID hit. Now, these one-of-a-kind queens are finally free to take their crowning glory. Watch the trailer below.