THE PLAYERS TO HOST CELEBRITY TRIBUTE PERFORMANCE OF "CLUE"
HONORING FILMMAKER JONATHAN LYNN ON 30th ANNIVERSARY OF BELOVED CULT CLASSIC
Michael Urie, Tony nominee Brandon Uranowitz, Unbreakable Kimmy Schmidt's Sara Chase & Lauren Adams
among stars headlining tribute to Lynn at historic social club on December 13th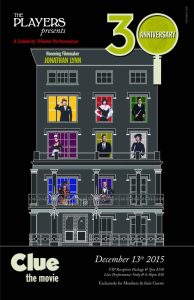 December 1st, 2015 (New York, NY) – The Players, the historic private social club on Gramercy Park, will celebrate the 30th anniversary of the cult comedy classic "Clue" with an all-star tribute performance honoring Jonathan Lynn, the film's director and screenwriter, on Sunday, December 13th.
 Michael Urie (BUYER & CELLAR, "Ugly Betty"), Sara Chase and Lauren Adams ("Unbreakable Kimmy Schmidt"), Brandon Uranowitz (AN AMERICAN IN PARIS), and Max Jenkins ("The Mysteries of Laura") are among the stars of stage and screen slated to perform in the one-night-only tribute. Prior to the performance, Lynn will be feted for his career achievements with an honorary membership to The Players by the club's president Arthur Makar.
 Based on the popular board game, set in a Gothic mansion, and featuring three alternate endings in keeping with the game's whodunit theme, Clue starred a who's who of comedy greats including Tim Curry, Michael McKean, Madeline Kahn, Christopher Lloyd, Eileen Brennan, Martin Mull, and Leslie Ann Warren.  Although it received mixed reviews and fared poorly at the box office at the time of its release in 1985, the fast-talking, high-concept film went on to become a cult classic (Buzzfeed hails it as "one of the most beloved films of the 1980s") and Lynn proceeded to direct such classic films as My Cousin Vinny, The Whole Nine Yards, and The Distinguished Gentleman. Lynn is also the co-writer of the phenomenally successful, award-winning BBC series "Yes Minister" and "Yes, Prime Minister."
 "Jonathan's rich and varied career is grounded in a love of comedy, playfulness, and extraordinary writing and performance that epitomizes the spirit and history of The Players," said Makar. "We cannot think of a better way to celebrate his achievements than by gathering some of today's brightest stars in our historic mansion to bring his classic comedy to life on the stage.
 Founded in 1888 by actor Edwin Booth with 15 other incorporators including Mark Twain, The Players is New York City's premier social club for theatre, television, film, music, and publishing professionals, patrons of the arts, and business and civic leaders. Housed in the Booth mansion, a landmark Greek Revival townhouse on Gramercy Park, The Players celebrates the rich cultural life of New York City with exclusive membership events that include live performances, readings by leading authors and playwrights, film screenings, and special dining and cocktail experiences in its famous Grill Room. Presidents of The Players have included Jose Ferrer, Lynn Redgrave and Timothy Hutton.
 While attendance is limited to members of The Players, ten members will of the public will have have an opportunity to win two tickets via an online competition.  To enter, fans must post videos on Facebook, Instagram or Twitter of themselves lip synching (using Dubsmash) or reciting dialogue from the film with the hashtag #Clue30th and #ThePlayers. Deadline for submitting videos is December 11th and the winners will be selected at random and notified by December 12th.  For contest details visit The Players Facebook page.
 Conceived and directed by Tim Drucker (GIGANTIC) and Jason Michael Snow (BOOK OF MORMON), the performance will also feature Brynn O'Malley (HONEYMOON IN VEGAS), Christopher John O'Neill (THE BOOK OF MORMON), Amy Jo Jackson (DANI GIRL), and Nikka Graff Lanzarone. The event is hosted by Players Michael Barra, Michael Gerbino, and Michael McCurdy.