Fringe Overall Excellence Winner Max Mondi on His Deeply Moving Dark Comedy "Maybe Tomorrow"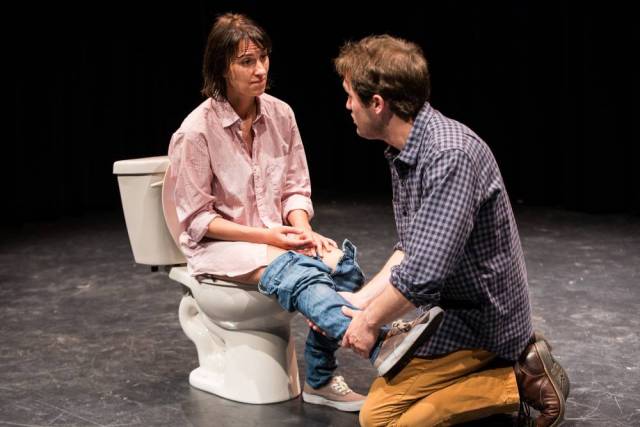 Maybe Tomorrow, inspired by a true story, is a deeply touching dark comedy about what is real and what we simply learn to live with. Written by Max Mondi, the entire play is set in a bathroom, where the lives of Gail and Ben unfold as Gail slips into a depression and decides not to leave. Unable to find anything to inspire Gail to leave her coveted seat on the toilet, Ben begins to care for his wife, living in the bathroom while the rest of the world carries on.  After a successful run at the New York International Fringe Festival, including an Overall Excellence Award for Best Play, the play has received an encore run at the Soho Playhouse.  We spoke with Max Mondi about the story that inspired the play, the Fringe experience, and how he finds humor in tragedy.
How did you come across the story that inspired the play? What advantages or disadvantages do you think you have as a playwright basing something from real-life events?
I first learned of this story while I was living in Minneapolis as a Literary Intern for the Guthrie Theater. I was working on a devised piece with a wonderful group of M.F.A. actors from all over the country, and during a brainstorming session, one of them brought this story to our attention. Though it was quickly dismissed in favor of other source material, the story piqued my curiosity, and stayed with me for nearly 7 years until I began to formally write the play in the summer of 2014.
To be honest, what has interested me in writing this play is not so much the true and honest telling of this real news story, but rather in the creation of my very own theatrical world. I've done very little research into the story beyond some googling, and to this day I do not know the real people's actual names, where they are from or where they are now. I am wildly ignorant of the actual story. What has always interested me about this were questions such as: What would make living in a bathroom an ideal lifestyle? Can a relationship work if one member is in the bathroom the entire time? And finally, without making any sort of moral judgement, can such a relationship be successful and even banal if one person decided to stay in the bathroom, in the same way if a person in another relationship decided to be vegetarian or decided to switch careers? For me, the story was not the basis for my play; rather, it was the inspiration from which I and [director] Tomer [Adorian] and the cast created our own exploration of relationships.
Which character, if any, do you most identify with and why or why not?
My family often likes to joke that because I am the youngest sibling, I am the one who is constantly concerned with everyone being happy and for assuaging any confrontation. In this sense, I think I identify with Ben quite a bit, in that he is constantly just trying to appease Gail in order to make their marriage work, for better and (more often) worse.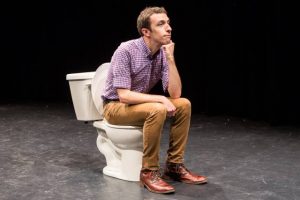 This piece has a very personal feel, the actors are giving a lot of themselves during the performance. Could you discuss the process of creating this piece? Did you workshop and have readings; and how much input did the director and performers have on shaping the play?
I first told Tomer (our director) about the idea for the play a little over a year ago, and he encouraged me to finally write out a draft. Nearly a month later, in July 2014, I had the first draft of the play completed. Since that time, I have been workshopping it with with Tomer and Danielle [Bourgeois] of The Poet Acts and the playwright's group hosted by Project Y Theatre. Once we cast Jenny [Bareielles] and Harrison [Unger], we did a reading of the piece at Dixon Place, and then six weeks later we were at the Fringe.
Tomer and the cast have had immense input on the play. When we were accepted into the Fringe, we had to act very quickly in getting the play into shape, and everyone that came onto the team was all in. Though we didn't have a lot of time for rewrites, we were able to rework some of the play to better suit Jenny and Harrison, who both brought so much to the play. But so much of the credit goes to Tomer. He is one of the most brilliant and giving collaborators I have ever come across. He understood what I was going for in the play right from the outset, and he has worked tirelessly to bring out his vision for the piece that not only upholds my intentions in writing it, but better yet developed the piece into something better than I could ever imagine. And I am so excited to hear that you feel the play has such a personal feel, and that is such a testament to the work that Jenny and Harrison have been doing.
There is lots of humor scattered throughout a piece which is essentially a drama-tragedy. Why do you think it was necessary for the piece to be funny and how do you feel about moments when half the audience is laughing and the other crying?
I used to write in a lot of jokes into my plays, and found anytime I did that, they were never, EVER funny. Inversely, there have been a lot of times I've written things I thought were incredibly sad, and those got huge laughs. So I've given up on tracking this. I just try to write as honestly and sincerely as possible. With this play, it has on the surface a very absurd premise, so what has been important to me and I think very crucial to the play is to ground it in as real-life as possible. I think the cast and Tomer have been amazing at looking at this play as a kitchen-sink drama, and grounding it in a truly banal relationship piece (that happens to have a woman on the toilet). So with this in mind, what has been so exciting to me is how sometimes certain sections are hilarious and other sections are sad and sometimes those happen at the same time. And I think that's what life is like. Life is sad and tragic and funny and weird and odd and joyful and miserable, all at once! That's what makes life beautiful. And I think we have been trying to attempt that. We're not producing or mounting a comedy or a tragedy. I think we're trying to mount life, and sometimes life is funny and sometimes it's sad, but it's always most interesting when it's both at the same time.
What has surprised you or what was something that you hadn't predicted would come out of having this piece be part of the Fringe?
Everything. Literally everything. This was my very first experience in the Fringe, and I had no idea what to expect. I was just so excited (and slightly overwhelmed) by the prospect of seeing my play staged. But the entire process has been such a joy, thanks to both the FringeNYC organization and The Poet Acts. I still cannot get over the love and support we've received for the play, and the response has completely blown me away. I can't even begin to tell you how grateful I am for this experience.