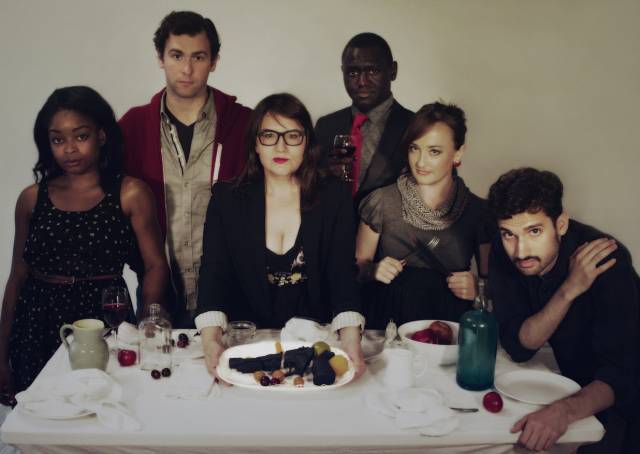 Squeaky Bicycle Productions' Ten Ways on a Gun, written by Dylan Lamb, is a dark comedy about two unconnected people obsessed by the same gun.
Tommy (Dylan Lamb) is a condo timeshare salesman who hates his job and feels unsatisfied in life; he decides to buy a gun, not with the intention of using it, but to feel more empowered. When Tommy's girlfriend (Alisa Murray) finds out about the gun, she makes him give it up; Tommy pawns it off to his co-worker Philly (Timonthy Condon), who forms a co-share on the gun. Into this burgeoning chaos comes Jessica (Brandi Varnell), who is struggling to come up with a decent idea for a play for her emotionally charged group of actors. Jessica accidentally stumbles across the unfolding drama of Tommy and the gun, and decides to use the story to write her play, which we witness as a work in progress.  As these two plots weave in and out, the character of Stage (Laura Darrell) announces the stage directions and comments on what we see and don't see on stage. She liberally breaks the forth wall with both the audience and the actors who are playing actors.
The performance is fast paced and moves us between the two stories in an entertaining way, with director Kathryn McConnell reversing time, mixing in musical numbers, and creating room for both sincerity and playfulness. The supporting cast members, who play a number of characters, easily transition from role to role.
At its core, Ten Ways on a Gun is about our daily frustrations and the feeling of loneliness, but it also tackles the timely subject of this country's relationship with guns and violence, placing us in the heart of the constant debate about the ready availability of firearms. In doing so, Squeaky Bicycle comment on the role of artists to reflect and represent those issues and people who are often misunderstood or overlooked, and lead us to a number of discussions about what millennials are dealing with and what they have a responsibility to change.