Interview: Musical Improv Duo Evan Kaufman and Rebecca Vigil on "Your Love, Our Musical!"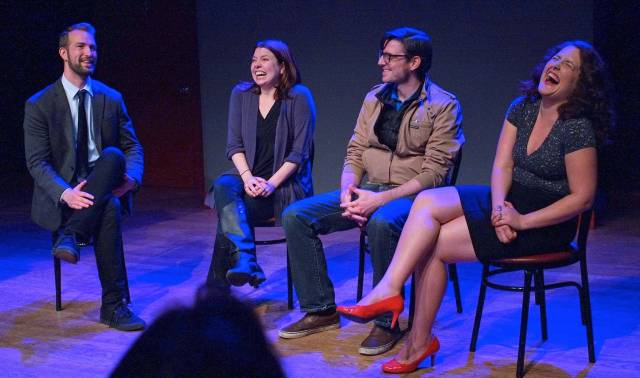 Following a sold-out run at the 2015 New York International Fringe Festival, Your Love, Our Musical! is heading for an additional five shows in the Fringe Encore Series at the SoHo Playhouse.  In each performance, Rebecca Vigil and Evan Kaufman choose a couple from the audience and interview them about their love story. What follows is a hilarious, unexpected, and heartwarming show retelling that couple's story. Accompanied by a live band, Vigil and Kaufman develop, in front of the audience's eyes, a Broadway-style musical, never to be duplicated again. For this, Vigil and Kaufman also received a FringeNYC Award for Overall Excellence in Acting.
We asked the musical improv duo about their FringeNYC experience, their die-hard fans, and what it means to get serious about improv.
What expectations did you have for the Fringe Festival?
Evan: It was our first Fringe so we weren't sure what to expect. We had a lot of advice from a good friend who did Fringe last year—David Carl—he did Gary Busey's One-Man Hamlet. He gave us information on how much it would probably cost and how to do the grassroots work to raise money.
Rebecca: One of our goals has been to legitimize improv. We wanted to show that we were serious about Your Love, Our Musical! and that we were willing to work as hard as our fans do. Fringe is an opportunity to boost your show, so it's important how you utilize that opportunity. Evan is an incredible business partner. We worked really hard to raise the funds on Indiegogo, so of course we wanted the best results possible.
And what about the results? Did FringeNYC meet your expectations?
Rebecca: I would say it exceeded our expectations. We 100 percent did not expect to win an acting award for improv! We didn't anticipate how well the press would respond and we've been humbled and flattered by all the attention we've received.
Evan: We were happy with everything—that our shows were able to sell out, how the people from Fringe treated us, the venue. Everyone involved was very complimentary and nice.
Can you talk about your current fan base from, among other things, your performances at the People's Improv Theater?
Rebecca: We definitely have superfans and we treat them really well. One of our superfans is Evan's father (laughs), but there's also a woman who comes to every show, and she always shares our stuff on social media. We reserve a seat for her in the front row. It's really important to remember the people who were there for you in the beginning.
Evan: We wanted to reward our fans. Doing Fringe was a way to say that we're serious about this. We wondered, "How can we continue to build this thing?" People have responded to that, and it warms our heart.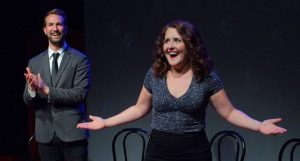 Do you think the Fringe Festival reached a different demographic or a wider audience than your usual fan base?
Evan: Definitely. Being able to connect with a different audience was actually what it was all about. We had a surprising number of couples from other countries—a British couple, a German couple on their honeymoon, a gay couple from New York…
During your performances, there's a lot of love in the room for you and for the couple whose story you're telling. Can you feel it too?
Rebecca: Oh, definitely. One of our favorite things is that the audience leaves as a community. We usually go backstage right after the show, so we don't see the immediacy of the ending, but our friends tell us that the audience always goes up to the couple and asks them how it felt to have their love story performed. It makes the couple feel like celebrities.
Do you get requests from people who want their story told?
Rebecca: We do sometimes get requests for a couple to be chosen. But we really don't want to know the story beforehand. When we first started out, our audience was always people we knew. If there was one couple we didn't know, we wanted to choose them. I think it's really important for us to have moments in the show that feel authentic; it's important for the weight of the show, for the audience to believe us. That goes back to building a community. There has to be moments of sincerity.
Is there a noticeable difference in the audiences for Your Love, Our Musical! and those for improv or stand-up?
Rebecca: Yes, Evan and I have both done all three forms of comedy: sketch, improv, and stand-up. I've been doing this for a long time. I started doing short-form improv in high school, and eventually there was a movement toward long-form improv. So, there was a division, like insular divisions that often happen in art. The attitude of some performers was that if the audience doesn't like it, they can go somewhere else. Your Love, Our Musical! has a different vibe. We're doing this with the audience and we're all part of it.
Evan: I've performed in Boston a lot, where it feels like the audience comes in thinking, "OK, show me what you got!" instead of a supportive attitude. No art is selfless because you need an ego to get on stage and say "look at me." But Your Love, Our Musical is about two people who come in not knowing the show is going to be about them. The rest of the audience can really identify with that. It's not a cynical show; it's warm and loving and we get to see that reflected in our audience.
In an article for backstage.com, you wrote, "Improv, for the general public, is often a tough sell. But we might have it a little tougher as a musical improv duo." Why is it a harder sell?
Evan: Oh, yeah, it's definitely harder. For a theater audience in particular, there's such a wide variety of improv that you never really know what you're going to get. It's unlike stand-up comedy in that way.
Rebecca: With musical improv, if there's a joke that doesn't work, it can last three minutes because it's a song. It's a gamble. But things that are a gamble, they can end up being better than you think.