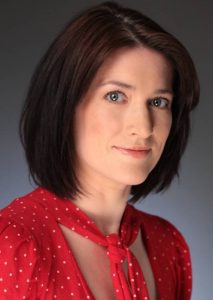 The Obie-winning Ice Factory festival presents seven new works from June 29 to August 13 at the New Ohio Theatre -- starting with the Byzantine Choral Project's Icons/Idols. We caught up with playwright/lyricist Helen Banner about working on this choral play.
Tell us about your show:
Icons/Idols is a choral play about the Byzantine Empress Irene of Athens, who ascends to the throne in a society opposed to the idea of a female ruler. Irene used icons to challenge the male orthodoxy and gain immense power, but at the cost of sacrificing her own relationships and family. The Byzantine Choral Project makes shows inspired by the Byzantine purple Empresses that combine music, movement and text and are played by big, all-women casts.
Were you thinking a lot about the current political climate in the U.S. while working on the piece?
One of the things that most interests me about Byzantium is the similarities with contemporary political culture, particularly in regards to imagery and representation. At the core of the play, is a battle over what we can represent of the divine and what we do to people who misrepresent the things we hold to be sacred. I started researching the play at the time of the Danish political cartoon crisis and I was startled by how the same issues are still lightning rods in our own world. I feel like Byzantine icons occupy a similar cultural place to modern political cartoons and in rehearsal we've talked about the Charlie Hebdo massacre in Paris, the Texas cartoon rallies and more widely about the offensiveness of cartoons that play on racial, religious or gender type-casting.
It has also been deeply saddening to open a show about political violence in ninth century Constantinople in a week in which so many people have been killed and injured in bombings in modern day Istanbul. It makes Irene's move in the play towards calculated violence seem even more disturbing.
What have been the most exciting things about seeing your show jump from the page to the stage?
Colette [Robert, director] and I started working on Icons/Idols in response to a challenge in The Jam (New Georges' performance lab for writers and directors) to make something completely outside our comfort zone and we immediately decided that we wanted to make something big, beautiful and diverse. Coming into production it has been amazing to see the different elements combining so fluidly. The music, movement, lighting and design are all stunning and I love how together they create a golden city.
What was the experience like working with composer Grace Oberhofer? Was this your first time writing lyrics?
This was my first time writing lyrics, but the process has felt very natural. Grace is wonderful to work with and I'm blown away by her ability to mix the formal Byzantine choral tradition with found sound juke-boxed in the rehearsal room. I can't wait to collaborate with her on the next two parts of the trilogy!
Who are your favorite playwrights, past and present?
I've really enjoyed coming back to Greek and Roman drama as part of my research for Icons/Idols and this week walking to the New Ohio each day for tech I've been listening to two amazing BBC Radio 3 productions: Euripides' Medea with Fiona Shaw and Sophocles' Electra with Kristin Scott Thomas.
What would you change about the current state of theater?
One of the aims of the Byzantine Choral Project is to make theater using a wider range of women's voices. We want to show large groups of women on the stage at one time in challenging, provocative and beautiful work.