Interview: Riant Theatre Founder Van Dirk Fisher on the Strawberry Festival, Why He Loves One-Acts, and the Future of Live Streaming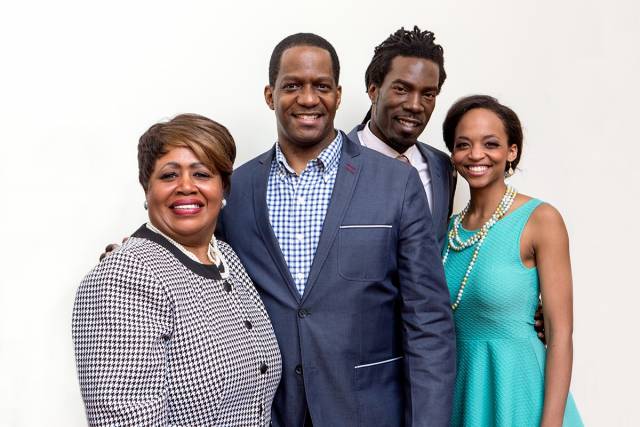 Van Dirk Fisher is founder and Artistic Director of the Riant Theatre and the Strawberry One-Act Festival/Strawberry Theatre Festival, at the Theatre at St. Clement's from July 14-31. We talked to him about the changes he's seen in the theater scene since founding the festival in 1995, his love for the one-act form, and why he's excited about the future of live streaming of theater performances.
What is it about the one-act form that you find compelling? Can you share a few of your favorite one-act plays of all time?
I love the fact that there is a running time limit on the one-act plays that we accept in the festival. It forces the playwright to get to the meat of the subject, which, I find, in turn creates a dynamic punch when it's executed well.
One of my favorite plays is The Fourth Commandment, by Richard Knipe, Jr. It's a hilarious comedy about two middle-aged couples who are frantic when they discover that their senior, recently widowed parents who had been missing were actually safe and had been shacking up with each other in a hotel. This play was a crowd pleaser every time. I laughed so hard and long that I had tears in my eyes. The idea that senior citizens could still be having a healthy sex life and find romance at their age was refreshing and amusing at the same time.
Another favorite of mine is Turkey Day, by E.K. Deutsch, in which an Arkansas farm family experiences revelation and tragedy on Thanksgiving Day. It tackles the very difficult subject that often is swept under the rug in too many families – incest.
Heroes, by Joseph Lizardi, is another favorite of mine. Two different types of Vietnam heroes come face to face about the war. One Vietnam soldier has an interview to apply for a job with an interviewee who was also a Vietnam veteran, but more successful at re-entering society after returning home from the war. The ending of this play will shock you and rock you to the very core of your soul. It raises questions about whether we are doing enough to help our veterans.
In another great play, Virgin Rock, by Kevin Christopher Snipes, two men are forced to deal with unresolved issues of love, friendship and disillusionment after they are reunited after seven years in rural Virgin Rock, Florida.
All of these wonderful plays can be found in our anthologies of The Best Plays From The Strawberry One-Act Festival. There are a total of eight anthologies; all of the plays are available for people to acquire the rights to produce them. They can be found on our website at https://www.therianttheatre.com/index.php?n=books.
You founded the Strawberry One-Act Festival back in 1995. Over the past two decades, what are the main changes you have observed the NY theater world, particularly independent/Off-Off theater? Do you think it has become more or less difficult to get shows produced?
Over the years, I have found that lack of funding limits the type of plays a theatre company may produce. Often plays with small casts and simply sets can be favored when considering producing plays. But I am happy to see on the theatre scene that plays reflecting diversity of our culture is getting produced. It's not as much as I would like, but in the last year I have seen an increase in more opportunities on Broadway, off- and off-off Broadway. I just hope that the number of plays increase moving forward.
You've said that when choosing plays for the festival, you aren't a fan of "passive theater" and "focus on plays with fresh voices that can't be ignored and move you to action." What in your view is the relationship between art and protest/social change/political action/etc? And how would you define "active theater"?
When I say I'm not a fan of "passive theatre," I'm not talking about plays that move people to protest/social action. I'm talking about plays that challenge our audiences to think about new subjects or can provoke people to an open discussion about topics that otherwise wouldn't be given the light of day or would seem difficult to discuss. I feel that often theatre challenges us by holding a mirror to ourselves and allows us to see ourselves and bring about a new awareness.
You said in a recent interview that you'd like to expand the Strawberry Festival to television/Netflix, etc. as a reality show; and in the last year Broadway shows have started to be screened live (e.g. Hamilton, She Loves Me). I'd love to hear your thoughts on the ways these changes may play out, e.g., reaching wider audiences, affecting which plays get produced, whether we may see Off- and Off-Off theater being recorded/screened as well, etc.
Our upcoming festival will be made available on-demand in HD on our Vimeo channel. The advantage to playwrights and artists in the festival is obtaining worldwide exposure. The response to seeing the festival on-demand has been positive. Our viewers, including family and friends our festival participants have been thankful that they have been able to see the plays streamed online, especially when they are out of town or the country and unable to see the performance in the theatre. The other advantage is that we will be exposing people to theatre who might not otherwise get to see a theatre production and hopefully this experience will encourage them to see a live production in the theatre and even check out the Strawberry One-Act Festival the next time they're in NYC. One thing you have to admit is that people love to choose how they get their information. We are in a digital age. Whether we like it or not, it's going to happen. There were a lot of companies that had resistance to the internet, including newspapers, magazines, television companies, record companies and the film industry. But eventually they had to include the digital format due to demand. We first made the festival available online in 2006. Now the technology is so much better and we're happy to be a part of it.
What would you change about the current state of theater?
I would encourage our city and state to offer more funding to theatre companies of all sizes. Often it's the underground artists that are doing the most amazing and imaginative work and most of the time with very little resources. In NYC you'll have artists producing plays in all types of venues, re-imaging theatre and how it's presented. Can you imagine how much more they can do with adequate funding or funding period? When our theatre was in Tribeca from 1991 until December of 2001, we provided a lifeline to several businesses in that community. We brought a lot of people to Tribeca with our ongoing productions year round. They in turn patronized the restaurants and other businesses in the community. And this was on a daily bases. When 9/11 struck and theatres like ours had to move, a lot of restaurants suffered from lack of customers and eventually had to close. I think people need to recognize the importance and the financial lifeline that cultural institutions provide to our communities and economy.
You're directing one of the plays in this year's festival, In Mysterious Ways by Nejla K. Hubbard. Can you tell us a bit about the play, as well as what you found most exciting and challenging about bringing it to the stage?
Wow. Nejla Hubbard's play was brought to my attention by a friend who said he had a friend who had a play that she was interested in developing. I suggested she submit it for our CORE Project, where we develop new plays. I was very moved by her script, the story of two families whose lives are catapulted in a direction they could never have imagined after a certain turn of event on Christmas Eve. I loved the honesty in the writing. The innocence of the characters and the powerful subject that it deals with – forgiveness, marriage, parenting and faith. The play in its infant stage was very moving. I remember at the end of Act 1, I had to put the script down. I was blown away and couldn't come back to continue reading the play for at least two days. But when I finished the play I was happy that Nejla brought the play to me to work on. Through development we went through several rewrites and cut the length of the script in half and tighten it up to get to the meat of the subject. We had a public reading back in December and the audience response was overwhelming and very receptive. They loved it. They laughed. They cried and in the end they were moved. One audience member confided in Nejla that she was inspired to reach out to her husband, who she had been separated from for three years and now she was ready to give him another chance. I was happy with the audience response, but I knew we still had some work to do. How do we shape the play and make sure we preserve the essence and beauty of Nejla's play? I think we've done it and I can't wait to share it with the audiences. If we can touch one soul and change one person's life then we will be successful with this play. Our mission is for this play to be a blessing to people. We are very happy that we have a wonderful cast and designers working on the show. And we have some recording artists that will be musical guests at each performance. The recording artists include: Pastor Terrence Kennedy & New Hope for the World Choir, James Dale, Tina Green, Debra M. Taylor and Darlene Walton. We open July 16th at 8pm at the Theatre at St. Clement's and we'll be there through July 31st. I hope to see you in the audience one day.
Which playwrights/directors have had the greatest influence on your own work?
The playwrights/directors that have had the most influence on my work are: James Baldwin (The Amen Corner), Douglas Turner Ward (Day Of Absence, Happy Ending) also as founder of the Negro Ensemble Company, Bartlett Sher (South Pacific, Joe Turner's Come And Gone), George C. Wolfe (Shuffle Along, Angels In America), Vinnette Carroll (Don't Bother Me, I Can't Cope and Your Arms Too Short To Box With God), Tracy Letts (August: Osage County), Jonathan Larson (Rent) – and William Shakespeare.