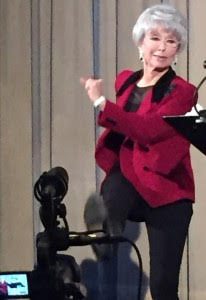 "Alive and Kicking!" could be a theme of the APAP (Association of Performing Arts Presenters) conference and its closing speaker: Rita Moreno, 84-year-old multi-award winning performer (including the Oscar for the role of Anita in the film West Side Story).
APAP's annual event features presenters from Broadway and far beyond (think global!), industry mentors, and mentees - like the finalists of the Wallace Foundation's "Five Minutes to Shine" who won a conference package with travel.  Attendees include over 3,600 APAP members and professionals who come for networking, support, development, and great entertainment.
Rita Moreno was recently awarded with Kennedy Center Honors, capping off a career that amazingly includes Tony, Emmy, Grammy, and Oscar awards. She is one of a handful of performers to win all four - and the only Latina. In her closing remarks at the 2016 APAP Conference, Ms. Moreno spoke about her life journey from childhood poverty in Puerto Rico and the Bronx to Hollywood/Broadway legend. She got her start in show business when her mom took her for dance lessons. When she was performing in Macy's toy department, she was discovered by a talent scout for MGM, who set up an appointment with Louis B. Mayer. She showed up looking like a Latin Elizabeth Taylor (with a waist-cincher and "feminine enhancements"); Mayer promptly signed her to a seven-year contract. As a contract player, Rita was invited to Hollywood parties, often loaded with lecherous producers. She was also assigned a series of dark-skinned stereotypical roles: the Polynesian/American Indian/Mexican mistress of a white man - which she played with the same one-size-fits-all vaguely Latin accent (no one noticed).
Moreno also spoke about some of the amazing opportunities she had, including Singin' in the Rain with Gene Kelly and Désirée with Marlon Brando).  The second encounter ignited a scorching eight-year affair that left Rita burned, but never killed her innate optimism or her ability to do the work she loves and fall in love with "a great guy" - a nice Jewish doctor, her husband of forty-six years.  It's all in her book Rita Moreno: A Memoir - which sold out at the conference raising $1000 for The Food Bank, but is still available in stores and online.
To learn more about APAP/NYC,  visit their website: www.apapnyc.org