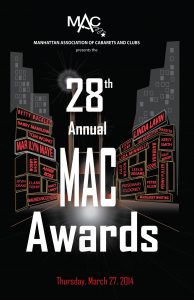 "Come to the ..." Can you name that Kander/Ebb musical?
Even if you missed Cabaret on Broadway, you can still enjoy live entertainment in an intimate room or a large venue like B.B. King's Restaurant in Times Square NYC, which hosts the annual MAC Awards.  MAC stands for Manhattan Association of Cabarets & Clubs, but the talent is international, and the material is varied: show tunes, jazz, pop, comedy, tribute shows, drag acts, singer-songwriters, etc. Almost anything goes as long as it's the personal vision of the performer.   The key is sincerity  (and if you can fake that -- you've got it made!)
At the this year's MAC Awards, StageBuddy (and interviewer Dr. Sue Horowitz) talk with MAC winners and nominees, past and present. The video below includes marvelous Marilyn Maye, 86 years old and going strong, who won a Lifetime Achievement Award presented by legendary costume designer Bob Mackie (she considers it her "midlife award"); songwriter Julie Gold (best known for the Bette Midler hit, "From a Distance"); the incredible Baby Jane Dexter (a multi-MAC award winner who tells a very funny story about her name); super-funny songwriter Christine Lavin ("Good Thing He/She Can't Read My Mind"); Lennie Watts, head of MAC's board of directors, and more!
---
There were sequins aplenty, plus wigs, plus sensitivity and search for meaning in this most personal of performing art forms. Did I miss anyone?  Of course I did.  But you can make it up to them – if you come to the cabaret!