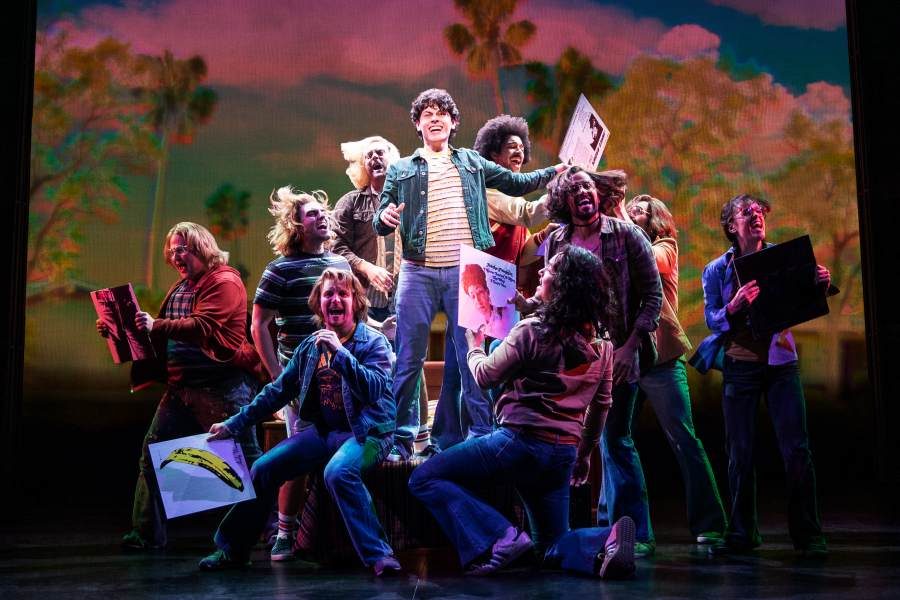 Photo-by-Matthew-Murphy
A show about rock music should be loud. So loud that you feel the music going through you! When the cast of "Almost Famous: The Musical " took the stage and performed "Ramble On," I felt the vibrations pounding through my chest and thought - Wow, this show is going to be good!
Sadly, the show went downhill from there, the music no longer pulsating, just a sort of backdrop to a story better told on the screen.
Based upon the 2000 movie of the same name, "Almost Famous" is a coming of age story of one teenage journalist following a rock band on tour. The movie, written and directed by Cameron Crowe, is his semi-autobiographical story and was a box office success. And on paper, it probably had many of the makings of good theater.
Only 15 years old, William Miller gets the assignment of a lifetime from Rolling Stone magazine. He is to tour with Stillwater, a fictional rock and roll band and write the article.
William doesn't fit in with his classmates. Before his sister leaves to become a stewardess, she gives him her record albums, promising that they will be his way out, his escape. Casey Likes, making his Broadway debut as William, is the best part of the show. With his great voice and innocent charm, it's easy to see why the band's ''groupies' take to him.
In fact, although the band members distrust critics, they still embrace young William, giving him the nickname "The Enemy" and full access to their tour. They speak openly in front of him and remind him to be honest and to show integrity. Stillwater has "Band-aids,' girls who travel with them, claiming they are not groupies but are there because of the music.
William is attracted to the charismatic Penny Lane, (Solea Pfeiffer) who adores Russell Hammond, the soleful lead guitarist ( Chris Wood.) William and Penny bond in that they are both lost souls, seeking a place to belong.
William becomes so ensconced in the lives of the band that he forgets the advice of his mentor, the stage incarnation of famous R&R critic Lester Bangs (passionately played by Rob Colletti.) "Never become friends with the band." How honest can William be in his article as he witnesses what really goes on, the flaws, fights and drugs?
Stillwater band members aren't getting along. Frontman Jeff Bebe (Drew Gehling giving a fine characterization of a rock star) has it out with Hammond when the band's T- shirt has arrived. It features Hammond's face prominently in front with the face of the others slightly blurred in the background.
Snippets of popular songs from the 1970's time period run through the show but other times, additional music by Crowe and Thomas Kitt, seems extraneous. Penny Lane's number "Going to Morocco," is a song about being lost, having no direction. Other songs just seem plugged in, serving little purpose.
The cast is talented and very energetic. Sometimes their dance moves feel frenetic instead of purposeful. When Russell seeks "Something Real" and goes to a local party, the movements of characters are chaotic, without direction. Direction by Jeremy Herrin needed to be tighter and more structured.
Often movies are adapted to the stage, but they don't always succeed. "Almost Famous: The Musical " just reinforces that some stories work better in their original media on the screen.