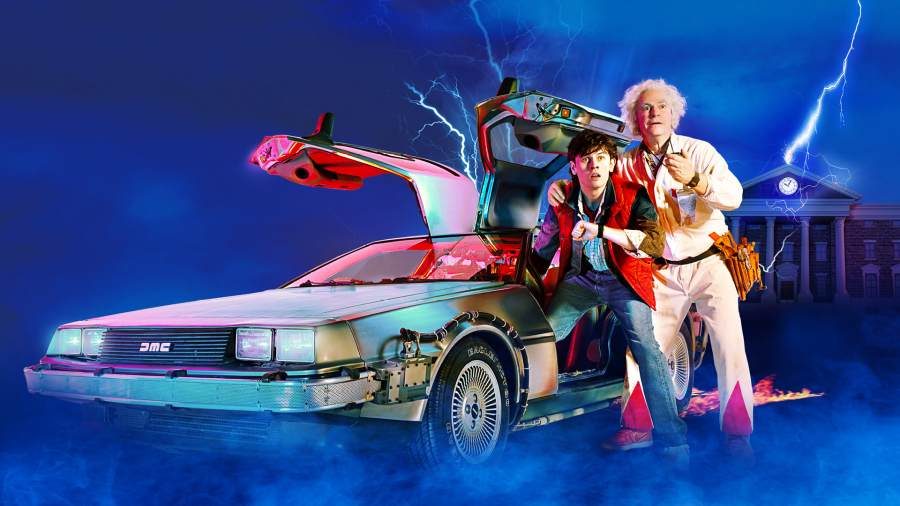 Photo by Hugo Glendinning
Broadway tickets can be expensive, especially for musicals. But you really get your money's worth when you attend "Back to the Future:The Musical." It's got glitter, bubbles, dancing girls and even a flying car!
Yet sometimes even musicals can overdo it. This show is yet another converting a popular movie to the Broadway stage. The seminal movie "Back to the Future" directed by Robert Zemeckis has arrived at the Winter Garden Theater with all the cleverness that made it a cinematic hit.
The difficulty of recreating a popular movie is that everyone knows it. But that is what the producers are banking on. Audiences anticipate their favorite characters, lines and 'bits." So how can a playwright offer something new to avoid obvious comparisons? In this case, it was to make it a musical. The show starring Casey Likes as time-traveler Marty McFly and the irrepressible Roger Bart as Doc Brown has everything the 1985 movie had plus more-much more.
Undoubtedly, most of the theater audience was familiar with the movie yet the jokes still worked. When Marty tries to prove that he's come from the future, he's asked who the president is. His response that it is Ronald Reagan is met with disbelief. Lorraine, his mother, assumes his name is Calvin Klein because that's the name on his underwear. The cleverness of the film still works on stage.
Marty is doomed to be a failure like his father George, (well-played with a wispy voice and diffident air by Hugh Coles.) Marty accidentally winds up traveling 30 years in the past where he meets his young "hot" mother and wimpy father. He must help them fall in love, or he and his siblings will never be born. More importantly, he must somehow return to his own time, to 1985 but he lacks plutonium, the necessary power source, Doc Brown, who converted the DeLorean car to a time machine, realizes they can harness the power of a lightning strike if they time it perfectly.
But before that, there will be lots of singing and dancing. Sometimes too much.
Theater veteran, Roger Bart is extremely talented and every comical move and facial expression is priceless. Yet every number he performs includes a chorus behind him, sometimes drowning him out. No need for that.
Young Casey Likes has boyish good looks and charm and is good as Marty and the audience immediately likes him. Other characters like Goldie, the soda jerk (Jelani Remy) do well but Goldie's songs could have been abbreviated. Other musical numbers seem excessive and unnecessary.
One of my favorite numbers was "Pretty Baby" sung by Liana Hunt as Marty's mother. With a girl ensemble behind her, the number was reminiscent of the songs made popular by the 1950's girl groups.
Director John Rando does his usual excellent job yet should have advised Bob Gale (book) and Alan Silvestri and Glen Ballard (music and lyrics) that the show could have had less and perhaps entertained more.
However the viewers felt about the show, all would agree on one thing-the last vision of the car flying out over the audience overhead is exhilarating. The last impression is what people 'take' home with them. ( Yes, it's been done before with a helicopter, a chandelier, multiple Spidermen and Tarzan) but "Back to The Future: The Musical" will be memorable to its audience, not for its music or creative plot, but for its spectacle. This show has something for everyone and that's what Broadway offers at its best.