Mr. Saturday Night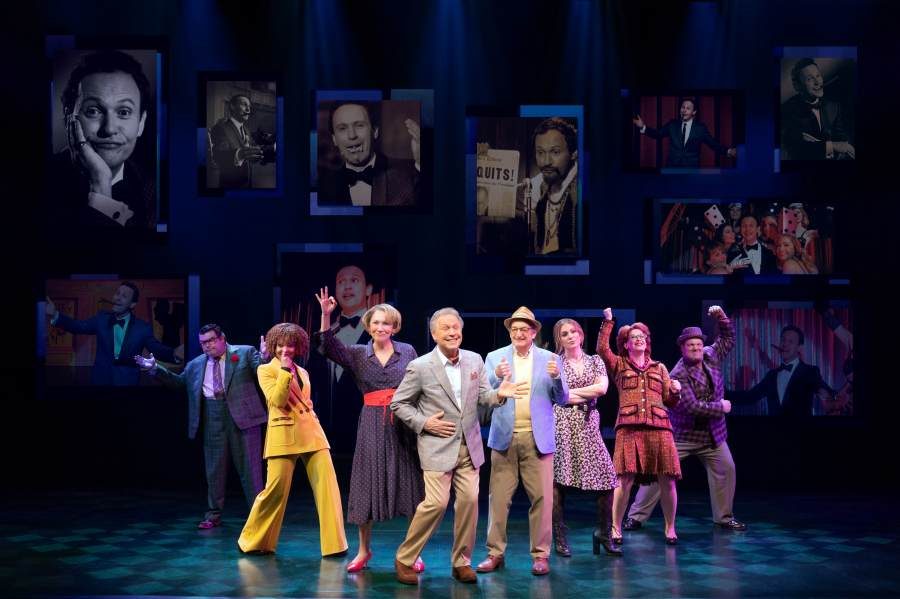 Mr. Saturday Night
I'm a staunch Billy Crystal fan, and judging from the audience's reaction at the Nederlander Theatre the other night, I'm not alone. I love Crystal's quick wit, easy laugh and perpetual grin, even as he delivers a barb. Yet, sadly, I didn't love his new musical "Mr. Saturday Night."
Along with Lowell Ganz & Babaloo Mandel, Crystal has adapted his 1992 movie into a Broadway musical. The show includes a talented group of creatives for this production including director John Rando with music by Jason Robert Brown with lyrics by Amanda Green.
Again Crystal plays Buddy Young Jr., a once successful TV star who had his own television show years before. However, his temper and ego ruined his career, driving his brother-manager into retirement. The beginning premise is quite funny. Buddy has been reduced to entertaining at senior homes, so the show starts with him doing his routine with lots and lots of old age jokes. Later that evening, he and his wife are watching the Emmy awards when the "In Memorandum " segment is aired. Suddenly, Buddy's picture appears. Later his phone begins to ring and for a few days, he returns to the public eye. With the support of Annie Wells, a young agent, (Chasten Harmon) he begins to audition for work. Again his ego gets in the way as he sabotages himself.
Thirty years ago Crystal had to be made up to look like an older man. Now he is the older man and more physically fits the part of Buddy. David Paymer recreates the role of his loyal brother-manager Stan that he played in the movie. Randy Graf plays Young's faithful wife and his estranged daughter is Shoshana Bean. Bean sings beautifully and her song "Maybe It Starts With Me" was one of the musical highlights. The musical shows how Buddy chose his career over his daughter, who felt that she was only a bit player in her father's play.
Sadly the music was less than remarkable and some of it felt forced into the show. Graf, who is usually wonderful, sounded tired and strained in her solo number "Tahiti." Three supporting actors, Jordan Gelber, Mylinda Hull and Brian Gonzales, play all the secondary parts. The show is too long but Bean delivers her songs well. There seems to be musical padding in the show and a couple of numbers could easily have been eliminated.
When Buddy meets the young agent, he's incensed that her boss didn't come to speak with him instead. So he's rude and nasty and berates her for not knowing the founding fathers of comedy. Although their pictures flash on the stage, I wondered how many of the younger audience members recognized the names.
The best parts of the show are Buddy performing standup. Even though his jokes are old (as supposedly is his audience) Crystal is a master. The barbs are delivered with a smile and don't feel painfully sharp. Unfortunately the show has limited audience appeal and I can't see a younger audience enjoying this the way their parents and grandparents would.
No stranger to the Broadway stage, Crystal won a Tony award for his one-man show "700 Sundays" in 2004. Although he's "Mr.Saturday Night" in this show, the audience that would best appreciate this musical goes for the early bird specials and retires to bed early. Maybe it should be called Mr. Saturday Afternoon?