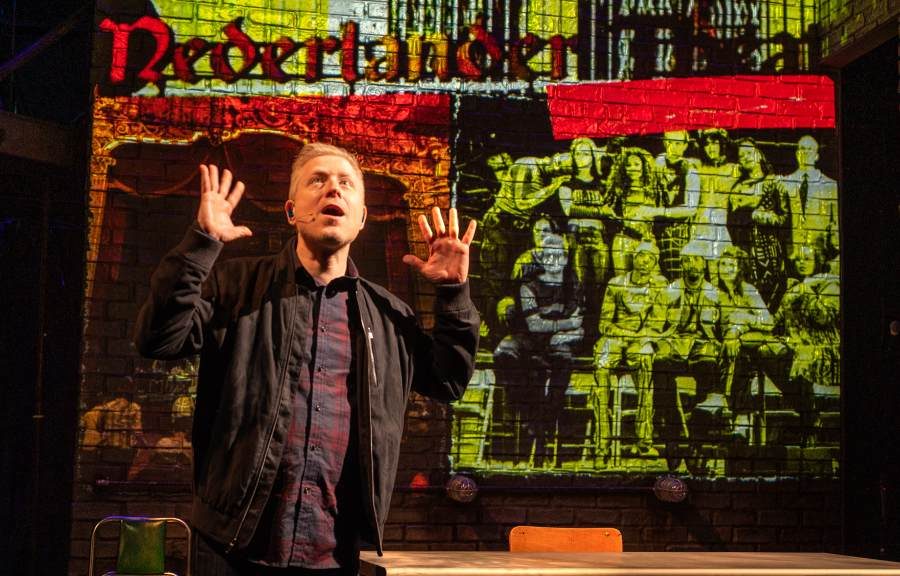 Photo by Russ Rowland
The theme that runs through Anthony Rapp's one man show at the New World Stages is loss. Known for originating the role of Mark the videographer in "Rent," Rapp wrote his memoir entitled "Without You" and uses segments of it for his 90 minute one-man how.
Many in the intimate theater were obviously fans of "Rent" and shrieked each time Rapp performed a number from the show. For others in the audience, it seemed as if he was "milking" it. Although I saw Jonathan Larson's "Rent" years ago, it took this production for me to realize how truly innovative and ahead of its time, the musical was. Overshadowed in a sense by its creator's untimely death, the show was a pop-rock musical with a color-blind cast that dealt with serious topics of AIDS and homosexuality. Today every musical has non-traditional casting and many include gay relationships. But "Rent" which premiered in 1996 was groundbreaking.
Based upon Puccini's opera "La Boheme," "Rent" focuses on a group of young people living in NY and struggling to find their way. While the opera connection appealed to older folks, some of them were startled by the loud pulsating music. It was that same music that attracted younger audiences who immediately identified with the issues and the struggles of the 20-something characters. The appeal of the show kept it running for 12 years, making it one of the longest-running shows on Broadway. Larson posthumously received the Pulitzer Prize for his work, making the award bittersweet.
Rapp begins his one-man show with his audition for the "Rent" workshop and then progresses through the Off-Broadway opening at NYTW and its subsequent move to the larger Broadway Nederlander Theatre.
Those of us involved in theater love to learn what happens behind the scenes but sadly, we don't get much from the show here. I'm not just suggesting prurient gossip and backbiting. Just interesting anecdotes. Rapp only provides a one-line description of Adam Pascal, some passing references to Daphne Ruben-Vega and a couple of comments about director Michael Greif. Rapp notes that he took photos during the show and we get to see some of them flashed on the walls behind the stage.
The second segment of the show is Rapp's ode to his mother. Divorced and raising her three children on her own, she gets cancer and must deal with her illness and its recurrences. All the while, Rapp is in NY. In the scenes he portrays with her, he modulates his voice to represent her. He doesn't arouse enough emotional response from the audience nor does he create a vivid picture of her, so sadly his time with her, slightly juxtaposed with his performances in "Rent" drags out the second half of the show.
Hearing about his mother's illness is depressing and his descriptions plod along until the show ends with a spirited version of "Seasons of Love." But it's hard to be roused from the heaviness of her death.
The show opened in 1996 and the now 50-something Rapp still has a loud strong voice and sings with passion, but I found myself indifferent. In addition to his theme of the losses of Larson and his mother, he needs more to keep an audience engaged. Was there life after "Rent?" We might wonder but never find out.