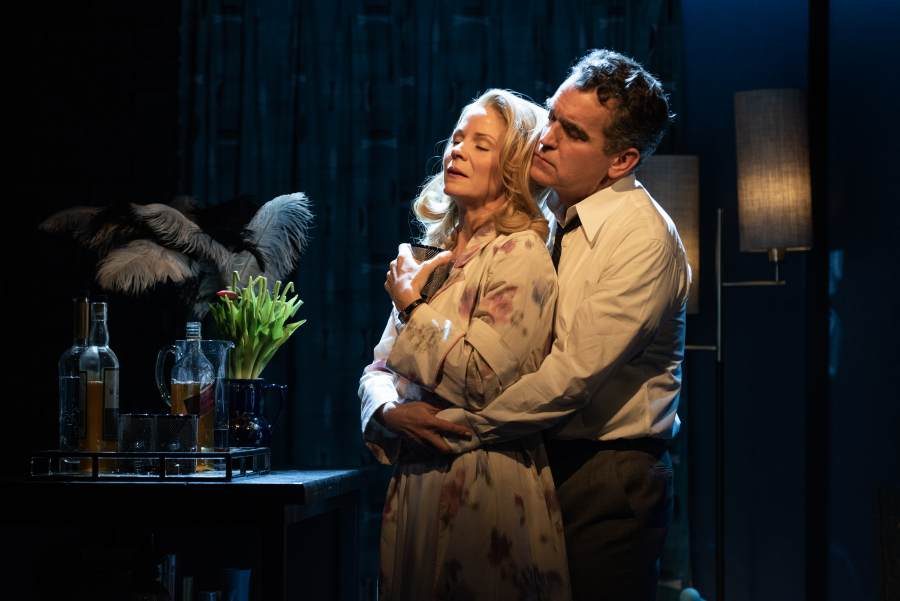 photo by Ahron R. Foster
Based upon the 1962 movie starring Jack Lemon and Lee Remick, Days of Wine and Roses is now a musical at Atlantic Theater Company, starring the divine Kelli O'Hara and talented Brian d'Arcy James.
Generally, I would encourage everyone to rush out to buy a ticket to anything O' Hara appears in. With her wholesome presence, blonde beauty and crystal- clear soprano voice, she adds class and talent to every show. Unfortunately this musical doesn't do her justice.
She stars as Kristen, a strait laced, nondrinker who is courted by Joe (d'Arcy James), a public relations man at her company. Joe sees drinking as part of his work and is shocked when she announces that she doesn't drink. He takes it as a challenge to get her to drink, and unfortunately, he is successful.
O'Hara and d'Arcy James have nice chemistry and both possess excellent singing voices. The duets they do together are the musical highlights of the show.
Together, fueled by alcohol, Joe and Kristen create a life together, marrying and even having a child. However, their drinking causes their downfall and eventually his drinking causes Joe to lose his job and Kristen to accidentally set a fire in their apartment, endangering their young daughter.
From there they descend even further. Their alcoholism is fueled by companionship and each time one tries to stop, instead of supporting the efforts, the other persuades them to start again. Joe convinces her to drink, even when she declines because she is nursing their child. By the end of the musical, Joe has finally accepted that he needs help and is following a program but Kristen, the formerly repressed teetotaler, is still fighting her demons.
The story is depressing and it's clear where their lives are headed. As if to highlight their path, Kirsten's father, played with stoicism by Bryon Jennings, keeps advising her to 'get rid of him.'
The creatives behind Days of Wine and Roses are impressive and should have almost guaranteed the show success. Directed by Michael Greif, the musical has a book by Craig Lucas and choreography by Sergio Trujillo and Karla Puno Gacia. Years ago, O'Hara starred in Light in The Piazza and here she reunites with Adam Guettel who created the music, lyrics and orchestrations for this production.
Allowing the performers to converse through their lyrics, the music often is atonal and sometimes drags. Even without an intermission, the hour forty-five minute running time feels much longer. Much of the music is spiritless and wears the audience down.
Musicals certainly don't have to be light-hearted and insipid. They can deal with serious themes, but still fill the audience with energy and sometimes even hope. Days of Wine and Roses does not do that. It certainly isn't because of the talented stars who sing all of the 14 songs; they work very hard.
Many productions presented at Atlantic Theater Company have wowed audiences and gone on to even great success on Broadway. Sadly, this one won't.