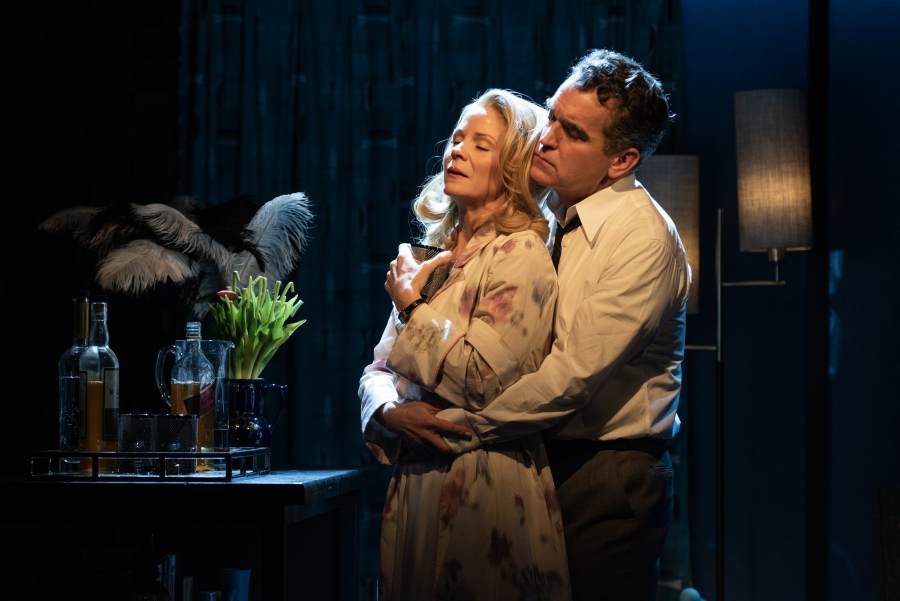 Kelli O'Hara, as everyone knows, is a gift to the world of theatre. Her voice is otherworldly, her acting immaculate. Now, she can add to her resume the triumph of largely carrying Days of Wine and Roses: the new musical by Craig Lucas and Adam Guettel based on JP Miller's 1958 teleplay and Warner Bros.' 1962 film. Directed by Michael Greif at Atlantic Theater Company's Linda Gross Theater, this latest incarnation of the story, like those before it, shows two alcoholics struggling to break free of addiction and remain true to who they are as a couple.
Joe Clay (Brian d'Arcy James) is a cocky public relations assistant when he meets Kirsten Arnesen (Kelli O'Hara), a sharp young secretary who's not in the mood for drinking and carousing. In fact, she doesn't drink. When Joe tells her it's a way to feel good, she replies: "I feel good now." After a few minutes of playful bickering, the two hit it off, and Joe takes Kirsten out for dinner, where he coaxes her into trying a Brandy Alexander. Afterward, they head down to the pier, where Kirsten admits to having a fatal attraction to danger. (Via "There Go I," a song which O'Hara knocks out of the park).
From there, the story takes off, quickly hurrying along to marriage, the birth of a child, and the development of what is clearly a drinking addiction. When Kirsten, perpetually drunk, accidently burns their apartment down, the couple and their young daughter are forced to move in with Kirsten's father. There, they manage to remain sober for a few months, until Joe sneaks in a bottle of gin and rapidly descends into drunken insanity. Eventually, Joe enlists the help of Alcoholics Anonymous, but Kirsten refuses to let him drag her along, opening a rift in their relationship. I won't give away the ending, but it's not a picture of wine and roses.
While it works well as a cautionary tale about the dangers of addiction and the epidemic of alcoholism in America, Days of Wine and Roses isn't quite as effective as a piece of musical theatre. As New York Times film critic Bosley Crowther remarked of the original film, the two main characters never quite emerge as powerful people in their own right. Sure, they're likable--mainly thanks to the natural charm of O'Hara and James--but the story moves so quickly that we never really get a chance to know them before their personalities succumb to addiction. After managing to remain sober for a while, Joe remarks that he can finally see the real Joe Clay. But we can't.
The show does have its moments. "Evanescence" is a jazzy number in which O'Hara gets to twirl in a 50s swing dress, and a little later she sings a beautiful lullaby to her newborn baby. But these get lost in the back-and-forth that forms much of the main plot: Joe and Kirsten splurge on alcohol, swear it off, splurge again, swear it off again, etc. This is undoubtedly an accurate picture of addiction, and part of its power is that it feels so hopelessly repetitive, but it creates an inertia problem for a musical.
For fans of the original film, the musical's creative team, and/or the cast, Days of Wine and Roses may be worth seeing anyway. Despite its failings, it's a chillingly powerful illustration of how completely addiction can ruin a person and a family, and, as always, O'Hara dazzles.