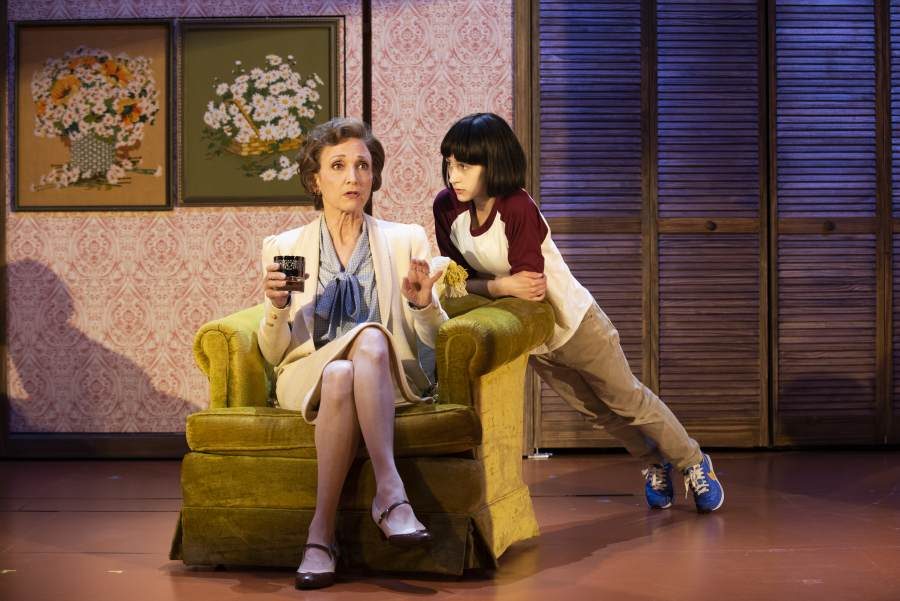 10-year-old Sarah Silverman has one big, big problem. Well, to be honest, she has more than one problem. Her parents are newly divorced, her mother hasn't left her bed in weeks, and her older sister won't even acknowledge her at school. But Sarah, a natural optimist as well as a natural performer, can handle all that--if only it weren't for that one big problem. And as you can probably guess from the title, that problem is that she's a bedwetter.
Based on Sarah Silverman's bestselling memoir, this new musical by Silverman, Joshua Harmon, and Adam Schlesinger is big on heart and big on laughs. If it's not always polished to a T, it makes up for it by being wickedly funny and altogether endearing. Of course, a great cast helps. Caissie Levy is both funny and tender as Sarah's mother, and Bebe Neuwirth gives an entertaining performance as Sarah's alcoholic, dirty-mouthed Jewish grandmother. Rick Crom is laugh-out-loud hilarious as a hypnotist with imposter syndrome, a Xanax-happy psychiatrist, and various other characters. But of course, the real star of the show is Sarah herself, played by the irresistably charming Zoe Glick.
In fact, Glick deserves massive props for a strong performance in which she not only hams it up to the nth degree, but also demonstrates what clinical depression looks like in a 10-year-old. Any show centered on a younger character has the potential to fall short if the actor isn't up to the task. Thankfully, Glick is more than up to it, and while veteran actors help pad the show, her performance as Sarah is its heartbeat.
Then again, it's not all Glick's doing. The Bedwetter also succeeds on the merits of an indecorously funny script and clever staging choices, as directed by Anne Kauffman for Atlantic Theater Company. Miss New Hampshire (a glamorous Ashley Blanchet) keeps popping in to cheer Sarah on--though she mainly succeeds in just looking fabulous. In one of the show's most ridiculous scenes, girls dressed as giant, sparkly Xanax pills perform an upbeat song-and-dance number. Befitting a show told largely from the perspective of a creative 10-year-old, The Bedwetter is brimming with imaginative, stagey flourishes.
There may be a few times when that staginess goes too far, such as in a rather silly finale that, while fun, could probably have been left off for a more impactful ending. Likewise, there may be a few songs that go on for just one stanza too many, and a bit of tightening might not be a bad idea. But if the show is sometimes a bit too self-indulgent, it's hard to begrudge a creative team who's having this much fun provoking nearly non-stop laughter for two hours straight. Yes, The Bedwetter also touches on some serious subjects, but it's ultimately a feel-good show about savoring quirky individuality--as indeed many feel-good musicals are. With dirty jokes, dramatic fizz, and a heartwarming takeaway, The Bedwetter is utterly delightful and sure to be a crowd-pleaser.