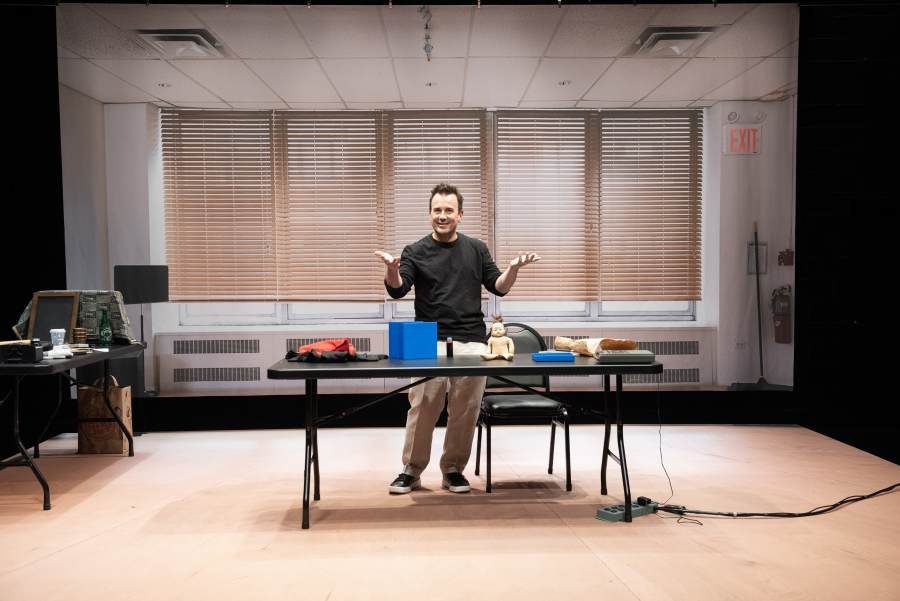 Magician Steve Cuiffo has a problem: his wife hates magic. He doesn't know it's a problem until his friend Lucas Hnath (the playwright behind Broadway's radical Dana H.) asks him to create a magic trick his wife will love. It's part of a theatrical experiment Hnath has asked Cuiffo to participate in, and the result, after several recorded sessions in the studio, is Atlantic Theater Company's world premiere play A Simulacrum: a piece of verbatim theatre peppered with magic tricks and performed by Cuiffo with Hnath's dialogue played on a tape recorder (Hnath also directs).
That the play works as a play is due in large measure to Cuiffo's natural charisma and stage presence, though Hnath's guiding hand is the invisible ingredient transforming Cuiffo's performance into something more than simply a guy on stage doing magic tricks (not that the tricks, flawslessly executed by Cuiffo, aren't delightful in themselves). Finally, it's the tension—subtle but unmistakable—throughout the piece that truly brings it to life: tension between Cuiffo and Hnath, whose demands start to sound increasingly impossible; tension between Cuiffo and his wife, who has strong opinions on magicians; and tension between Cuiffo and his own magic tricks, verbatim copies of other men's work, which, he admits, require a certain posturing.
The play begins with Hnath asking Cuiffo to show him some magic tricks. With a tape recorder rolling, they explore a few different stunts, and Cuiffo explains how he got into magic, gives away a few of his secrets, and discusses some of his past jobs performing at parties and gatherings. But Hnath pushes him deeper. Are any of his magic tricks actually his own? What would he do if he could perform real magic? And, of course, how does his wife feel about magic?
He then gives Cuiffo a set of challenges: create something that's entirely his own; create a magic trick with a real risk of failure; and, what will prove most challenging of all, create a magic trick his wife will love. Though clearly intimated, Cuiffo agrees. After a lapse of time, they meet again, and Cuiffo demonstrates the three tricks he's created in answer to Hnath's challenges. Hnath accepts the first two, not so the third. So, Cuiffo tries again. In the final scene, he brings his wife into the studio (we hear her voice on the tape recorder) to perform the trick he's created just for her. No spoilers, but it involves an antique blue trunk and her creepy childhood doll.
Initially, I was uncertain what to expect from a one-man magic show/verbatim play, but I was pleasantly surprised. I left the theatre entertained, pondering, and—corny as it may sound—believing in magic. Not the magic of card tricks and disappearing dolls, but the magic of original, whimical, thoughtfully produced theatre, and its power to push us into unexplored regions of our own hearts and minds.