Daniel J. Watts gives an explosive performance in 'The Last of the Love Letters'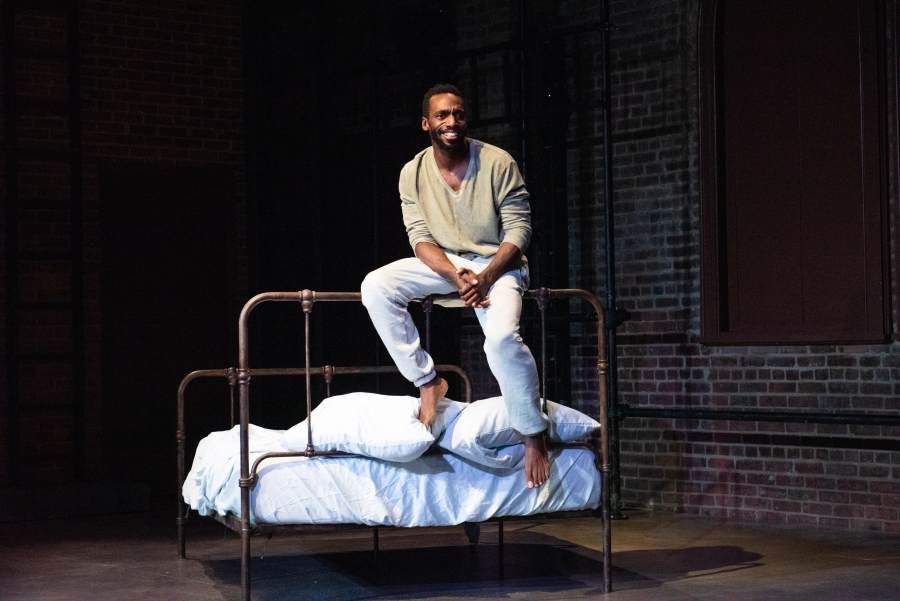 "Do you remember those things we used to go to? They were in expensive a** buildings? What were they called?"
Ngozi Anyanwu's new play The Last of the Love Letters, directed by Patricia McGregor at Atlantic Theater Company's Linda Gross Theater, is a cutting, hilarious, and uncanny meditation on letting go of people and things we love. Starring Anyanwu alongside an explosive Daniel J. Watts, it's a play that crackles and flares like a wildfire. Despite much to admire and even love, the ending packs a dramatic punch that comes a little out of left field, and the play itself feels a little disjointed. Then again, love itself is often messy and surprising in much the same way.
The play opens with a woman (Anyanwu, starkly honest, deprecatingly funny) dictating a final love letter to her partner. At first, she catalogues the flaws in their relationship. But as she prepares to move out of their shared apartment, she's forced to admit that their love wasn't all bad. In fact, there were moments of beauty, which is exactly why it's so hard to leave.
Finally, resolved, she tries to open the door. It's stuck. As she bangs on it the apartment set falls away and a stark, empty stage with an iron bed takes its place. We seem to be in a prison or asylum, and so we transition to the next segment of the play: a crazed man in solitary confinement dictates an emotional love letter to his ex.
As the prisoner, Watts is pure dynamite. As he ponders the failed former relationship, he moves through almost every imaginable phase of heartbreak and abandonment, but his emotional accessibility and comic genius keep the piece from simply digressing into a cry fest. Of course, credit where credit is due. Some of this is also down to Anyanwu's knife-sharp script, which swings from one extreme to the other without losing its honesty or believability. Still, it's not every actor who could pull off such a demanding task with such incredible success. At various moments, Watts' antics elicit loud laughter, murmurs of pity, and thunderous applause from the audience, all of it well-earned.
For Watts alone, The Last of the Love Letters is probably worth watching. The opening scene with Anyanwu is also engaging. But leaving the theatre, I found myself wondering if I'd missed something. The final reveal was carried off too quickly to have enough of an impact, and I was still trying to work out what it meant the day after.
Like much pandemic theatre, Anyanwu's often devastating piece is clearly influenced by a year of separation, seclusion, and shut downs. Its poignancy on the subject of being apart from people we love and losing things like live theatre is powerful. Watts' character has a stash of Playbills hidden under his mattress, which he holds forth like proof of a better time. Those expensive things we all used to go to that he can't remember the names of? They're plays.