New Ambassadors Theatre Company's 4th Blurring Boundaries festival is the best yet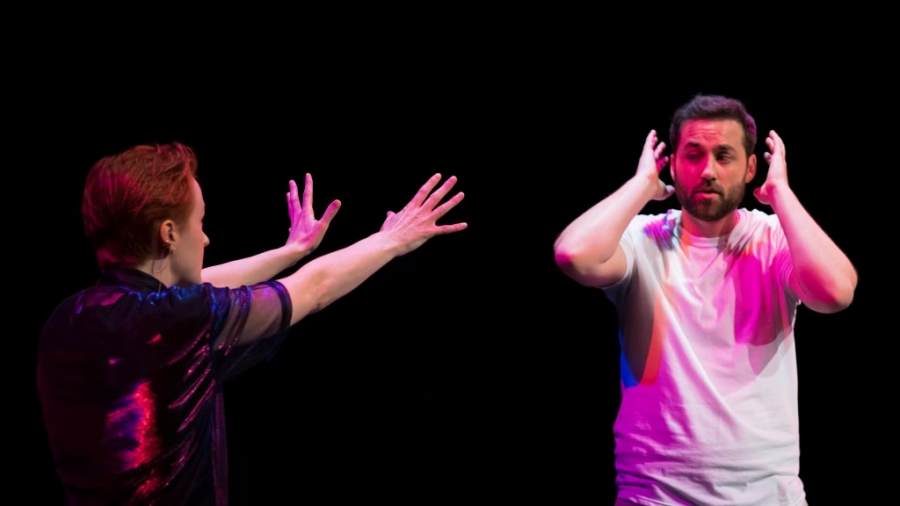 From its inception four years ago at The Kraine Theater, New Ambassadors Theatre Company's Blurring Boundaries—comprising a lineup of short one-act plays written, performed, and directed by diverse artists—has come to be a stalwart part of the Off-Off-Broadway scene. And its fourth festival, currently playing at The Hudson Guild Theater in Chelsea, may just be its strongest yet. While prior festivals have usually included at least one or two pieces that didn't quite hold up as well as others, there was no weak link in this year's lineup.
That's not to say it was a perfectly finished masterpiece from start to finish. As with any short play festival, there are some things that work better than others, and a few moments that could use just a bit more workshopping. But these were few and far between. For the vast majority of the 90-minute program, I thoroughly enjoyed myself.
My personal favorite was John Peña Griswold's "Settings": a dialogue, set in the metaverse, between a gamer and his AI in-game guide (a timely piece for reasons so obvious they don't bear mentioning). Initially dismissing her as "just the settings menu," the player eventually comes to sympathize with her plight as an intelligent being controlled by the game's developers and seen as less-than-human by its players. But far from being a tragedy about the effects of dehumanizing AI or another Frankenstein incarnation, as most stories about AI are, it's a delightful comedy, played with perfect comedic timing by Chase Naylor and Maya Rosewood (Associate Artistic Director Jennifer Downes directs).
Griswold plays up the ridiculous side of the metaverse/gaming world by, among other things, splitting the gamer's awareness between his metaverse experience and his not-in-metaverse roommate, and by mocking games in which you can exercise your homicidal tendencies by shooting as many zombies as you want. Complete with great character development, it's hilarious and charming, a beautifully compact one-act without a single moment that falls flat.
I also enjoyed Dana Leslie Goldstein's "Fragile," in which the owner of a comic book store encounters a ghost from his past in the form of a woman searching for a comic book for her son. Saadiq Vaughan was particularly funny as the store owner: a young man obsessed with comic books and overeager to give recommendations, but not much good at the whole salesmanship thing.
In the other plays, two artists with letter openers duel over the nature of art, an elementary teacher comes home early to give her partner a tragic message, a pair of lifelong friends reach a breaking point in their relationship, a high school bully turns up years later to apologize, and a young gay man works up the courage to kiss his date in public. With a general focus on diverse voices and LGBTQ+ perspectives, the plays are alternately hilarious and sobering, but the prevailing sentiment is simply an appreciation of life and love in all its quirky, awkward, surprising beauty.