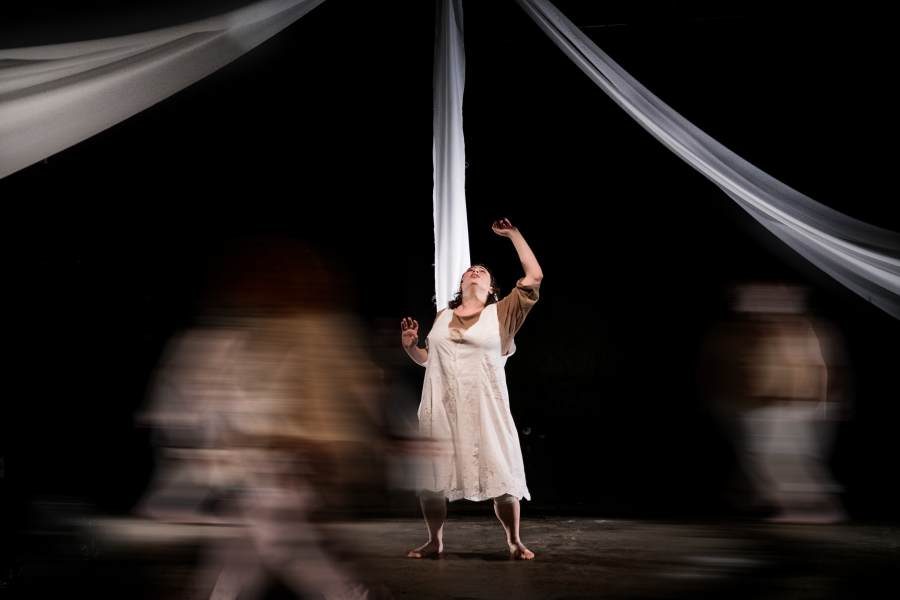 I'm a sucker for a good ghost story. When that ghost story happens to include gorgeous folk harmonies, graceful black box intimacy, and an elusive yet inescapable meaning, consider me sold.
Beth Golison's here i fall up, directed by Annabel Heacock and Maiya Pasouche for the 30th and final New Ohio Ice Factory festival, is performed by a cast of five, one of whom doubles as a musician (the other musicians, under the direction of Kyle Brenn, sit just off to the side). Reminiscent of Dave Malloy's Ghost Quartet, it's mostly sung-through, with a folk score and a few delightful moments of spoken dialogue. The costumes, in earthy colors aside from one pair of jean overalls, are humble. The set consists entirely of a hanging white sheet and a circle of dirt. It's absolutely marvelous.
There once was a girl, we're told, who preferred to sit in an old house and dream while her three sisters played outside in the dirt. She only left the house to swim in the ocean (the dirt near the ocean is clean), despite her sisters' pleading and teasing. One day she met a friend, someone who also enjoyed listening to the whispers in the walls of the old house. But when the whispers became too much, the friend left, and the girl saw a ghost (invisible to us but eerily conveyed via lighting and silence).
In surrendering her love and life to the ghost, the girl brings a curse upon herself. She becomes trapped in the mud beneath the house, and has to fight her way back to the surface. The darkness is deep, "but," she sings in the show's musical climax (a moment that sent chills running through me), "I don't wanna be a ghost / I don't wanna be a cold shadow." So she digs upward.
The story, on the surface at least, is simple. So is the dialogue. But there's a metaphor gently enfolded inside, like a box wrapped in lace and tissue paper. The girl's aversion to dirt, her feeling that she can't breathe, her obsession with a phantom and her entrapment in the earth seem to stand for some form of mental illness. I don't have the answers (I suspect a second viewing would unearth new meanings), but in my experience, battling depression and anxiety certainly feels like an arduous struggle to emerge, gasping for air, from layers of dark mud and dirt littered with bones.
here i fall up is one of the most pure and perfect shows I've seen in a long time. Golison's script is as sweet as morning rain, and the cast, particularly Sophia Drapeau (the Girl) and Rose Tablizo (the Friend) are so open-hearted and tender-voiced that the show unfolds like a half-remembered folktale, full of rare charm and gorgeous yearning. "here i fall up instead of down" the Girl sings as she floats weightless in the ocean. here i fall up admits us to a whimsical, surprising world that, for the show's hour-long runtime, is a joy to inhabit, a world where, caught in the easy ecstasy of orange flowers and smoke twisting up to the ceiling like whispered ghost stories, we too fall up, instead of down.