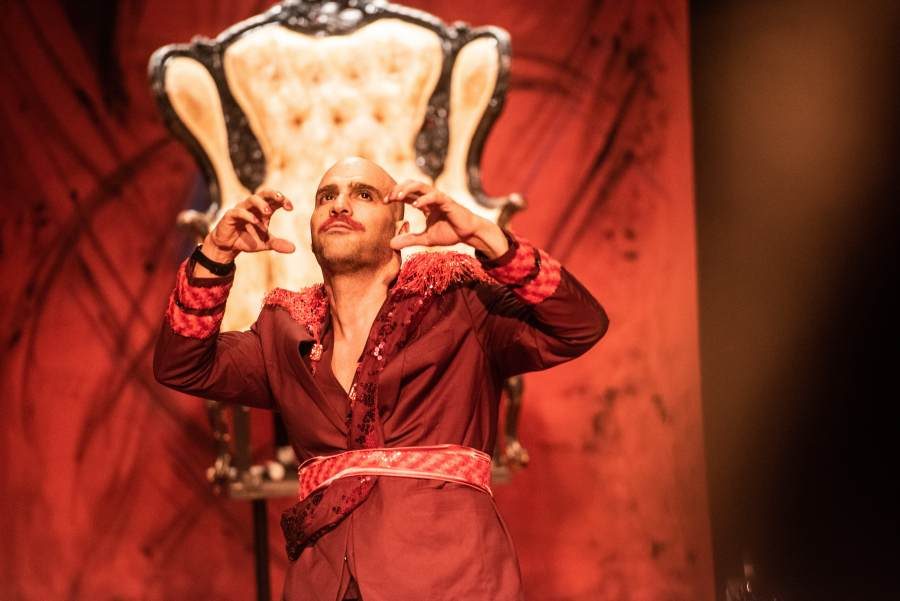 Gertrude Stein once said of her own writing: "if you enjoy it, you understand it." If that's true, then I suppose I understood My Onliness: a world premiere musical about a mad king and his rebellious subjects. While I'm still parsing its intended meaning (if any), all I know for certain about this thoroughly absurd show is that I thoroughly enjoyed it. Presented by One-Eighth Theater, New Ohio Theatre, and IRT Theater, My Onliness is raw, unhinged, and stupendous.
Daniel Irizarry (who also directs) is the tyrannical king, dressed in a shiny, lobster-red suit and gargantuan crown. Cynthia LaCruz is Morbidita: an excited young woman bringing a petition before the king. Rhys Tivey is "The Writer": an emotionally unstable character with an enigmatic relationship to the king. Side characters include a lobster, a troupe of court performers and musicians, and a tiny wind-up chicken. In a world that feels like a dystopian fable, very little makes sense, and it's hard to tell just what's happening at any given moment.
Absurdity notwithstanding, the characters are 100% sincere. The King expounds his theory of vicarious suffering; Morbidita goads the people into a revolt; the Writer endures inexpressible anguish as he seeks to pare the mysteries of existence. The mood lurches from savage to tender, beautiful to barbarous. An air of mystery shrouds everything: who are these people? how did they end up here? what exactly is Morbidita's petition? Is this a journey into the human psyche, a satirical look at modern society, or simply an absurd spectacle?
These are questions that go largely unanswered, but tracking down any concrete narrative details is emphatically not the point. Instead, the haze of confusion and fluidity (several characters are gender and character-fluid), sets us free to find our own meanings or simply throw it all to the wind and just have fun. For there is plenty of fun to be had.
The fourth wall has been abolished. Characters sit on audience members' laps, hand them candles and whirly tubes, and pass around paper shot glasses. We're instructed to wave, stand, speak, and occassionally drag actors around by their ankles. At one point, the whole play stops in its tracks to watch a wind-up chicken cross the stage. Everything culminates in a bizarre operatic finale. By the end of the night, I felt as though I'd participated in some kind of ridiculous, inexplicable ritual.
Crafted by Robert Lyons from the writings of avant-garde Polish artist Witkacy, with striking music in various styles by Kamala Sankaram, My Onliness is singularly odd yet oddly spellbinding. A theatrical acid-trip that has to be experienced to be believed, it's unlike anything else playing at this moment in New York City. After the applause, the woman sitting beside me exclaimed: "That's it? We're just supposed to go home now?" Over the course of 80 minutes, the theatre had been transformed into a world, the audience into a community, and the limits of live theatre had been forever tested.