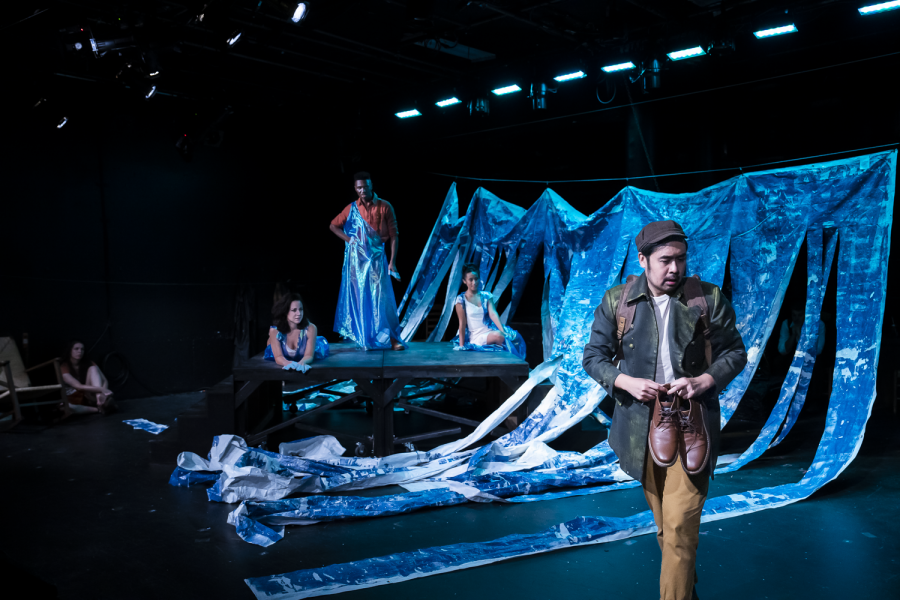 What--or should we say who--makes a monstress monstrous? This is the question raised by Hunger & Thirst Theatre's bluegrass musical Monstress, written by Emily Kitchens with original music by Ben Quinn and Titus Tompkins, and directed by Hondo Weiss-Richmond. Sending strong O Brother, Where Art Thou? vibes, the show reimagines monstress-centered myths (such as Perseus and Medusa and Oedipus and the Sphinx) in the American South, set to a string-plucking, foot-stomping score. It's almost astonishing how well this works: stories pulled from Greek mythology feel fresh as well as natural, and take on new meanings in new contexts.
For instance, the story of Medusa, when stripped of its "long ago and far away" context, becomes rather unsettling. A young woman's joyful church singing with her sisters attracts unwanted attention that results in her being nonconensually violated in increasingly disturbing ways until long after her death. Monstress draws attention to her violent apropriation by males in the scene "A Conversation with a Head," during which Perseus--Perry in this adaptation--journeys back home with the head of Medusa in a sack. In this version, Medusa is still alive, though only a head, and begs Perseus to end her misery. With audible horror and heartbreak, she finally realizes "You're never going to let me die, are you?" No. Culturally, we've decided we need these tales of monstresses: a warning against female empowerment and the breaking of societal gender codes. (There's a reason words like "siren" are still part of our vocabulary.)
But what if the tales we tell are as false as the things they warn against? In Monstress, it is often the mortal men who are the true monsters. It's their own inhumane actions that force the "monstress" to become monstrous. Echidna, mother of all monsters, is forced to produce unholy offspring. Medusa and the Sphinx are driven to a path of destruction. Sirens lament that the men who answer their call of love aren't strong or smart enough to survive the crossing. Change the names and settings, and many of these so-called "myths" feel like something that could have happened yesterday--or that will happen tomorrow. We have yet to move past the idea of the non-conforming woman as a "monstress."
While it raises disturbing questions, Monstress is more than simply a heavy examination of centuries of sexism and female trauma. While the program notes do include a trigger warning, this show is first and foremost a delight. Rousing bluegrass songs precede and follow each self-contained scene, and an energetic cast plays everything from the fiddle to the spoons. In an intimate setting, it's hard not to get swept up in the jamboree.
If the monstrosity of these monstresses is itself primarily a myth, there's still something to be learned from their stories. In the end, this smart, folksy pastiche of reimagined myths pays tribute to perceived monstresses: women whose self-certainty and indomitability make them, if not inspiring, at least a force to be reckoned with.