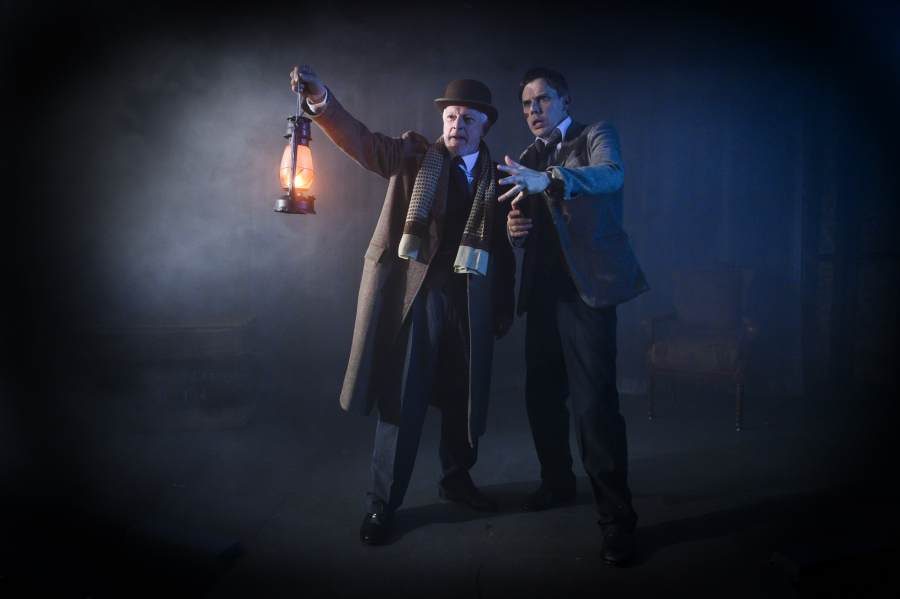 He did warn us.
When his family asks him for a ghost story, Arthur Kipps declines, on the grounds that the story he has to tell is not the type of entertaining thriller they want to hear. It's dark, upsetting, evil. And yet, determined to finally move on, Arthur ends up engaging a professional actor to help him deliver the chilling narrative. As the two men rehearse their "play," we, the audience, are ushered into Arthur's memory until the space between past and present vanishes and the line between theatre and reality itself becomes ghostly.
Adapted by Stephen Mallatratt from Susan Hill's novel, and directed by Robin Herford, The Woman in Black is a very real ghost story. Real not because it is true, but because it is convincing. A staging in the creaky, low-lit McKittrick Hotel only deepens our immersion. We're trapped in a spooky pub with two actors and a ghost, and there's nowhere to go. Fog closes in. Mysterious knocking echoes above us. A locked door swings open, magnetically forcing us into the heart of some unseen horror.
David Acton plays the older Arthur, haunted by the past he's trying to escape. At first reluctant and uncertain, he gradually warms up to the idea of acting out his story, and winds up playing nearly everyone except himself. If Arthur has never acted a day in his life, Acton is a master of the craft. From the decrepit clerk, to the jaunty man on the train, to the taciturn wagon driver whose lower lip sticks out, he changes his voice, posture, movement, and even face to inhabit each character.
I can't speak to his co-star, Ben Porter, nor do I care to, because at my performance, Porter's understudy James Evans was a lit fuse dangled over a stick of dynamite. His slow but inevitable progression from a charming, imperturbable outsider to a man ravaged by an experience he can no longer deny may haunt my mind longer than the presence of the Woman in Black will.
It's one thing to have a virtuosic creative team capable of evoking an intense, disturbing haunting with little more than a bare stage. It's another to have a pair of actors who can not only exist within that illusion, but communicate its psychological effects in a way that makes it even more frightening. Put these masterful tricks together, and you end up with a true theatrical treat. As I left the theatre, my heart was racing. Even blinking in the bright outdoor sunlight, I couldn't shake the feeling that I was being pursued by something.
But I wouldn't want you thinking I didn't enjoy myself. Thanks to great actors and a sensitive script, this production balances humor and horror, easing us into the ghost story with a comic opening, and lightening up just as the terror threatens to take too strong of a hold. Of course, that only makes the scary moments hit heavier. But as evidenced by the people behind me, who kept gasping and shrieking, then laughing at themselves for doing so, there's something fun about a play that dangles the scare in front of you only to snatch it away.
While, for the same inexplicable reason that we endure scary movies, I find myself wanting to return and witness the whole thing again, don't let that fool you. The Woman in Black is without a doubt the most terrifying live show I have ever experienced.