The Butcher Boy, a new musical.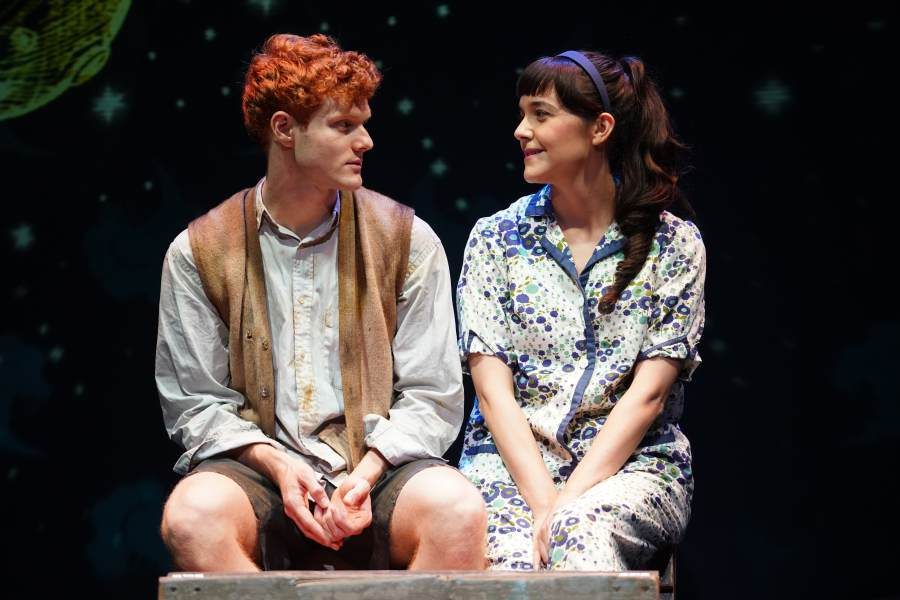 The world premiere of the new musical, "The Butcher Boy"—book, music and lyrics by Asher Muldoon under the direction of Ciarán O'Rerilly—currently runs at the Irish Repertory Theatre down in the Flatiron District. Based on the 1992 novel by Patrick McCabe, "The Butcher Boy" shuttles us through the boyhood years of a deeply troubled Irish lad whose visions of pigs become increasingly more provocative and menacing.
In a drab, provincial Irish village during the 1960s, Francie Brady (Nicholas Barasch) and his best mate, Joe (Christian Strange), indulge in an adolescent antic that sets up a triangulated rivalry involving a new boy in town, Phillip Nugent (Daniel Marconi). While Joe initiates a relatively harmless prank, Francie takes matters a bit too far after Phillip's mother, Mrs. Nugent (Michelle Ragusa), refers to the young boy as a pig.  This ends up eating at Francie like a moral cancer.
Emblazoned into Francie's fragile psyche are imaginary porcine hobgoblins who taunt and jeer him. They goad him into a continued pattern of what, at that time, would have been called juvenile delinquency. We have more considerate "woke" terms for it nowadays, but they all have the same meaning essentially. Francie is a bad lot and no matter how much his is disciplined and even incarcerated, he proves a hopeless one as well.
As for the audience, the question at hand is do we feel for this antiheroic protagonist or do eventually disconnect from his mad journey? Is this a psychopath that intrigues us—as did the theater's most famous murderous demon, Sweeney Todd—or do we hope he gets what's coming to him? No matter how much one may love sausages, as a sympathetic character, Francie comes up short on the bacon and it become harder and harder to root for him.
With a score that hopes for more fully realized songs, "The Butcher Boy" is hard to buy into as a gravitating work. In fact, it's rather grim. The show is not without the occasional catchy tune, but they are few and far between. Too much of the music comes off more like a movie track than a robust theatrical score that launches a story.
In spite of that, the performances—particularly the three boys at the center of the story—are richly realized and sturdily acted. With a number of roles deftly juggled by an adept group of players, the entire company deserves high praise.
"The Butcher Boy" is certainly not the best work the Irish Rep has put forward over the years. In fact, a couple of their more recent productions have been stupendous: Jake McCarrick's "Belfast Girls" and O'Rielly's production of O'Neill's "A Touch of the Poet." Unfortunately, "The Butcher Boy" did not quite reach that level.