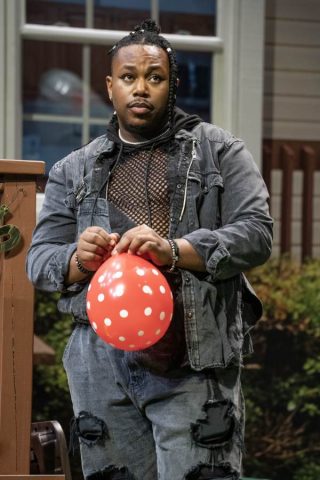 Shakespeare is the indisputable dominating figure on stages around the world—delivered in many languages.  But, no where does he seem to get more nuanced interpretations than in hometown New York City.  This more recent example is a move from The Public Theatre to Broadway in an unconventional spin on the Danish play called "Fat Ham."  This comedy is crisply direct by Saheem Ali and plays at the American Airlines Theatre.  Written by James Ijames, the work garnered the 2022 Pulitzer Prize for drama during what could be considered an abbreviated season due to the Covid induced shut-downs.
The governing element that makes this backyard barbecue into a hybrid Hamlet is the ghostly visit paid to Juicy (read: Hamlet) by his father, Pap, at the top of the show.  Pap (Billy Eugene Jones), who has been murdered in prison, tells his boy, Juicy (Marcel Spears), that his demise was orchestrated by his brother, Rev, (also played by Jones).  Rev has only recently become Juicy's step-father. which makes the son a truly befuddled Shakespearean protagonist.  "What do you do," he asks, "when God doesn't want you and the Devil won't have you?"
While everything does not go according to the original text—in fact, Shakespeare is minimized to some "White guy" by Juicy's mother—playwright Ijames clearly reveres The Bard as his quirky concept demonstrates.  He cleverly mines the comedy out of this tragedy and does it with tactful romp and sundry circumstance.  The players have been pared down to a handful and not always clear reflections of their Elsinore fore-bearers.  Forget Rosencrantz and Guildenstern; they don't even get a mention.
Juicy's mother, Tedra (Nikki Crawford), boldly juggles her loyalties to her husband and son and does her level best to keep them at peace with one another.  Crawford gives a syntillating performance which lots of laughs.  Tio (Chris Herbie Holland) is the Horatio parallel with a cannabis-laced meditative bent.  Holland's performance is bouncy and blunt.
Spicing up the cast is Opal (Adrianna Mitchell) whose sass make her anything but nunnery material.  Larry (Calvin Leon Smith) has a few plot twists that are more current than Shakespeare may have imagined, but he sure knows how to put on a show-stopping finale.  And, his mother Rabbi (Benja Kay Thomas) does some scene-snatching skullduggery at high volume.
"Fat Ham" may not be all that one might expect from a Pulitzer-winning work, but the audience enjoyed this zippy production which offers lighthearted laughs, colorful characters and a brisk tempo—all thanks to Ali's beyond the proscenium staging.  Set designs by Maruti Evans and costumes by Dominique Fawn Hill bring in color and curves.  There may be something rotten in Denmark, but at The American Airlines Theatre things are smoking.