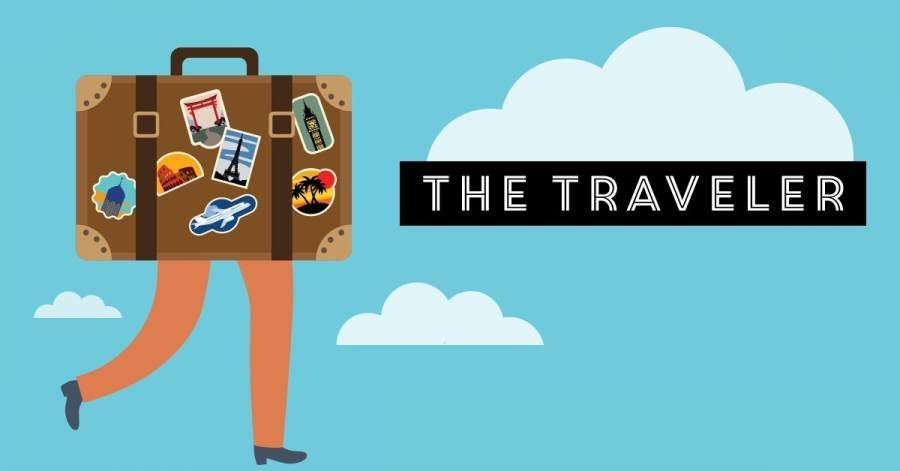 "I'm going to a mime performance. I have no idea what to expect."
Such were my parting words to my roommate as I left my apartment and traveled downtown to Theatre Row.
"Should be interesting," she'd replied, admitting that she'd never seen a mime perform either.
Turns out, while it was indeed "interesting," it was also immensely joyous, wonderfully heartwarming, and humorous in the most beautiful way.
The mime is Bill Bowers. The show is The Traveler. Co-created by Bowers and New York City Children's Theater Executive Director Andrew Frank, the show finds an apt home at Theatre Row's Studio Theatre--a sort of makeshift space where both children and adults crowd into movable chairs for a delightful journey full of exuberant surprises.
Bowers, an internationally renowned mime and award-winning actor, takes us on a wild ride when his house is upended by a janitor and flooded via a large bucket of water (it's difficult to explain but trust me, it makes perfect sense on stage and is hilarious into the bargain). Carried downriver and deposited he knows not where, the traveler must find his way home again armed with only a map, a suitcase, and quite a few bananas.
It's not going to be a smooth ride. Along the way, he must contend with nothing less than bees, cow pies, wolves, traffic, border walls, and perhaps worst of all, public transportation.
But our traveler is a tenacious, optimistic individual, and while his clothes may be waterlogged and his pants torn, nothing can dampen his spirits for long.
Silently and, for the majority of the show at least, without props, Bowers creates from thin air a rich, colorful world alive with sights, sounds, and even smells. Wide-eyed, open-hearted, and adaptable, he seems the embodiment of childhood itself. And watching him is a pure delight.
While the show is still developing and, depending on your powers of perception, you may miss certain nuances (I only say this because apparently I missed one), everyone seemed to agree in the brief talk-back afterward that it's not hard at all to follow what's going on. Nor is it boring. Far from it--I, for one, didn't want the journey to end.
The shape of the story is so well-crafted that, just at the moment when a certain long-running joke might begin to grow tedious, the journey shifts to a new phase. Each new trope is a surprise, as if we've been invited to open a series of presents stacked inside each other, each more wonderful than the last. Our traveler is endlessly amusing as he navigates wildlife, imbibes different cultures, entertains fellow travelers, and encounters unexpected roadblocks.
But the best surprise is saved for last, and apparently it's effect is so powerful that (at least in my performance and the one before it) children from the audience come instinctively to the traveler's aid. As a long-time theatre-goer familiar with the art of making something look spontaneous when it's not, I assumed this was a plant. I was wrong. There was simply something so moving in Bowers' performance that a young child felt drawn to actively participate in his story. If that's not the only thing better than a standing ovation, I don't know what is.