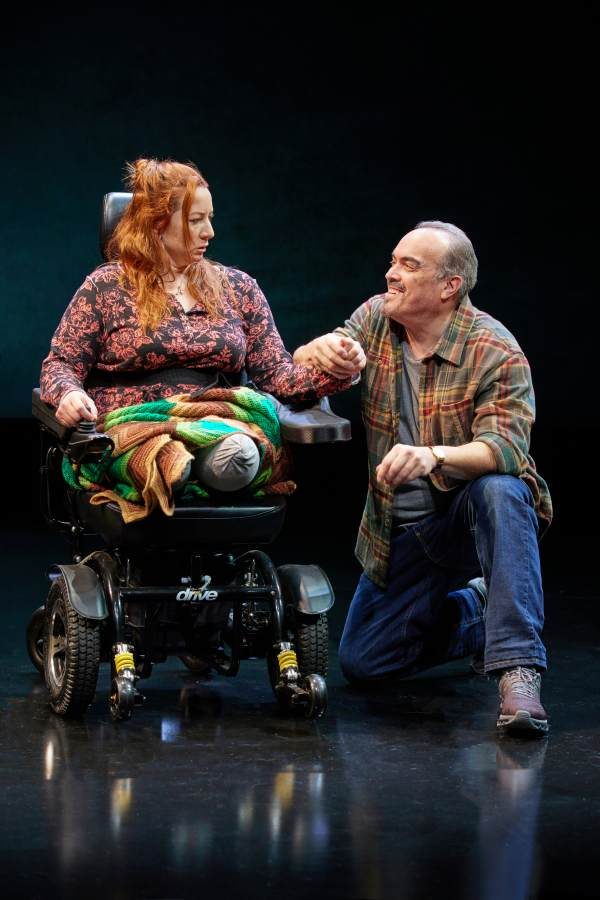 photo credit @ Jeremy Daniel
The play "Cost of Living'' by Martyna Majok will touch your heart and resonate in your consciousness long after you've left the Samuel J. Friedman Theatre. Deftly directed by Jo Bonney, the 2018 Pulitzer Prize winning play focuses on two couples. In both, a strong-willed character is in a wheelchair depending on someone else to minister to his/her physical needs. John can afford to pay for a caretaker whereas Ani is at the mercy of social services. Many recent reviews noted that the play was about poverty and social classes. Yet, at the heart of the play and what makes it relevant for all of us is the theme of intimacy - the need for relationships between people and the loneliness that exists without it. These characters need one and depend on one another, even the able-bodied ones.
The audience is introduced to John (Gregg Mozgala, an actor who actually has spastic Cerebral Palsy) as he interviews Jess (Kara Young) to assist him. Well-off financially, John has CP and can do little to maintain his physical needs. Despite that, he has a degree and is attending school to get a PhD. Although Jess (Kara Young) has attended a prestigious college, she is struggling financially and seeks this job in addition to the other two jobs she has tending bar at night.
Both intelligent, they verbally spar a bit until John finally hires her. Although he pries, she is reluctant to reveal much about her personal life but still feels a growing attraction for him. The two achieve a physical intimacy, which is depicted on stage in a touching scene as she bathes and dresses him.
In contrast is the relationship between Ani (Katy Sullivan) and Eddie (David Zayas.) An accident has left her without limbs and confined to a wheelchair. Sullivan is actually a double above-the knee amputee. Once married, the characters have history but are now separated. At first, Eddie comes to her home to get some of his things and offers suggestions for Ani (play music, do PT, paint the rooms in more cheerful colors.) Later when he returns, it is for himself as well as her when he offers his services as her nurse. When Eddie bathes her in the tub, their scene which follows John's bathing is intimate and sensual.
These scenes are flashbacks, since the opening scene has Eddie in a bar talking to an unseen patron. In the too-lengthy monologue, he tells of losing his job. The scene feels unnecessary and actually weakens the play. Later when we watch Ani and Eddie, we already know what will happen and I wish I didn't know.
Acting in front of an audience leaves a performer bare and vulnerable. Being naked on stage and bathed offers another kind of vulnerability. Overcoming and using their physical disabilities requires great skill and confidence, and Sullivan and Mozgala awe the audience.
"The Cost of Living" is beautifully written and heartfelt. The actors give marvelous performances and it's hard to be untouched by the play. They acted but they also shared. We left the theater moved and chastened and perhaps thanking our own good fortune for having one another.