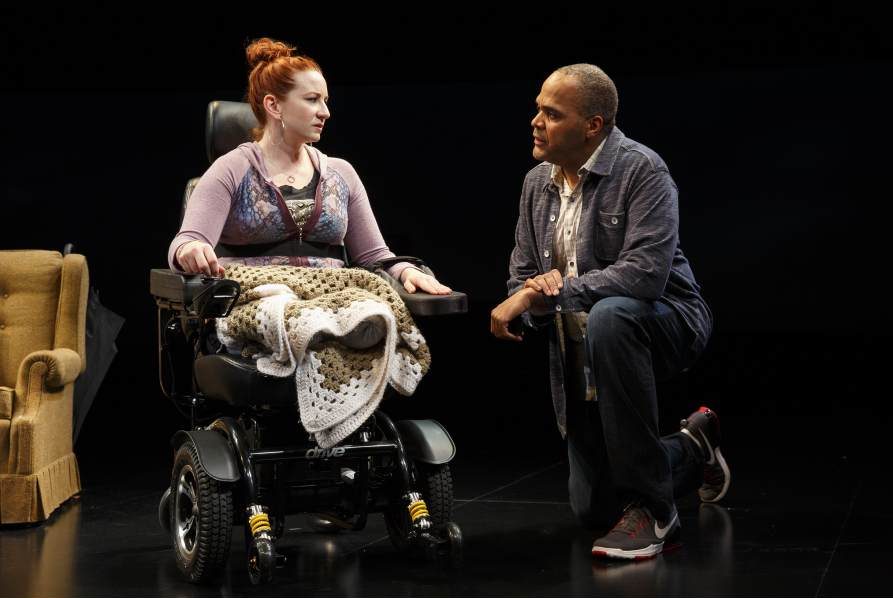 Given the set décor displayed onstage as the audience takes their seats, a glistening line of colorful bottles on a shelf, the Manhattan Theatre Club's new play Cost of Living hints at a festive opening scene. But though the setting, a hipster-y Williamsburg bar, has a jovial atmosphere, the scene is anything but.
The play opens with Eddie (Victor Williams) arriving alone at the bar. As he gets to talking, he makes a deal with himself and offers to buy his listener a drink every time his speech descends too far into gloomy territory. He ends up buying a lot of drinks, though the gloom is understandable given that his wife just passed away, a week before her birthday.
From there, the play takes us back a few months as the stage rotates, literally, between Eddie and Jess (Jolly Abraham), both caretakers. Eddie cares for his wife Ani (Katy Sullivan) after a car accident left her confined to a wheelchair. She doesn't necessarily want his help, though, since he left her a few months before the accident for someone else. Despite her protests, he sticks around to help. Meanwhile, Jess has just added on to her long roster of part-time jobs. In addition to bartending late into the night, she gets up early to help John (Gregg Mozgala), who has cerebral palsy, shave, shower, and dress. He's surprised by her resume, given that she graduated from Princeton with honors, but gives her the job.
Despite the heaviness in the lives and situations of each character, Martyna Majok infuses her brilliant new play with strong wit, as everyone relies on humor to get them through the day. It's their darkly joking back-and-forths that begin to mend the ever-widening cracks in Eddie and Ani's relationship, and John's open humor that draws Jess closer to him.
But more importantly, Majok's play takes on the broader topic of survival, and the different ways we must lean on each other to achieve it. In a quiet but heart-wrenching examination of the different types of privilege that make up each individual life, Cost of Living shows, in the most poignant of ways, how the intersection of those lives becomes necessary for survival.
Majok's play is in good hands with Jo Bonney as director, and a marvelous cast that brought to life the play's tenderness and tension. As the hardworking but still struggling Jess, Jolly Abraham wonderfully portrays her desire to stay closed off and get the job done contrasted with her growing affection for her new boss. Sullivan performs a similarly superb balancing act, as Ani simultaneously pushes her husband away while not really wanting him to leave. It's in that balance that the play finds its greatest success, exposing the yearning for self-sufficient independence that comes alongside the human need to rely on others.