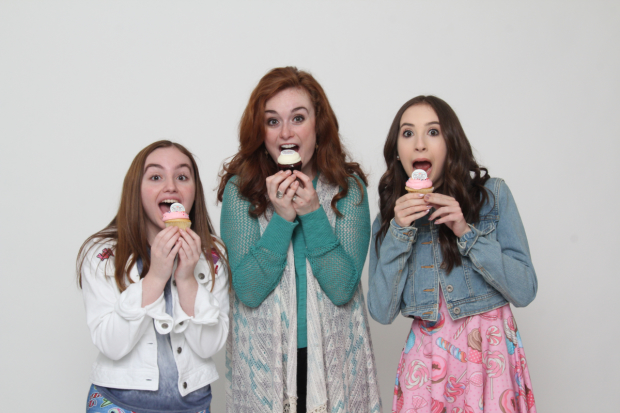 What's not to love with a musical about cupcakes? Tempering the sourness of mean girl cliques with the sweetness of its titular baking, Peace, Love and Cupcakes: The Musical of the New York Musical Festival brings a unique twist to the classic story of a girl coming into herself despite the school bullies standing in her way.
Kylie (Carrie Berk) is, in a word, different. She stands out from her peers, but not in a good way. Faced with snickers and mean-spirited comments in every class and corner of the hall, she has no friends, and no place in school to call her own. Things only get worse when Meredith (Alexa Reeves), the most popular girl in school and leader of the BLAH girls clique, makes it her mission to take Kylie down. The aptly-titled song "Kylie Carson Doesn't Belong Here" makes it clear exactly how alone Kylie is at her school.
Kylie can't see a way out of her loneliness, but her quirky art teacher Juliette (Calli McRae) inspires her to start a club to make a group of friends. With Juliette as faculty advisor, Kylie starts a cupcake club. Alongside the girls who join, Kylie makes increasingly ambitious recipes. The club makes its school premiere at the yearly eco-fair, and enjoys a smash success as everyone raves about their cupcakes. That is, until Meredith, still hell-bent on destroying Kylie's reputation, intervenes. As the fair dies down, she vows to take down the cupcake club, threatening Kylie's newfound friendships and happiness.
Where Kylie is portrayed with nuance, the character of her antagonist Meredith is painted in much broader strokes. The character relies on stereotypical attributes of the classic "mean girl" to define her personality, and as a result, her motivation for going after Kylie so doggedly is often unclear. However, Reeves' superb performance and captivating voice brings a freshness to the character that adds a layer of nuance to her interactions with Kylie.
Carrie Berk shines at the show's center as Kylie, providing one of the show's more unique perspectives through her perspective on the school social order. The large ensemble sparkles as well, with the Allergy Table bringing in some of the show's best jokes. Though the musical's cupcake solution to bullying might be a little simplistic, it's baked to the brim with charm, and will surely encourage its young audience members to embrace their own uniqueness in equally delicious ways.