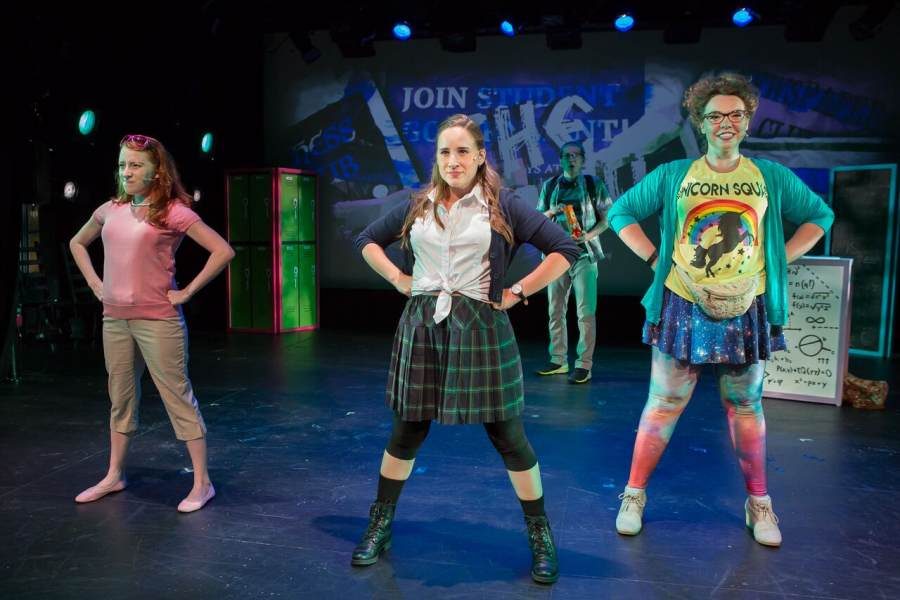 I never thought math would win me over, but the day has finally come with Numbers Nerds. This addition to the New York Musical Festival hit all the right numbers with its charming story of friendship, budding romance, and working together in the face of every nerd's greatest nightmare: public speaking.
When the musical starts, the pressure's on, as an all-girls high school math team faces the final elimination round of regional competition. Melissa (Maisie Rose) has her math skills down, since she aspires to follow in Einstein's footsteps and become the next math genius, but her public speaking skills leave room for improvement. With all eyes on her, she chokes, and the team loses their chance at advancing to nationals and bringing home a trophy.
The image-obsessed Amber (Tiffany Tatreau), who's determined to keep her rank in the school's most popular clique despite her inner math nerd, is furious that Melissa turned them all into losers, and votes to kick her off the team. Barbie (Madison Kauffman), a unicorn aficionado, wants to give Melissa another chance, but ambitious, college-driven Mary Kate (Danielle Davila) agrees with Amber, and Melissa finds her math-genius future crumbling before her eyes.
When Melissa learns that the team has been given a shot at nationals after their rivals were caught cheating, she partners with Ms. McGery (Sharon Sachs), the school's quirky drama-teacher-turned-janitor-because-of-budget-cuts, to work on her public speaking skills and earn back her spot on the team. Meanwhile, the rest of the team has to find another member to meet the minimum four-person requirement. At the activities fair, they find Leroy (Jake Morrissy), a new student fresh from homeschooling, and Mary Kate uses her questionable flirting skills to get him to join.
Tensions are high as the new team makes their way to nationals, each determined to win for their own reasons. The score underlines those tense instances wonderfully, as David Kornfeld's music and Alex Higgin-Houser's lyrics bring out the vulnerable moments in each character's journey, bringing life to the show beyond the math competition itself.
It's those characters that give the show its real strength. At first, the girls seem based on tired tropes, but Larry Little's story and Laura Stratford's book gives them room to breathe and grow, taking on fresh perspectives that liven their relationships and enrich the plot. In the second act, as each character sings about what math means to them, it becomes clear unique each character truly is, and the special strength that they bring to the plot – and the team. Strong performances from the cast help break the characters of their initial typecasts, bringing nuance and humanization to each role. Despite their frictions, their motivations and qualities shine through so strongly that it's impossible not to root for them.