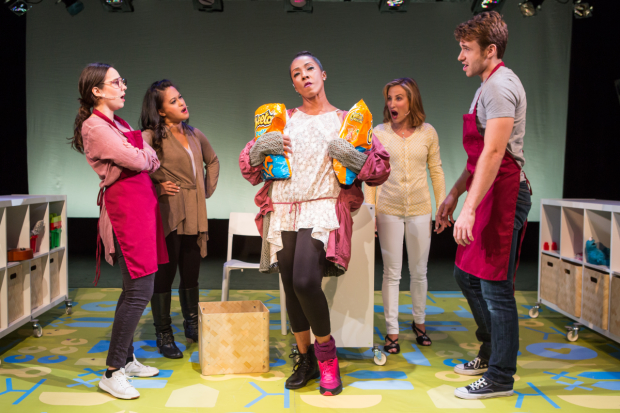 This isn't your mother's musical. MotherFreakingHood! a manic matriarchal romp presented by the New York Musical Festival, sets the stresses of modern mothering to pop and doo-wop while adding humor that keeps audiences howling. Full of femme power and friendship, the show's New York debut is directed by Terry Berliner and explores the wild ride of childrearing in a world where moms face the pressure to do it all while keeping their sanity – or maybe, as we see in one elaborate number, with a little help from "Mr. Xanax."
The show explores the bond between three moms-to-be who meet at the obstetrician's office and start a lifelong friendship over their swollen bellies and shared experiences. There's Rachael, the anxious and excited first-timer; Angie, the type-A planner pregnant with her second ("I know I'm having a girl - I already have a boy," she says confidently); and Marcia, the wisecracking older one whose dream of empty nest freedom is scrapped by the surprise of her third. As they raise their children simultaneously, the women swap stories and lean on each other for support through everything from soiled diapers, school bullies and drivers' ed.
Real-life mom writers Julie Dunlap and Sara Stotts concoct a fun and fast-paced comedy that celebrates the joys of parenting but doesn't gloss over the unglamorous parts (there are entire numbers dedicated to postpartum depression and the body fluids of puberty). Though it acknowledges those realities and others, it doesn't probe them with too much emotional depth or move beyond its identity as a lighthearted farce.
The songs are frothy, airy and easily digestible, and it's clear that laughter is the main goal. Songs about Angie's desire for her daughter to be a late bloomer in order stay chaste and Rachael's "mama mid-life crisis" of stalking her exes on social media score well and speak to mothering in the digital age – a far cry from the cringeworthy June Cleaver ideal. In fact, the show pokes fun at the perfect homemaker image by setting many of its irreverent lyrics to 1950s-style tunes, reminding us how motherhood was once portrayed and how far we've come.
The three leading ladies are delightfully comic and show off their powerful pipes with the belt-heavy score, often while multitasking in true mommy form. Angie (Erin Leigh Peck) carries a full solo number while contorting herself into challenging yoga poses, and Rachael (Veronica Reyes-How) sings while skillfully changing into pajamas in front of the audience and avoiding any wardrobe malfunctions. While the characters' lives are consumed by their kids, it's notable that we never actually see the children onstage – making it clear that this one's all about the moms. Who after all, deserve to put themselves first for a change.