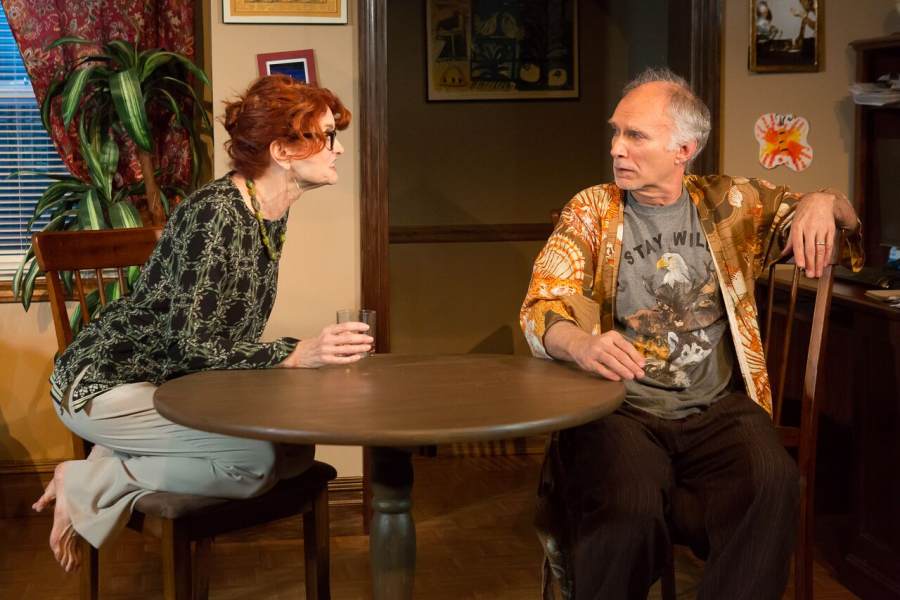 The evolution of relationships and the challenges of lifelong partnership are two themes that Max Baker explores in his refreshingly witty play Hal and Bee. Stable Lab Co. and New Light Theater Project tackle the thoughtful, comedic work with finesse in their 59E59 Theaters production, bringing sharp life to Baker's colorful characters and giving the audience an intimate glimpse into their domestic world.
The play opens with Hal (Jeff Hayenga) mindlessly flipping through evening TV and lamenting his stagnant life as a senior citizen in New York's Upper West Side. An agoraphobic writer, Hal spends his days trying to reclaim his former glory as a published author but only manages to produce an obscure blog and smoke a steady stream of marijuana, to the dismay of his breadwinner wife, Bee (Candy Buckley).
Bee has little patience for Hal's juvenile habits and longs to escape the city grind by moving upstate and selling their rent-controlled apartment – a constant source of friction for the couple. The escalation of their daily arguments leads Hal to fantasize about ways to kill Bee in order to reclaim his freedom – but as we soon discover, he isn't alone in his musings or in wrestling with their accompanying guilt.
The play's detailed set design is a perfect backdrop to the couple's domestic drama and uses every inch of the small space to convey an eerie mix of complacent comfort. It feels lived-in but has an air of stale neglect that betrays the couple's festering conflict and longtime apathy for their marriage. Hayenga and Buckley are perfectly matched as the feuding pair and trade barbs at a fierce pace that's both delightful and challenging to follow.  We enjoy watching their tit-for-tat spats – littered with Baker's punchy jokes and fresh observations – in the same way we enjoy following a close tennis match and keeping score.
Director Sarah Norris stages Hal's fantasy murder sequences with just the right notes of convincing plausibility and over-the-top humor to keep us guessing whether they actually occur or only take place in Hal's mind -- exactly how Baker intended. Though their characters' familiarity breeds a contempt that surfaces daily, Buckley and Hayenga also make their union understandable by showing evidence of a deep-seated affection that continues to endure despite their differences.
Hal and Bee reminds us that while the stresses of aging can strain any relationship, the biggest challenge of growing old together can also be its biggest reward.