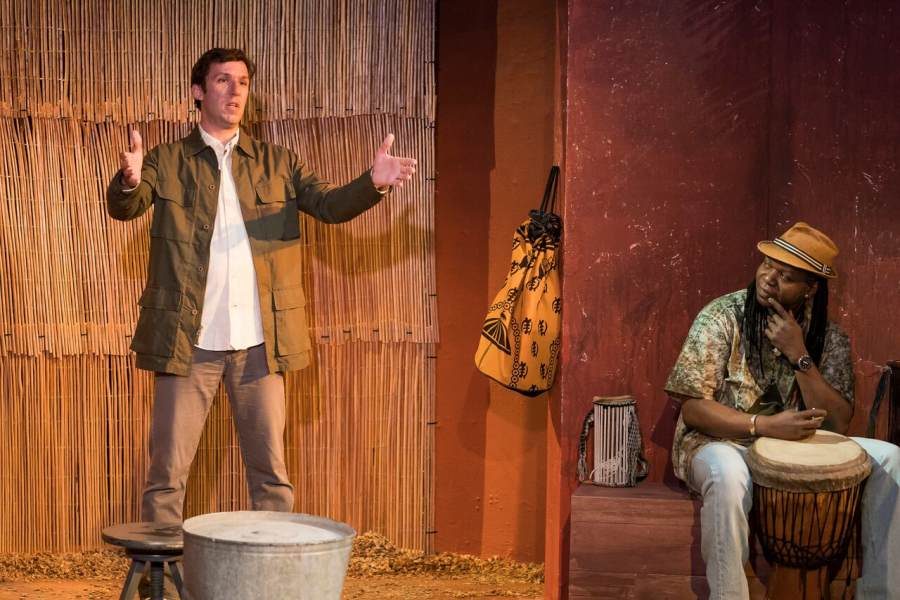 In Urban Stages' solo show Dogs of Rwanda a character who was witness to the 100 days of genocide in Rwanda struggles with the isolation that such knowledge brings. With exquisite writing by Sean Christopher Lewis, the play seeks to show us that though historically human beings have been willing to attack one another for the color of their skin, they can also provide comfort and solace in community.
At the play's opening we meet a man named David Zosia, played with passion by Dan Hodge, a writer who has written a book about the Rwandan genocide entitled "Letters From the Red Hill". David asks the audience in attendance to bear witness to his story. He speaks of a Rwandan ceremony, a ceremony of community, where each member admits their guilt, acknowledging their story for absolution. David is also recording this ceremony for his former flame, Mary Jess, a young woman David knew at the time he wrote his account of the Rwandan genocide.
Then, he briefly tells us of his current girlfriend, Amy, who leaves him during a Hawaiian vacation because try as he might, he cannot shake his sorrow at a note he has received from a man back in Rwanda, named God's Blessing. God's Blessing has sent David a letter with one chilling phrase: "There are untruths here." David readily admits that he doesn't trust Amy to help him through his darkest hour, the journey on which he's about to embark, so perhaps she's right to leave him, as we eventually discover.
David then launches into a chilling account of the horrific events he witnessed at the beginning of the one hundred days of genocide in Rwanda. David's written his novel as a somewhat fictional account and as he rereads the book, he takes a journey back to the Rwanda of his youth. Here, he rediscovers a chilling part of his own history; his account is somewhat suspect, the real mystery within the mystery of the play. As I cannot divulge the crux of this thriller, you'll have to witness this remarkable journey for yourselves.
The music, composed and performed by Abou Lion Diarra, conjures the darkest forests, the most joyous sounds of a vibrant community, the chilling death throes of a machete -- all with drums and percussive brilliance that bring us to the brink of the horrors contained within this devastating story. Accompanied by a fantastic physical production, the text and music are supported beautifully by scenic designer Frank J. Oliva, lighting by John Salutz, and projections by Ryan Belock. It's a remarkable evening all around, evocative and harrowing.
Co-directors Frances Hill and Peter Napolitano helmed this amazing evening with panache and hosted the opening night's ceremonies with the kind of generous warmth you hope you'll encounter after such an important play's opening. Though it is now illegal to talk about ethnicity in Rwanda to prevent more bloodshed, it seems likely that tensions will rise in Rwanda again. That there is no easy solution to this story is precisely why this play is an important gesture, keeping these atrocities alive, never forgetting who we are as a worldwide community, one that celebrates differences and does not seek to destroy them.