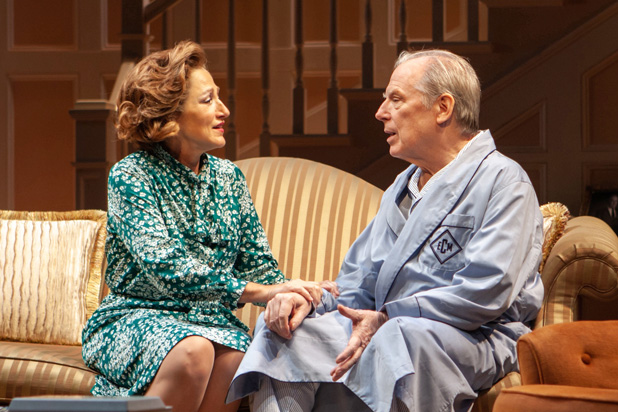 Polly is brash and unstoppable. More significantly, she is totally loyal and true, both to the Democratic Party and to her candidate, long-term mayor Erastus Corning II.  And as portrayed by the incomparable Edie Falco, she becomes a true force to be reckoned with.
Set in 1977 in Albany, The True is a new play by Sharr White directed by Scott Elliott.  It depicts the story of Dorothea "Polly" Noonan, as she defends and supports the mayor, her former boss.  For Polly, once you become part of the Democratic Party, you are in it for life; she is incredulous when she sponsors a young 28-year old for a committee position only to have him announce that he views it as a temporary position.
The plays begins in the home of Noonan, with Polly, her husband Peter (a surprisingly good Peter Scolari) and the mayor (Michael McKean) mourning the death of the party boss. Polly tells Corning that the party won't support him anymore and even bets him that Charlie Ryan (John Pankow) will back someone else in the primary.
Inexplicably, the grieving mayor turns to the loyal Polly and announces that they need to sever their relationship. Despite feeling bewildered and betrayed, she continues to work for him, going behind his back and basically making deals in his name.
For Polly, loyalty is paramount and she is faithful to a fault, braving rumors of an affair with Corning and, as a result, even risking her marriage. No clearer is it than in her determination to help him win the primary, even though he's cast her out.
The interplay of characters is fascinating, especially given Polly's constant profanity and apparent toughness. In return, the other characters feel no compunction speaking to her the same way.  Although she is forceful and blunt, she notes that, since she's a woman, others are rude and dismissive of her.  Falco is wonderful as usual.  She's strong yet underneath surprisingly vulnerable, visibly hurt at Corning's rejection of her. She speaks quickly and White often has characters very realistically speak over each other.
The three major male characters all began as lightweight figures on TV comedies: Michael McKeon (who began his career on "Laverne and Shirley" before embarking on a successful movie and stage career), Peter Scolari ("Newhart") and John Pankow ("Mad About You"). McKeon does little more here than look remorseful and weary.  Scolari gains strength as Polly's tolerant husband.  He's somewhat docile and meek, especially in comparison to Polly's overwhelming presence, yet he makes it clear how much he cares for her.  Pankow is coarse as Ryan, the political leader with whom Polly makes a deal.
Presented by The New Group at The Pershing Square Signature Center, The True is based on a true political primary and actual characters. It seems particularly relevant, given our current political climate and the recent NYS primary. Sadly, one has to believe that politics are much the same now as they were then and victories aren't won in the polling places but behind closed doors and through favors and patronage.
The major difference is the changing role of women.  As his former secretary, but always the confidante of the mayor, Polly works behind the scenes. Today, Polly herself might be running for office and no one would even react to her loudness and profanity. Some things have changed but some things have stayed the same.