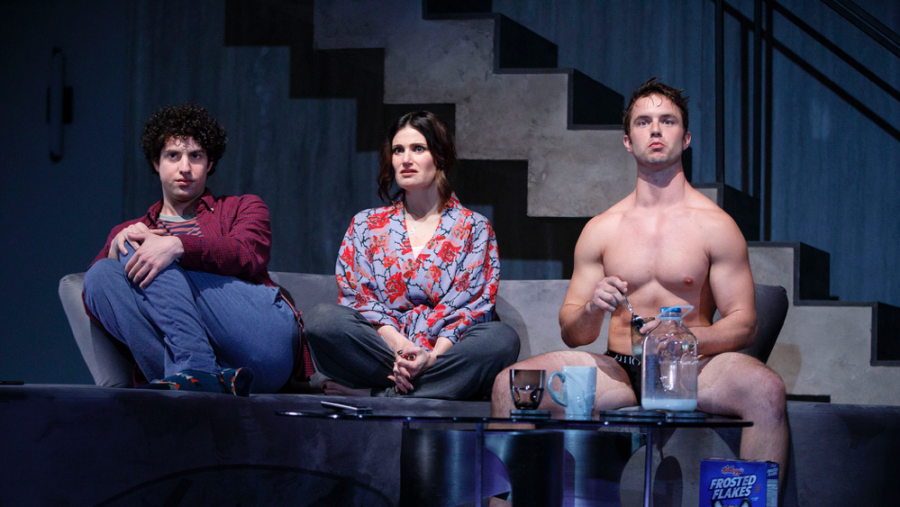 For some of us theatergoers, actress-singer Idina Menzel can do no wrong. From Rent to Wicked to Frozen, and even TV's Glee, she has thrilled viewers with her vocal and acting skills. Now starring in Joshua Harmon's latest play, Skintight, she portrays Jodi Isaac, a middle-aged lawyer whose philandering ex-husband is remarrying, this time to a young woman in her early 20s.
Jodi flees California and comes to NY, hoping for emotional support from her father, Elliot Isaac, a clothing manufacturer-designer.  It's the eve of his 70th birthday and he only has thoughts of Trey, his live-in boyfriend. Trey (an incredibly buff Will Brittain) is only 20 and from a totally different world from Elliot.  However, the designer is besotted.
Jodi is jealous and desperate for attention, so she is rude to Trey and this lends the play some of its humor. Even more upsetting is when Ben, her 20-year-old son, arrives and is attracted to Trey.  Jodi is more distressed at her father's lack of attention than at his relationship.  She's been wounded by her husband's infidelity and his attraction to a much younger woman and now sees her father reacting the same way.  She wants sympathy and support, but Elliot is more concerned with staying young.
Playwright Joshua Harmon is a popular young American writer whose works have received acclaim, including the Drama Desk award for Outstanding Play this season for Admissions.  In Skintight Harmon's original premise about the difficulties of age gets diluted by many other themes, such as Ben's research into his Jewish Hungarian heritage. In addition, Harmon includes two peripheral characters -- a former boyfriend Anthony, now Elliot's butler, who lurks throughout the play, and Orsolya, Elliot's Hungarian maid. Except for one visual joke when she lugs a heavy suitcase upstairs, she adds little to the play.
I found myself waiting for connections and reasons for characters and themes, but generally there were few. Instead, Harmon relies on some cheap and obvious jokes. Trey, a former porn star, is extremely well-built and predictably strolls through the apartment scantily clad (only a jockstrap). While Jodi is appalled, many in the older, mostly female audience tittered, especially when he turned his back to us.
Directed by Daniel Aukin, who also directed Harmon's other work, Admissions and Bad Jews, Skintight has no sympathetic characters.  Trey is physically appealing but somewhat of a buffoon. Ben is a spoiled indulgent guy.  In a character somewhat resembling Calvin Klein, Elliot (Jack Wetherall) delivers a lengthy monologue about his love for Trey, but his speech is really about Trey's looks and sexuality. Despite his daughter's disapproval and claim that Trey is attracted to him for his considerable money, Elliot notes that "every relationship is two people exchanging goods."
Harmon tries to do too much, sometimes using cheap humor and creating dislikable characters. Padded by these extra jokes and characters, the play ends up being too long. In the end, it isn't about looks but age and the need for love and belonging.
Menzel is a fine actor, especially in her distaste for Trey and her father's relationship.  Her character is over the top and she is emotional. As usual, it's wonderful to watch Idina Menzel onstage again.  I just wished she had better material.