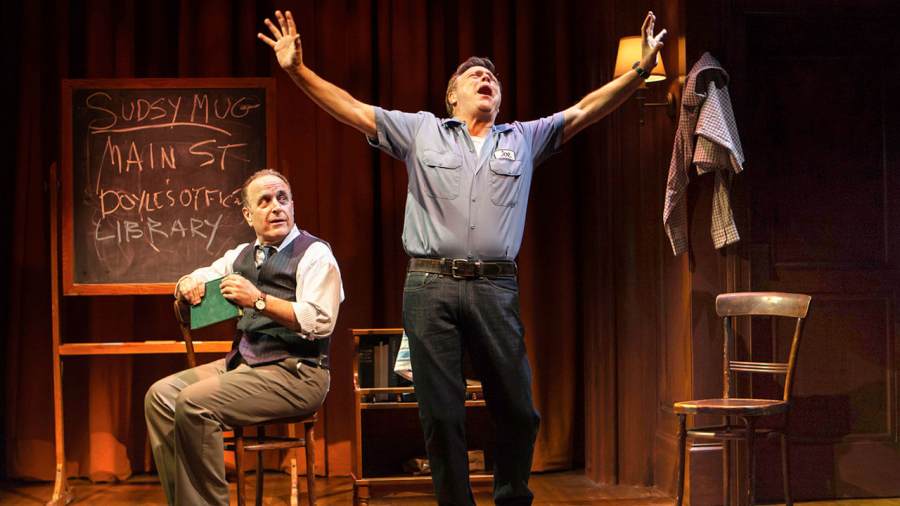 Sometimes the charm of Off-Broadway theater is in doing a lot with a little.  Often, the simpler it is, the more charming it is.  There is virtually no scenery in Popcorn Falls, the new two-man show at The Davenport Theatre.  When the 'setting' changes, one of the characters simply writes the location down on the blackboard on the stage.  And voila!  We are somewhere else.
Written by James Hindman, the comedy tells the story Popcorn Falls, a failing town whose eponymous falls dried up when the water source was diverted by another town.  Unless the mayor, Mr. Trundle (Adam Heller), can come up with money, the town will be absorbed by the other town and be turned into a waste station.
Fortuitously, many years before, someone had applied for an arts grant for the town, but the money is tied into producing a play. Unfortunately, the town has no theater and no play.  So Trundle decides to produce one to get the money and save the town.
There are more than 20 characters in the show, all played by two actors, Adam Heller and Tom Souhrada. Much of the humor comes from Souhrada playing the many female roles.  Directed by Christian Borle (TV's "Smash", Peter and the Starcatcher, Something Rotten), the show moves quickly and almost breathlessly. The two men are constantly on, sometimes ducking behind doors to assume another persona.  Souhrada portrays the bulk of the characters; he's the whiny teenager, the love interest (Becky), and even an oversexed middle-aged lady.  Heller plays the mayor, who is pretty much the straight man, although he assumes characters every in a while.  The two men also provide the sound effects.  When the townspeople complain, we hear "grumble, grumble, rhubarb, rhubarb." Neither man ever changes costume, and Souhrada stays in his Tom, the maintenance engineer's shirt, but changes his posture and pose and voice, sometimes merely using a dish towel to become a new character.
The comedy uses some silly word play. The citizens of Popcorn Falls are called the "kernels."  Mrs Stepp, one of the characters, was Miss Guided Stepp before her marriage.  The play Trundle writes is inane, drawn from the townspeoples' suggestion, and includes a kitten and a pirate.
The play is silly most of the time and that's fine. In fact, when Popcorn Falls changes tone and becomes introspective, it becomes a drag. When Trundle loses confidence, Becky has to buoy his confidence and the show becomes preachy.  The comedy should be light and fluffy -- not giving us life lessons. Although the main lesson seems to be about the power of theater bringing people together and how it's a way "to share an experience," I'd prefer a kitten and a pirate.