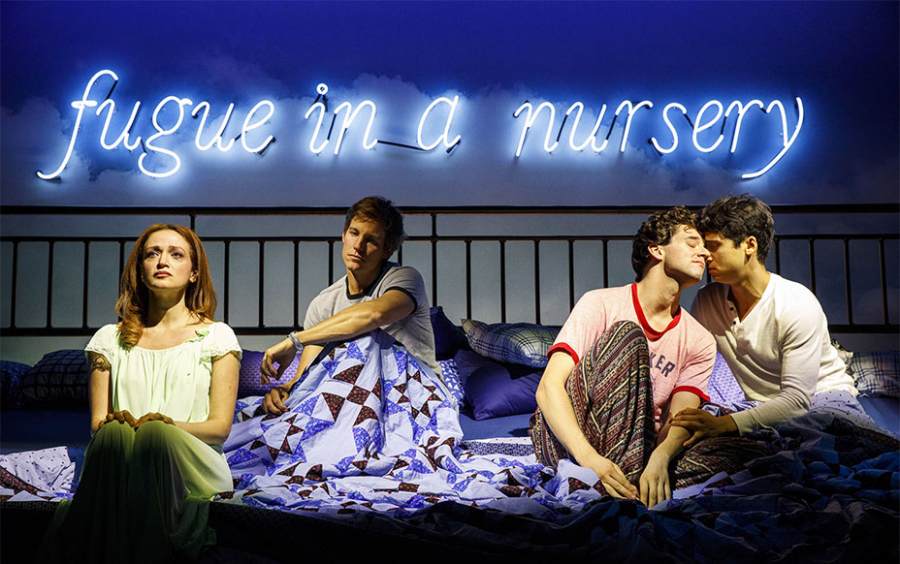 Arnold Beckoff is quite a character.  With his drag queen regalia, his verbal affectations and his quick wit, he is unforgettable. Torch Song by Harvey Fierstein is his story told in three acts, each with its own title and storyline. The play at the Second Stage Theater is simultaneously touching, heartbreaking and hysterical.
Arnold is portrayed by the extremely talented Michael Urie. Most of the humor comes from Arnold's perception and commentary on his world. He is wry with cutting insight.  Fierstein has given his character almost all of the comic lines and Urie handles them well.
Arnold is very comfortable about who he is and overt about his sexuality. Not so his uptight lover, Ed (Ward Horton). A NYC school teacher who resists his bisexuality, Ed eventually marries a young woman he has been fixed up with.  By the second act, Arnold is with Alan, a younger man. The couple visits Ed and Laurel in their mountain home and the combinations become interesting.  Before the third act begins, Alan has been murdered by a gang who attacked him because of his homosexuality.
Alan and Arnold had applied to foster a child, so despite Alan's death, Arnold agrees to take the boy, a 15 year old who is also gay.  After the trial nine-month period, Arnold is determined to adopt David. The dramatic device allows the ultimate confrontation between Arnold and his mother, the indomitable Mercedes Ruehl.  She comes to visit her son and when she learns of his plan to adopt David, it is no surprise that everything blows up.
Urie is extremely theatrical and his gestures and affectations are very broad.  After awhile they become somewhat irritating, especially when he is whining.  He turns a one syllable "mom" into three. He is constantly wiping tears from his eyes.
Ruehl is tough and feisty. She manages to convey criticism of her son with merely a glance or a seemingly innocuous comment -- from his sponge painted walls to the odors in his kitchen. Yet at the same time, the steely actress conveys softness and love for him.
Except for Ruehl, the other supporting actors seem stiff.  Ed is supposed to be uptight and closeted, but Horton seems really rigid.  Laurel (Roxanna Hope Radja) pushes too hard and David (Jack DiFalco) is like a rambunctious puppy.
For most of the first two acts, the play is non-stop jokes, delivered in machine gun-like fashion and the audience is hysterical.  However, by the end, many of us were in tears. Fierstein's original play, Torch Song Trilogy, ran close to four hours in its successful run in the 1980s.  The time now is 2 hours and 40 minutes, and even the title has been pared down.
Directed by Moises Kaufman, the play never allows you to forget that Arnold is a gay man looking for meaningful love and relationship. However, Torch Song is much more than that; it is really the story of Everyman.