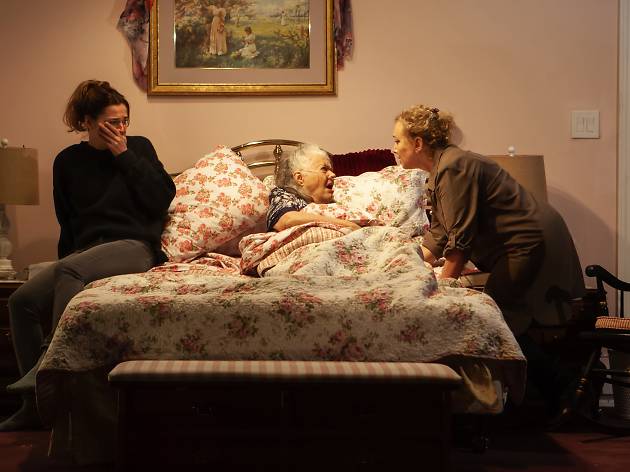 I would pay to see any production that features 87-year-old actress Lois Smith, even if she were only reading the telephone book. In her latest role, Smith plays 90-year-old Mary Frances who, having lived a long good life, is now ready to die, surrounded by her family.  The representatives from hospice explain the medical process: the purpose of the medicine is to keep her pain-free, not to prolong her life. Yet her dying is not peaceful with the volatile interactions of her children, Franny (Johanna Day), Michael (Brian Miskell), and Alice (J. Smith-Cameron).
The 'children' immediately assume the familial roles they always played, and Mary Frances somewhat encourages it.  She pays Alice to care for her and then watches the receipts and takes the credit card away, accusing her of overspending. In secret, she tells Franny, her ex-junkie daughter, that she always loved her better than the other two children. Michael, trying to get his mother's affairs in order, is so inept his dying mother has to take charge.
Add to the mix the presence of Alice's two daughters, Helen (Heather Burns), a television actress, and Rosie, a new mother. Instead of bringing calm to the situation, the younger women exacerbate it. In fact, at one point, Helen and Franny get into a physical altercation.
Peace for Mary Frances marks the professional playwriting debut for Lily Thorne. Thorne obviously did much research into hospice care and the representative, Bonnie (Mia Katigbak), is clinical and informative as she describes palliative care and medications for Mary Frances. Yet despite the considerable talents of Lois Smith, Johanna Day and J. Cameron-Smith, the play is long, rambling and tedious. The scenes are choppy and often the characters just seem to be moving from one room to another. The house is small and crowded (scenic design by Dane Laffrey) and the play feels the same way. None of the characters is sympathetic, not even the dying old woman. So after awhile, it's hard to care.
Directed by Lila Neugebauer, Peace for Mary Frances is a play that should have been trimmed and shortened. Mary Frances has lived a long life but is now ready to die - so why make her (and us) suffer and prolong it?