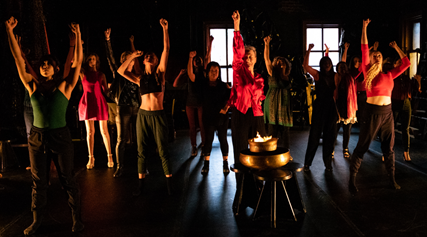 Women on Fire: Stories from the Frontline, produced by Royal Family Productions, has a vibrant message to impart to young women today -- vibrant, but tricky too, because it is as complex as it is compelling. It's an energizing evening, a well directed and performed mélange of monologues surrounded by excellent dancers, who weave through the taut 80-minute performance, providing wisdom, beauty and even some comic relief from our current political climate.
The title is a metaphor for the terrifying image that the evocative and brilliant Chris Henry, the writer and director of this rather stunning collection of stories from unbelievably diverse backgrounds, imparts to us in the play's opening moments. Henry relates her story, that she became so enraged by what she was viewing on television one day, regarding the current Trump administration, that she shouted out loud, "I am going to the White House to set myself on fire!" Fortunately for us, she decides to do something much better for all of us, and begins to collect the stories of the women we are hearing from that evening. What is so compelling is that no matter whether the women are from Cuba, India, Midtown Manhattan or the Midwest, they all have important and personal information to impart to anyone who will listen. I was listening. We were all listening. On the night I attended the performance, everyone was sitting on the edge of their seats. It's frankly a wonderful little jewel of New York theatre, not to be missed.
What was surprising to me was the inclusion of a few of the women's stories that took an essentially anti-liberal stance. Though not enlightened by their ideals, their arguments were fascinating. The by line for the show announces that these are stories told by "a group of anonymous women"; their privacy is at issue here, and they are revealing at times very personal stories of sexual coercion. It's hard to hear some of the stories due to the overwhelming coercion some of these women suffer. It's also hard to hear more Clinton bashing, though it's brilliantly placed in direct comparison to Bill Cosby and Roman Polanski. It's dangerous material but it's right on, extremely well written and well thought out. The rage that some of these women wrote about was uplifting because it was not without perspective and wisdom. See it for yourselves and bask in the glow of the intelligent, talented cast including: Ross Arrendondo, Gina Naomi Baez, Blair Baker, Kathleen Chalfant, Maddie Corman, Rose Courtney, Elizabeth A. Davis, Penny Fuller, Simone Harrison, Colleen Hawks, Stephanie Jae Park, Steffanie Leigh, Lauran L'Rae, Cynthia Mace, Jonelle Margallo, Ali Marsh, Gargi Mukherjee, Kira Player, Laila Robins, Lianah Sta. Ana, and Mary Testa.