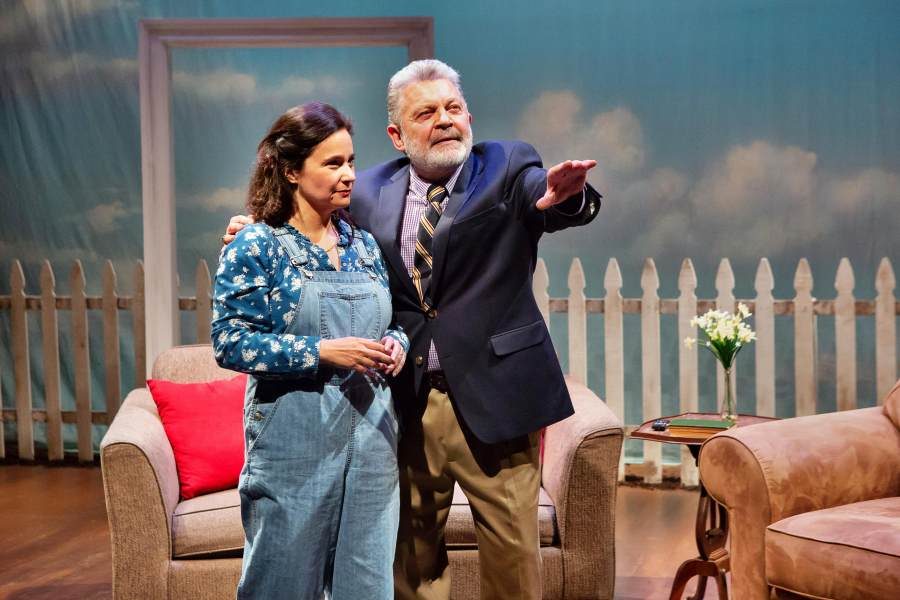 The Property, produced by New Light Theater Project and now playing at The Clurman Theatre on Theatre Row is an innocent light-hearted play with a bubbling cauldron of simmering rage just below the surface. Written by Ben Josephson and efficiently directed by Robert Kalfin, the story is disarmingly simple and allows the fantastic company of actors room to play, debate and charm us, as they make their way through an alarming two-year journey that reveals their darkest selves.
The standout performance is by Sam Tsoutsouvas as Vernon, the eldest member of the dysfunctional, warring family; we're won over within the first minute he steps onstage. Tsoutsouvas is always good; he's one of that core group of actors here in New York City who never disappoints. I've seen him numerous times, he's disarmingly charismatic, foppish, wily and everything you'd want in an aging lothario who wantonly implies that he still has the goods when the lights go out. Tsoutsouvas' Vernon gets away with bawdy, audacious, sometimes horrifying moments of self-revelation, happily placing himself in less flattering light. In another rendition of this play, it might be fascinating to see more of this character's story, especially that which also comprises his estranged son's efforts at employment.
Rounding out the cast is the lovely Rachel Botchan as Irene, a kind hearted mother whose journey toward safety and security by the general principles of nepotism ensconced within the principles of capitalism is fiercely attained by the play's end. Phil Gillen as Todd, Irene's drug-addicted, wayward son, gives a genuine, heartfelt performance that effectively belies his character's jaded, misspent youth. Warren Kelley plays Irene's husband Eddie with a gentleness that speaks volumes, and John Long is right on point as Greg, the teacher with a heart of gold. Of note is Matthew ZanFagna, playing a student of Greg's whose late appearance in the play is thrilling. He's all jitters and nerves, wanting to make a good impression, yet revealing a difficult past with authenticity; it's compelling stuff, well done.
The set by Caitlynn Barrett is really beautifully executed, as is the lighting design by Paul Hudson, and with pristine projections by Andy Evan Cohen, this technical aplomb adds a professional edge to the proceedings.
Overall, The Property is a somewhat frothy, uneven evening of theatre, satirical in tone with mature themes that are very compelling, but perhaps, haven't been fully fleshed out. It's an interesting take on our current capitalist post-9/11 America — at times entertaining us, at times challenging who we think we are as Americans, versus who we have really become as citizens in the Trump era.