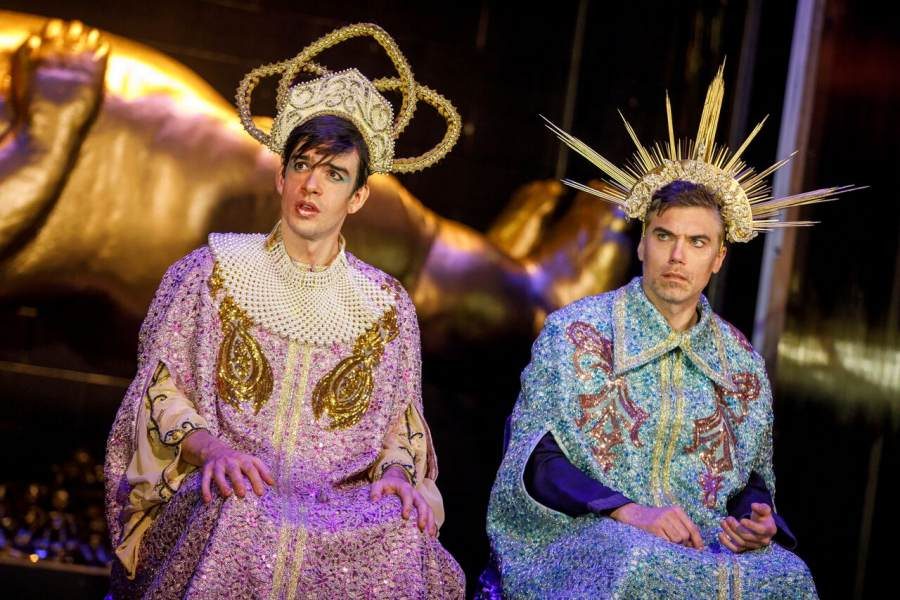 Man is not kind in Mankind, but he's funny, at least. Robert O'Hara, whose play is currently in residence at Playwrights Horizons, emphatically states this idea in his director's notes. "I've been thinking about Mankind...has man EVER been kind?" The answer we discover is yes, but only for monetary gain.
In O'Hara's satirical and provocative play, we see our future, a dark nihilistic place where men's toxicity has destroyed a woman's ability to live. Women have been wiped from the face of the earth, so now, men have babies. At the play's opening Jason finds he is pregnant with Mark's child (called, as all newborns are, a Cry-Baby). Jason and Mark attempt to have an abortion and here is where the plot thickens with alarming plausibility: The child turns out to be a girl Cry-Baby, the first female child to be born since the extinction of women, and all three are immediately imprisoned (to keep the baby safe, of course). The newborn and her family are locked away from the world, celebrities and prisoners of the state at the same time. Mark and Jason accidentally give rise to a new religion, Feminism, which becomes more and more macabre in its dealings with mankind, and they continue to demand more and more monetary gains for their acquiescence. Bizarre things keep happening. I don't want to give too much away, but (Men Only) get ready to sing and chant.
Mankind is darkly comedic theatre. And though it's quite apropos for its time, I was left a bit uncertain. I felt uneasy with a piece about a woman's right to choose that seemed devoid of a woman's perspective. Perhaps that's just as it should be, perhaps not.
During the dystopian proceedings, there is a lot to look at; every idea posited by O'Hara has a compelling physical reality produced with startling technical precision. There's pageantry too, and with the help of an amazing set by Clint Ramos and some really thrilling costume ideas by Dede M. Ayite the whole thing comes off in a rather stunning way.
The director and writer, Robert O'Hara understands his medium and allows us plenty of time for the journey; nothing is rushed. O'Hara, along with Alaine Alldaffer, CSA, has assembled a willing group of talented players. Bobby Moreno and Anson Mount as Jason and Mark offer us both excellent comic timing and attractive characterizations. That Bobby Moreno adds pathos to his role is to his credit. His work is plausible and lends an authority to his plight as mother of the unborn. Anson Mount, as the straight man of the evening (pun intended, it's comedy folks) playing the other father of Jason's child, lends a handsome gravitas to his role.
André De Shields as Jason's father makes the best entrance I've seen in a long while, and his exits are fun, too. De Shields is the real deal, a true stage animal; he knows his medium and plays it to the hilt with hilarious results. Ariel Shafir almost steals the show with his characterization of Blonde Bob, of the Bob and Bob TV Show, which sends up America's current fascination with celebrity gossip mixed with political frippery. Shafir's vocal intonations were priceless, adding a droll note to his character work, which was first-rate all around. David Ryan Smith was disarmingly adorable as the OBGYN. His work had a complexity that I was frankly thrilled by, and his timing was impeccable. Stephen Schnetzer rounded out the cast with a professional air that added to the proceedings within a distinguished and savvy ensemble.
On the whole, the play makes a very strong statement in favor of a woman's right to choose. Planned Parenthood is taking donations at the door, an added bonus for the evening that I found compelling. This is tricky stuff to navigate and all the folks at Playwrights Horizons have created an interesting take on our future. If, as O'Hara's play suggests, a god does come to save us from ourselves, I hope we can be worthy of Her.