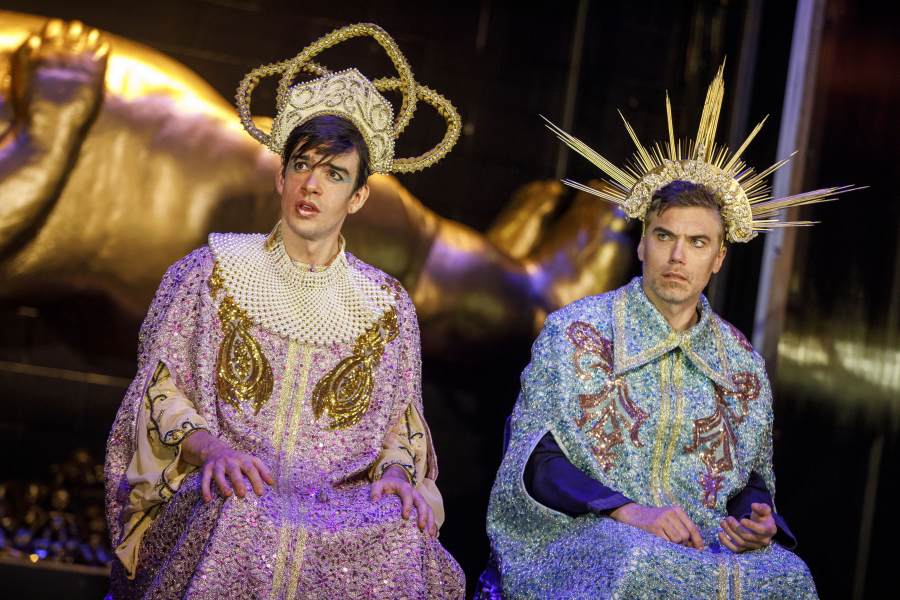 Robert O'Hara's Mankind takes place in a future where women have become extinct, it's the men who are in charge of reproduction and concepts like "feminism" have become sociopolitical fossils. It's also a world that has become completely pro-life, for men keep hoping one day they will give birth to the woman who will restore the biological order. When Jason (Bobby Moreno) finds out he's expecting a child from his casual lover Mark (Anson Mount) he decides the best way to deal with this is to get rid of the baby, but little do they know that by trying to cheat the law they're about the start a revolution. As funny as it's scary, Mankind, deals with a future that for obvious reasons seems likelier and likelier, given the attack on women's rights at hands of the current administration. It also gives the ensemble an opportunity to do work unlike anything else seen in NY stages in recent years. Moreno is a revelation, not only bringing his characteristic physicality to the character, but adding a layer of lovable neuroticism that makes him the unlikeliest of heroes. We spoke to the actor about the elements that attracted him to the play, references given to him by O'Hara, and cursing.
Mankind lies somewhere between comedy and pure horror. As an actor did you find that the satirical elements make it less scary to be immersed in this world?
I always saw it as a satire, I never thought of it as a horror story. In playing a role you try to accept the circumstances of whatever the world is and try not to stand outside of it. Accepting it was a world without women didn't make it scary as much as it made me wonder what this would be like. I had trouble with the tone early on in rehearsal, I come from a very earnest place sometimes and with satire you have to be more satirical [laughs] so Robert told me Dr. Strangelove had been a great influence for this play, and also the films of Yorgos Lanthimos, so I watched all of that stuff and it helped me tone-wise commit to the story and the world.
I find Lanthimos work so scary though! Didn't The Lobster creep you out?
Not really, I thought it was hilarious! So was The Killing of a Sacred Deer, I was the only person in the theater laughing as loud.
I don't want to sound too apocalyptic but a world without women seems possible under a Republican regime. What about that world terrified you the most?
It would be a hard world to grow up in. Men as part of our nature and nurture, are raised to have hard exteriors and to see the world as a zero sum game, you're raised thinking you have to win and dominate. The fathers in the play aren't great, because everyone is centered around making money. I don't mean to be reductive about men, but a world with only men would be one in which we would all just care less about each other. What I learned from the women in my life is compassion and selflessness, men have that too and I don't want to generalize, but satire works in generalizations.
You give birth onstage. What kind of research do you do for a character arc like that one?
I read books that dealt with the emotional effects, including Future Home of the Living God, about a pregnant woman in a dystopian world, I also talked to women in my life about their experiences, watched documentaries and interviews. I don't think I could even begin to understand the depths of what it is to carry someone inside you, women nurture a living being in their bodies for up to 10 months, then they take care of them and nurture them. I can't even imagine that, I can only scratch the surface. I'm such a wuss when it comes to pain though, during tech I was wearing one of the bellies for hours and I couldn't handle it after a while.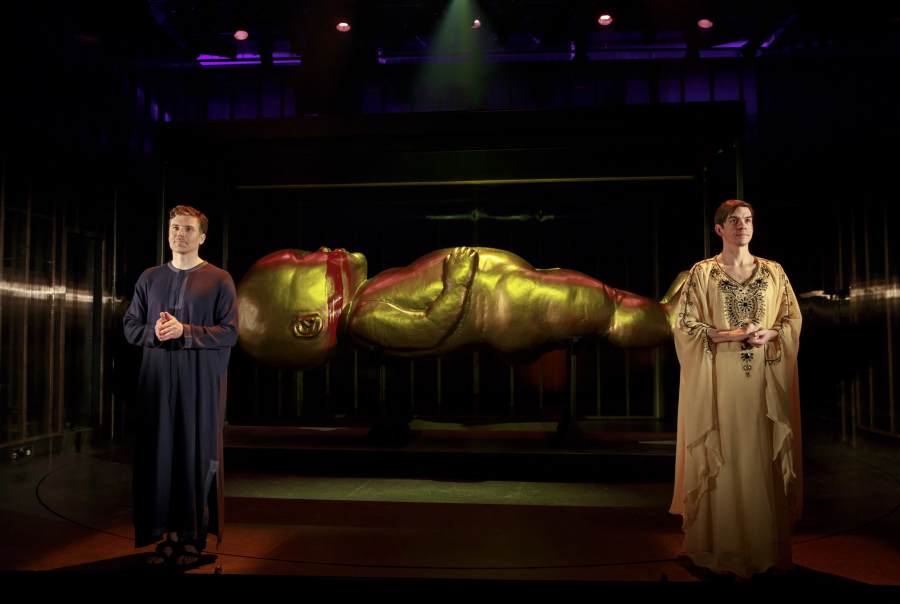 The play is scarily of the moment, but also holds truths that have been around forever, like the way religion and the media are used to manipulate others.
I have recently been reading the book Sapiens and was thrilled and inspired to learn that humans collective imagination is what sets us apart from other species. A quest for community that we find in the theatre in politics and certainly in religion. When I was younger I was definitely of a mind that religion was simply a power grab, a way to control people. But over the past few years I've been on my own spiritual journey and have discovered that my connection to a higher power exists in the distance between other people and myself. The more I live in that gap the more connected I am to a spirituality beyond myself. I believe it's the desire to fill that gap that inspires both religion and art. And while our fallibility makes us fail at these attempts, more often than not at the altar of our own egos, it shouldn't stop us from trying.
I saw you last in Alligator and that was also a show that made audience members uncomfortable, is this something that attracts you when you're choosing shows to see as an audience member?
I wouldn't use uncomfortable, I'd use complicit. Art that interests me is that one that acknowledges we're all in this room together as a community on that night. Granted that makes some people uncomfortable because all they want to do is sit in the dark and watch other people go through things, which is fair.
Your monologue from Year of the Rooster was all over the internet at one point. Are there other famous monologues you want to try at some point?
I don't think they've been written yet. I love new plays more than anything, plays that come out of the contemporary moment, written from people's guts. So the monologue is maybe something from a writer we don't know yet, or maybe from my fiancée Hilary Bettis who wrote Alligator. She's amazing and she knows me better than anybody else so maybe she can write something that speak to who I am and what goes on inside my brain and soul.
Ask her to write you a musical.
[Laughs]
How do you keep yourself from saying the word "dude" 24/7 after doing Mankind?
[Laughs] You know what's funny, it's not "dude" that I have trouble not saying, it's "fuck" because I say it so much in the play! I was hanging out with my dad, his girlfriend, and her two daughters and I was like "I saw this fucking movie last night." This play has got me cursing like a sailor, I haven't counted the amount of F-bombs but I imagine it's Tarantino level.
It's a lot, but if anything I'd have a dude jar for quarters rather than a curse jar.
Totally.