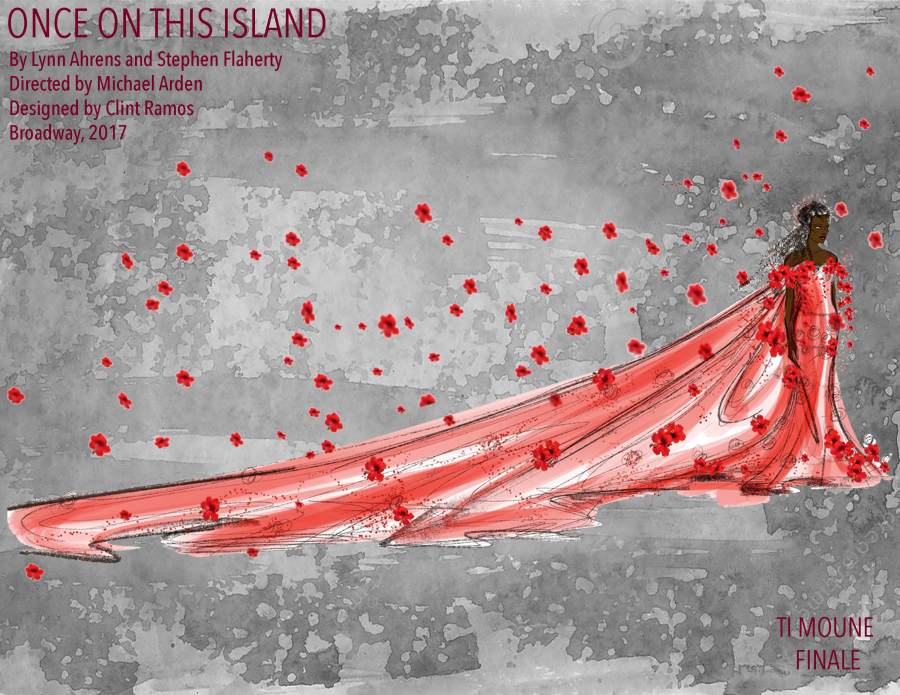 We spoke to Tony-winning designer Clint Ramos about his spectacular work in the revival of Once on This Island. Ramos is nominated for another Tony for his layered costumes featuring dresses inspired by flowers, armors made out of soda cans, and headpieces from wire and glass shards, literally made for the gods.
After seeing the show again I was struck by the amount of detail in the costumes. I hadn't noticed for instance that you use the same stethoscopes we see when we first meet the nurse played by Lea Salonga, which then become the belt of Erzulie's gown. By doing that you're reminding us that this is a fable grounded in reality. Why was it important for you to do this?
You said it, the whole form of the musical is based on how we tell each other stories. We wanted to go into the essence of how to revive something, not to present a different point of view or feeling, but to truly revive it. The only way we could do that was by acknowledging where the musical is set and where we are now as a global community. That meant looking at Haiti with an unblinking eye. Among the hurricane survivors we meet people like Lea Salonga's storyteller character who's a nurse, they all start as pretty mundane, but because of the nature of the tragedy they survived they become theatrical.
We knew the Gods would be gods, but director Michael Arden wanted to show them in that community in the beginning as well, and tried finding characters for them. We looked at a lot of photographs and we gave backstories to the images that spoke to us. Erzulie is a nurse for Doctors Without Borders, so is Daniel. Agwe starts as a fisherman trying to rebuild his boat, Asaka was a food vendor whom we gave a motherly feeling to, as for Papa Ge we found a photograph of someone who had some mental damage, maybe she'd lost all her animals, maybe she lived in an abandoned truck. Once we had all the characters we wanted to create their costumes from found elements. That became the idea for the design, and how we introduced them in a gradual manner. For Erzulie we used mosquito net, glass shards, wire, we build up to her as a goddess.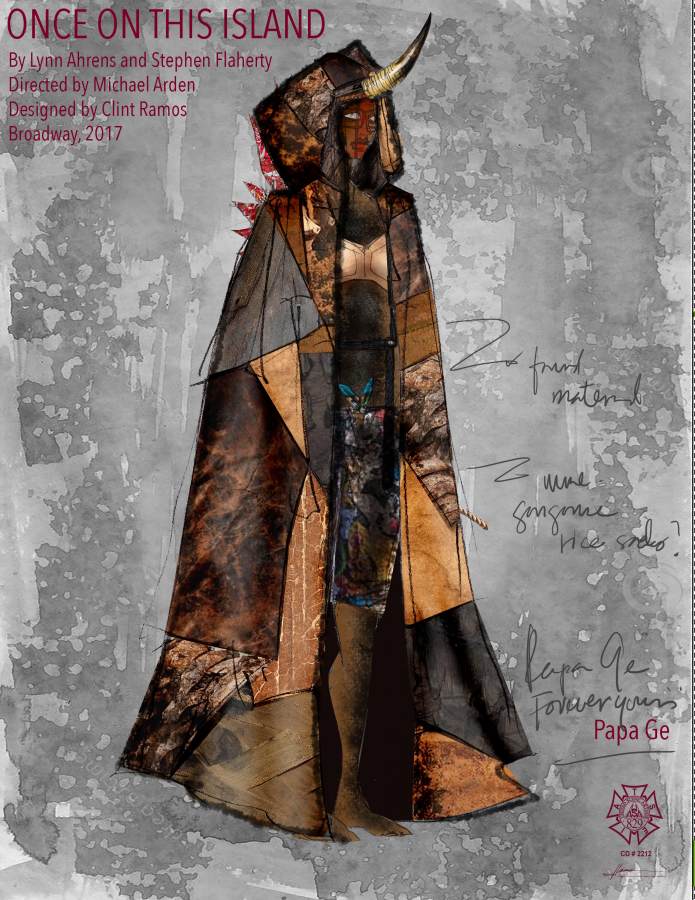 Is this the show that has most made you feel like you're a kid playing dress up or putting together costumes for your toys?
I've always had that love for creating worlds using what was around you as a child and a young costume designer. You see things differently when you have theatrical costuming I suppose. I could see things that you wouldn't necessarily think of as a material, I see things as malleable. I grew up in The Philippines, which is a developing country, and I remember all these things people would make out of "stuff." People would make floor mats out of these rubber pieces, using found material makes me feel home in a way. Once on This Island freed me to recall this time of my childhood, and my own humanity, to really tap into a Third World mentality of "how do I make this work?"
I also grew up in the Third World, I'm from Honduras and in 1998 we had a catastrophic hurricane as well. In fact the President announced he was ending Temporary Protection Status for Hondurans who had been living in America following the hurricane. I wish we could escape the news most of the time…
Listen, a part of what we were trying to do is show the resiliency in these people. When we go to the Beauxhommes we peel another layer and see more historical costumes, that's not normally done in the show, it's something we did in this revival because in my own way I wanted to make a political statement. Tragedies that happen in developing countries have a lot to do with where they're located, a lot of these places are near the equator and we've affected the planet. But also when the President says derogatory things about Haitians, people forget that adversity in these countries doesn't happen in a vacuum, there's layers and layers of colonization and systemic oppression. What I wanted to do was nod at this, the show is about colorism and how Ti Moune is too dark for Daniel, and I think by putting the upper class in historical costumes we nod at this legacy. We need to acknowledge where all of this complicated history comes from.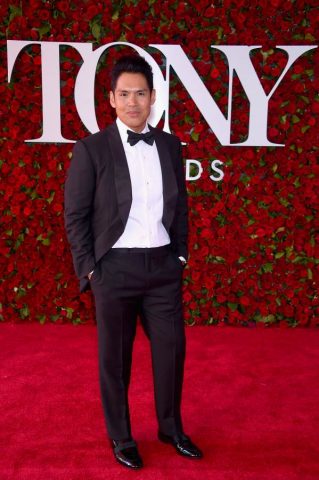 Papa Ge, the God of Death, is wearing a costume made out of Coke cans and a Looney Tunes t-shirt. I don't think I need to even ask what you're saying about corporations and destruction.
[Laughs] You know, these multinationals come into our nations and contribute to the destruction of natural resources. Looney Tunes might not be a corporation that affects physically, but does so by going into our minds, it begins the process of colonial mentality. But I also liked Looney Tunes to imply that Papa Ge is fucking crazy. Something astonishing about all these images of the aftermath of hurricanes is seeing people wearing logos from corporations that don't acknowledge the damage they're doing.
Before Once you also designed the costumes for In Transit which also ran at Circle in the Square. Does knowing this is a theater where audiences are closer to the stage, change the way in which you design?
Most definitely. It's very satisfying too, since everything is seen 360, it gives us an opportunity to go a little deeper into the detail. That's a double-edged sword because things that are "costume-y" people can easily clock that.
Costumes are actors' uniforms. Do you sew secret elements in the dresses to help the actors get into character?
There are a couple of those, especially with Once on This Island, a big example for instance is that for every Papa Ge we've had in the show, they've all had different horns. The horns correspond to the goats that were sacrificed for them. Things like these are advantageous for actors because they develop a sense of ownership. It becomes part of them.
What's the trick to creating a piece like Ti Moune's iconic red dress? Which looks so grand and heavy but must be light enough for Hailey Kilgore to dance in?
A lot of fittings! All of Ti Moune's dresses are inspired by the hibiscus, which is the national flower of Haiti, but the ball gown specifically was tricky because she arrives in shoes, which she then takes off, so the dress has to work both ways. A lot of her choreography involves her crouching too, and then the dress is destroyed. So this dress was achieved by a lot of trial and error, science and I'm so lucky because I have a great team that surrounds me. I also collaborate with master drapers all over the city who know theatrical costuming very well. It takes a lot of time and manpower, so when producers get the bill they know where they money went.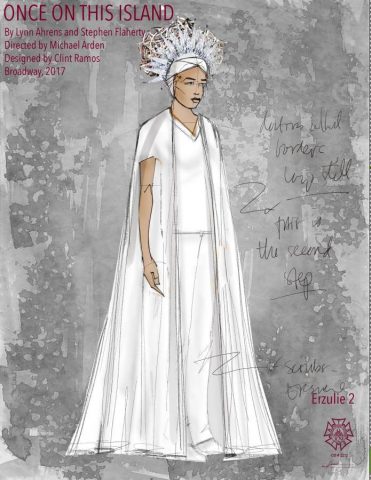 As conversations about diversity arise, I wonder what are your thoughts about representation in theatre behind the scenes. We hear more about diversity with actors and playwrights, but rarely about designers. I see the Tonys and it's a bunch of white people nominated, and you. What's that like from your side?
It's maddening to me. I am one of the only persons of color nominated for a Tony this year, there are 39 people nominated and there's only a couple of us. When we won the Tony for Eclipsed it was an incredible year, all those people won for Hamilton, but then it seems to have flung back the other way. There is so much work that needs to be done, one of my biggest passions and activism is mentoring young designers of color, asking producers to hire them. I just began a scholarship to get young designers of color into the union at a higher rate, on a yearly basis. A lot of work has to be done, there's a few designers of color on Broadway, they're talented, but they need to be on Broadway more often. Many of us, because of our line of work, are always behind the scenes, so something that interests me is visibility. It is a big responsibility for us to ensure some sort of even playing field in the future. Either you're on the side of history or against it.
Once on This Island is currently running at Circle in the Square.