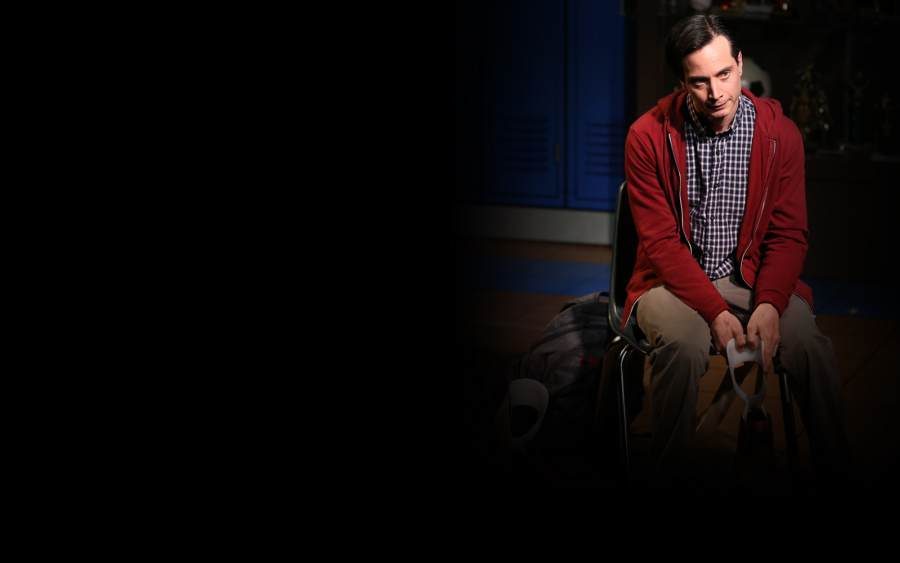 Though it may be somewhat unorthodox to mention the New York Times critic Jesse Green, I must concur with his final thoughts on Teenage Dick, developed by both the Apothetae and the Ma-Yi Theatre Companies and performed recently at the Public Theatre. Though this comic take on a teenage Richard III is an enjoyable romp through one of Shakespeare's most brilliant plays, I'd like to see Gregg Mozgala, the terrific young actor at the center of this tragedy play not just young Richard, but "the old man himself." Why? Well, let's just say, the kid's got the goods.
"My kingdom for some horsepower!" cries Richard Gloucester (a disabled high school student with a penchant for manipulation) as he's revving the engine of his teacher's SUV, and we're off, romping through this deliciously funny remake of Shakespeare's Richard III, with the most exciting young cast of players this critic has seen for quite some time.
Wonderfully written by Mike Lew, we quickly are introduced to the cast of six actors who blast through the performance full throttle. A lecture on Machiavellian forms of power is aptly relayed to us at play's opening by the student's teacher, Elizabeth, played with comic sang-froid by Marinda Anderson. She's interrupted by Eddie, the antagonist and comic foil to Richard; he's a stud gone wrong, arrogant and rude. With a standout performance by Alex Breaux, it's a winning combination, Eddie's brawn contrasted with Richard's shrewd machinations.
Richard's conscience here, named "Buck," is played by Shannon DeVido, who is so fantastic that she effortlessly steals each and every scene she's in. DeVido can't help that fact; her delivery and comic chops are right on point the entire performance. She really sets the bar high: DeVido is the actor by whom I'll measure every other comic performance I'll see this year. Richard's love interest, Ann, is played by the lovely Tiffany Villarin. Her dance duet with Richard was phenomenal, the climax of the show, romantic and fun and brilliantly executed. Sasha Diamond gives an energizing turn as the puckish sidekick; she adds energy to an already energizing company. As Richard, Gregg Mozgala is a revelation. He's mercurial, scary, funny, witty, attractive and vulnerable in every scene. I'd really love to see him tackle some classical roles that are not played for comic relief, he's that good.
All in all, it's a delightful evening with fantastic direction by Moritz Von Stuelpnagel, set design by Wilson Chin, and costumes by Junghyun Georgia Lee. Special kudos to Robert Westley, for the movement choreography. The visuals here were spectacular, it's all very well done. Don't miss it!