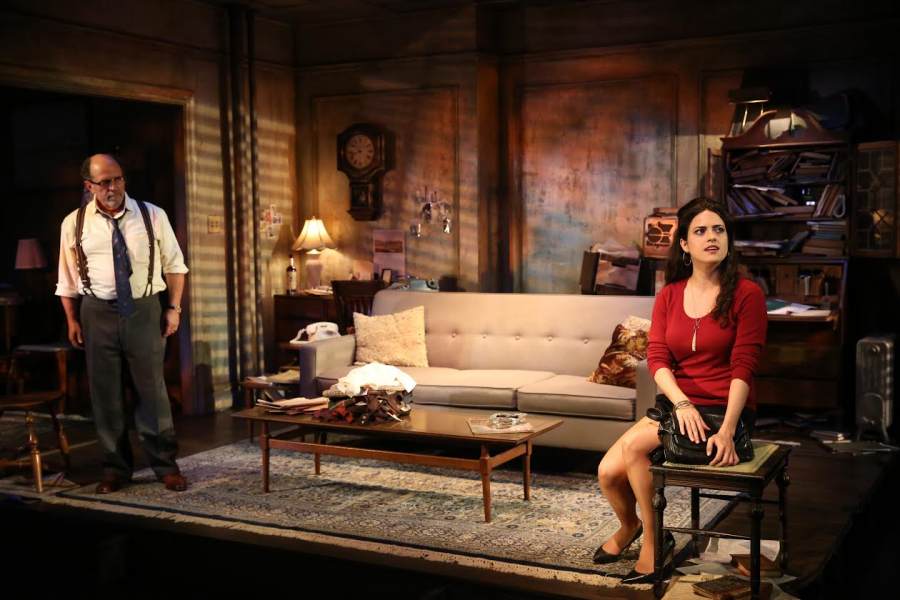 The quality of our relationships as adults are closely linked to those we experienced in childhood, as every psychologist can attest. Our caretakers' power to shape – or destroy – our world and self-view is what Arnold L. Cohen explores with his new musical Come Light My Cigarette, presented by MC Theatrical Productions at St. Clement's Theatre. The story follows a tortured and volatile protagonist who struggles to connect with others meaningfully after suffering years of abuse at the hands of her depraved father.
Vikki (Erikka Walsh) returns home to face her estranged father Kevin (Michael J. Farina), and the demons he left her to wrestle after learning that her mother has died. When he asks how she found out, she replies shortly, "I check the obits daily looking for your name." In their hostile confrontation, she probes Kevin for details about his wife's death, which she strongly suspects as murder, and seeks answers about her repeated childhood abuse.
Through their heated interactions and several melancholy musical numbers, Cohen gives us a view of Vikki's life on the edge, and her fight to become a successful actress despite the weight of her emotional pain. Unable to form healthy relationships, she chooses partners for the thrill of danger, or for strategy to build her career – such as the powerful Broadway producer, Danielle (Kaye Tuckerman), who forms an obsessive attachment and demands more intimacy than the troubled young woman can provide.
It isn't easy to watch, and we witness Vikki's painful psychological processing for the full 90 minutes. Just as Vikki gets no respite from her suffering, neither do we – the performance isn't interrupted by intermission, and Cohen doesn't divert us with any lighter side stories. All scenes directly involve Vikki's daily struggle, whether we hear her describe it firsthand or we simply connect the dots by observing Kevin's monstrous character. Indeed, the script offers no sympathy or redemption for the abuser (played brilliantly by Farina), who professes to be a "good Irish Catholic" but uses religion to manipulate and distort the truth rather than uphold it, in true pathological form.
Walsh and Tuckerman both bring pleasant voices and a commanding stage presence to their respective roles, though their scenes together could use more fiery chemistry to make them believable as ex-lovers. The songs – accompanied only by a soft piano score – cast a sleepy spell over the production and seem to drift into each other, leaving the detached and ghostly feel of early black-and-white cinema. There's a certain feeling of numbness and lack of direction, and we feel lost along with Vikki -- wondering if a resolution is possible at all.