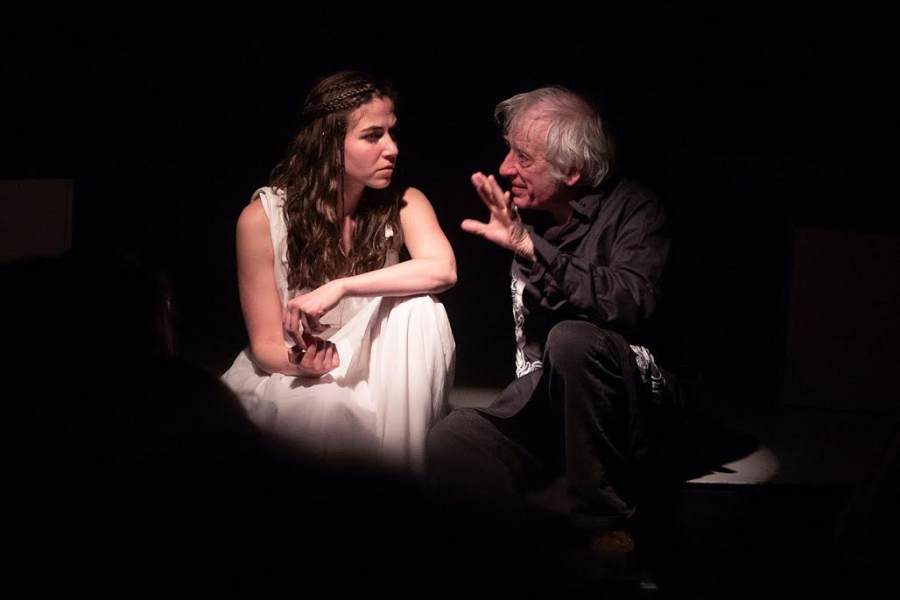 The moral and ethical questions surrounding war are just as controversial today as they were in ancient times, as Nina Kethevan aims to show in Dress of Fire. The drama directed by Ioan Ardelean at 13th St. Repertory Theater challenges us to compare our modern world to its take on the fall of Troy, where leaders fight to make their mark on history at the expense of others' lives.
The show plays like a series of intertwined vignettes among the mythical Trojan nobles – each revealing their own reactions to the war and its personal effects. There's Helen (Elena Rusconi) who works tirelessly to weave a tapestry for preservation but ignores the futility of her efforts in a time of destruction. And there's Cassandra (Lindsay Gitter), an outspoken feminist who refuses marriage and begs her father King Priam (Austin Pendleton) to end the war. But everyone in the kingdom lives under the watchful gaze of Queen Hecuba (Alexandra Laliberte) who struggles to define her identity apart from her husband Priam and come to terms with his violent choices.
The entire cast delivers impressive performances despite obvious challenges presented by the material. Kethevan's classical-style writing is dense, verbose, and semi-Shakespearean in tone, but the actors manage to keep us involved and sympathetic until the end. Laliberte and Gitter in particular command their characters and deliver their lengthy monologues with emotion that never flags. It's clear that the production's actors are its biggest asset as its minimal set and lighting rely on their talent to keep us engaged.
Though Kethevan's attempt to raise questions about our basic human drives – both savage and noble – is intriguing, the play could benefit from a more cohesive structure. Each character seems to exist more in his or her own world rather than a shared one, and mostly communicates through soliloquies. We long to see richer and more developed interactions among the nobles and more depth to their relationships -- especially since times of crisis bind humans more intensely than ever. Helen, Cassandra and Hecuba are presented as mouthpieces for women's dignity and advancement in a patriarchal society – a point also with modern parallels -- but we're curious to learn more about them as characters instead of just brave crusaders.
By taking us back to a distant and familiar mythical world, Dress of Fire aims to make us think about what humans really value -- and whether that ever changes.