'War of the Roses': A Story of Weeping Daggers and the Not-so-guilty Mind of a Murderer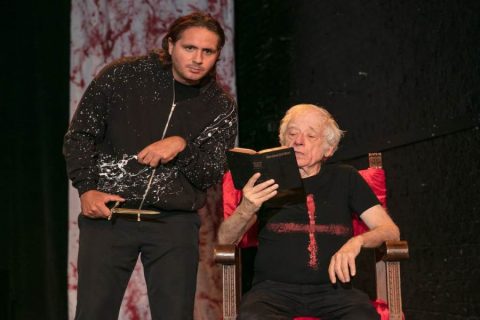 THE BOTTOM LINE:
Produced by Ruth Stage, War of the Roses tells the tale of Richard III's wicked manipulation to make his way to the throne. If you are looking for elaborate sets and period costumes in this black box theater production, this show may not meet your expectations. But, if on the other hand you are like me and can appreciate how the naked word can resonate with intense power against those four black walls, then you will have come to the right show.
WHAT IT'S ABOUT:
A fusion of two of Shakespeare's history plays, Henry VI Part 3 and Richard III, War of the Roses portrays the events that led Richard to murder his brother Henry, which originally takes place in Henry VI Part 3, and his Machiavellian murder-loaded plot to seize the crown, which takes place in Richard III. We see Richard as the 'disproportioned king,' the 'underdog,' the 'son of hell,' clearing his way to the throne by means of evil deeds. It is the story of traitors and murderers without remorse plotting murders with the excuse to send their victims to heaven.
CAST & CREW:
Austin Pendleton (Director)...
Pendleton's concept of weaving two Shakespearean characters in a braid of conniving and murderous deeds with brothers against brothers proves to be brilliant. The characters are tightly woven, and not a second is wasted on stage.
Matt de Rogatis (Richard III)...
He is young but highly talented, and he does a remarkable job.
THE CRITICAL EYE:
A couple of monologues stood out for me. Anne, wife to Edward, loaded with pain and anguish, delivers the most heartbreaking monologue over her husband's dead body, only to be interrupted by Richard III badly timed marriage proposal. Her beauty would transform him, so he says, but to the audience, the claim seems too farfetched and hard to believe. On a quite different tone, Duke Clarence's account of his dream of bloody deeds and a near death experience captured my attention as well. At this point Clarence's heavy soul toys with a glimpse of remorse, he speaks of a 'gentle villain', but truly there is none. The villains address each other as "My noble Lord," but there is no true nobility in any of them.
THINGS THAT STOOD OUT:
I was fascinated by the magic of Shakespeare's penmanship intros newly arranged version, and I even venture to say that if Shakespeare himself could see what Pendleton did with his original characters, he might have even asked himself: "How come I didn't think of it?" From a playwriting/directorial point of view, War of the Roses is a winner; and for those who just want to enjoy a good thriller, this play will definitely keep them on the edge of their seat.