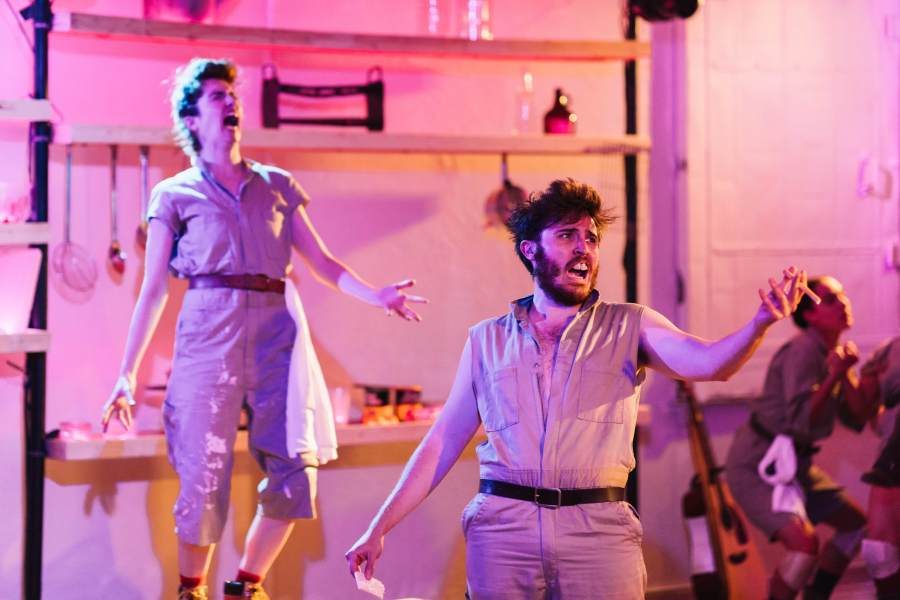 THE BOTTOM LINE:
Shakespeare in the Square's production of A Midsummer Night's Dream is a messy and innovative version of a favorite Shakespeare comedy. If you like strong physical comedy, fresh takes on classics, and a slight risk of noodles in the hair, you'll be surprised and delighted by this ensemble-driven show directed by Dan Hasse.
WHAT IT'S ABOUT:
In Ancient Athens, the royals prepare for a wedding while a quartet of mis-paired lovers escape to the forest in pursuit of true love. Meanwhile, a band of working-class "rude mechanicals" comes together to rehearse a play for the wedding. Chaos rules as the magical forces of the forest take matters into their own hands and turn everyone's love and desire upside down.
CAST & CREW:
Rebeca Miller (Puck, Theseus, and Snug)...
is the first interaction with the audience and a driving force for the physical comedy and chaos of the piece. Ms. Miller's Puck is nasty and delightful, her Snug incredibly endearing, and her Theseus brings a special grounding to the world of Athens and the "reality" of the play.
Constantine Malahias (Demetrius, Ass, and Starveling)...
is a clown who takes every opportunity to make his mark in this show. Eliciting audible disgust, pity, love, and joy from the audience, Mr. Malahias' characters transform his whole body and his Ass is a perfect complement to Felix Birdie's obscene and remarkable Bottom.
THE CRITICAL EYE:
Each actor had shining moments individually, but what is most striking about this piece is how the ensemble comes together. In a play with dozens of characters, these six actors breathe unique life into each and become the world they inhabit. And then there's the food. Upon entering the space, the audience greeted by an acoustic ensemble that feels warm with a pinch of melancholy in a peaceful setting surrounded by vintage props and unfinished wood, not giving away for a moment the delicious disaster that befalls the space just in the first act. The food gives a tangibility to the emotion and magic of this Dream.
THINGS THAT STOOD OUT:
I really enjoyed the energy of this production and the rude work that these messy mechanicals have created; it allows them to bring us into the work with them as co-conspirators, as the audience becomes quite a few characters and objects in the actors' world. The transitions are tight and exciting, the classic lines we've heard before sound new, and the audience interaction feels friendly and welcoming, as if everyone in the room is worthy of playing for the Duke. In a world of Shakespeare reproductions and remixes, this show is a breath of fresh air and a genuine pleasure!